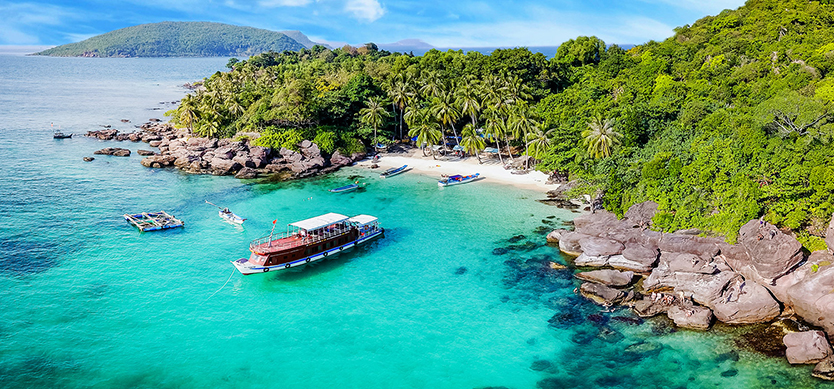 Danang city and Phu Quoc island are among the most famous sites of Vietnam tourism, so if you want to travel to Phu Quoc after Danang, this guide of transportation might be useful for you.
How far is it from Danang to Phu Quoc?
As the fourth largest city in Vietnam, Danang has been growing fast in both scale and stature. This beautiful land lies between the coast of the East Sea and the Central Highlands. Danang is situated between three World Heritage Sites of Hue Citadel, the ancient town of Hoi An, and My Son Sanctuary.
A lot of money has been invested to develop infrastructure, so the city is clean, neatly planned and there are many luxury resorts and golf courses here. The attractive places of the city, such as Ngu Hanh mountain range and long, quiet beaches, always leave a deep impression on travelers on their journey visiting the World Heritage of Hoi An and Hue ancient capital.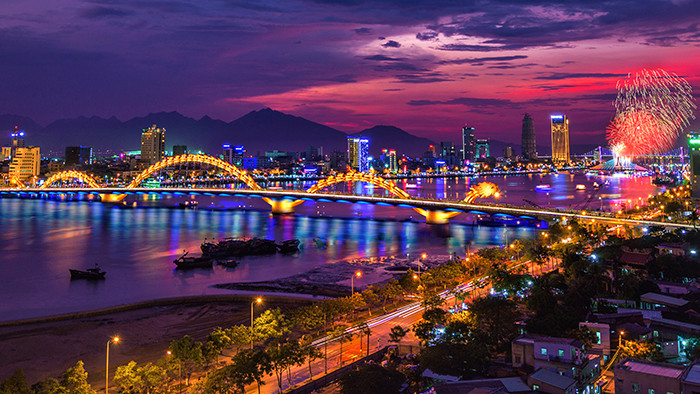 Danang city by night
About over 1,200 kilometers to the south from Danang, Phu Quoc, also known as Pearl island, is the largest island in Vietnam and also the largest in the 22-island population here, located in the Gulf of Thailand. Phu Quoc island together with other islands constitutes Phu Quoc island district. The clear sea, peaceful streams, and unique seafood are the great advantages of Phu Quoc tourism, attracting a huge number of visitors coming here each year.
Best ways to get to Phu Quoc from Danang
Except for the plane, tourists traveling by other means must stop at Rach Gia or Ha Tien then take a ferry or speedboat to Phu Quoc.
Plane
Traveling by plane, tourists note that there is no direct flight from Danang to Phu Quoc. Therefore, if travelers want to travel by plane, they will have to buy flight tickets from Danang Airport to Tan Son Nhat Airport (Saigon) and then from Tan Son Nhat Airport continue to fly to Phu Quoc Airport. Guests can buy tickets from 3 airlines of Vietnam Airlines, Vietjet Air, or Jetstar.
Depending on the airline, ticket prices vary. If Vietjet Air is selected, the total cost for both flights is about VND 1,300,000/guest. Visitors should check on the official airlines' website for reference. The travel time is 2 hours and 25 minutes to Saigon and 1 hour to Phu Quoc.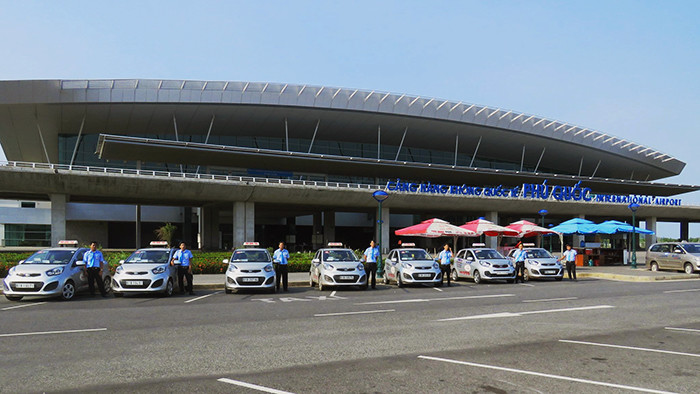 Phu Quoc Airport
Passenger bus/Car + Speedboat
Passenger bus
If visitors move by bus, they must choose Ho Chi Minh city as a transit point. Every day, there are many passenger cars running Danang - Ho Chi Minh city route such as Phi Hiep, Mai Linh, Dinh Nhan, Hoang Long, etc. Departure time starts from 7:00 AM to 11:00 PM daily and travel time is about 20 hours. The fare ranges from VND 350,000 to 480,000/ticket. Visitors continue to go to Rach Gia city or Ha Tien city and take a ferry or speedboat how to get from Saigon to Phu Quoc island.
Every day, there are about 10 coaches to take tourists on Le Hong Phong street, Saigon to Rach Gia and Ha Tien. If visitors go from East Station, Saigon, the lines of Chau Ha, Ba Dung, and Tuan Nga, etc will serve them. Fares for this journey range from VND 120,000-190,000/ticket.
Car
If you travel by private vehicle, you go directly from Danang to Ha Tien or Rach Gia. From Danang city center, you go east to Duy Tan street and continue to move to August Revolution road/Highway 14B, then go straight to Hoa Xuan bridge. From here, you turn right onto Thang Long street, Cam Le bridge, Pham Hung street and turn left onto Highway 1A. Arrive in Long Khanh town, Dong Nai province, you move to Highway Ho Chi Minh - Long Thanh - Dau Giay into the center of Ho Chi Minh city. You move to the intersection of Binh Thuan and then turn to Highway Ho Chi Minh city - Trung Luong, then turn right along Highway 1A to My Tho city, Tien Giang.
If you go to Rach Gia, you turn right in the direction of Highway 1A crossing My Thuan bridge to Vinh Long. From here, you follow Highway 80, through Vam Cong ferry and An Giang province to Rach Gia, Kien Giang. If you come to Ha Tien town, follow the instructions of the first route to Tien Giang. From Tien Giang, you follow Provincial Road of 878 and then turn right onto Highway 1A, Highway 80 to Ha Tien, Kien Giang.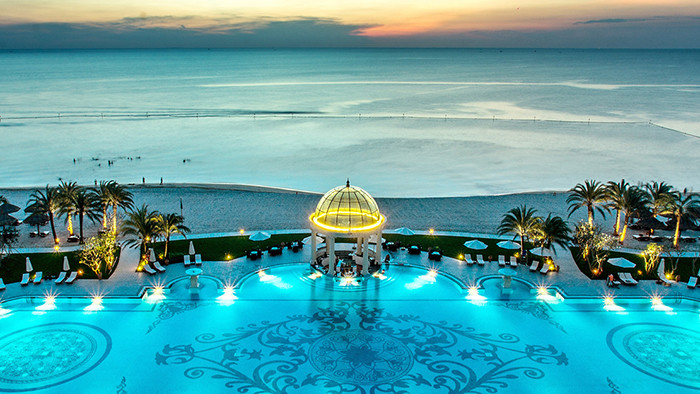 Luxury resorts in Phu Quoc
Speedboat/Ferry
From Ha Tien, the ferry departs at Thanh Thoi ferry port and arrives at Da Chong harbor (Bai Thom commune, Phu Quoc). The ferry capacity is very large that can carry all kinds of cars. Traveling time by ferry is over 2 hours. The distance from Da Chong harbor to the center of Duong Dong town is about 20 kilometers so visitors can go by bus or motorbike taxi.
Speedboats Ha Tien - Phu Quoc include Superdong I and Superdong II which depart from Ha Tien port to Phu Quoc and vice verse at 8:00 a.m and 1:00 p.m. Hong Tam high-speed boat also serve this tour, starting from Ha Tien to Phu Quoc at 1:30 p.m and from Phu Quoc to Ha Tien at 8:30 a.m daily. Travel time is around 1.25 hours. Prices range from VND 150,000-230,000/guest.
From Rach Gia ferry port, tourists will continue to go to Phu Quoc island by the speedboat. Superdong boat line with the route Rach Gia - Phu Quoc and vice verse depart at 8:00 a.m and 1:00 p.m. The time of traveling on the sea is 2.5 hours and it takes around VND 240,000-330,000/guest.
The road from Danang to Phu Quoc is quite long and must be transshipped, you must carefully consider the form and means of transport to ensure your health. If our guides are useful for you, don't hesitate to like and share it with others. Contact us or visit our website for more information. Thank you.