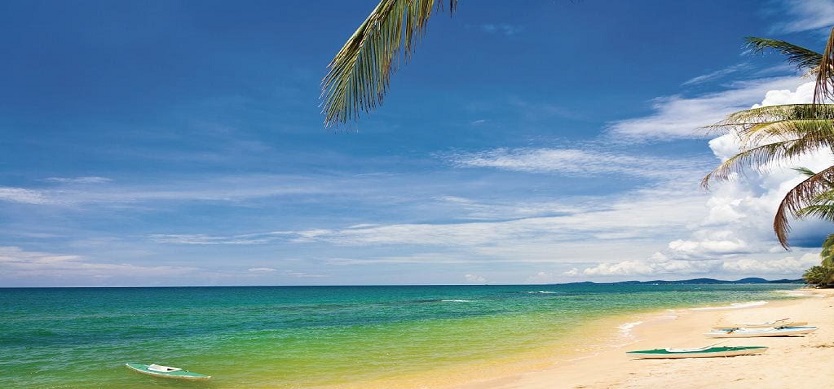 Summer is the best time for a beach trip, so choosing the best place for traveling is always the best concerning tourists. Therefore, if you are wondering between Phu Quoc and Koh Samui islands, some of the comparison criteria below will help you choose the right destination.
1/ Koh Samui Island
Koh Samui is an island in Surat Thani province and is Thailand's third largest island. Besides beautiful beaches, here you can also explore the dense forests, Ang Thong National Marine Park, Hin Ta, and Hin Yai Beaches, waterfalls, and snorkeling in the fresh sea.
Moreover, you can easily move to nearby islands such as Koh Phangan, Koh Tao and Koh Ma from Koh Samui. Especially, in Koh Samui there is a "specialty" for travelers who want to have different experiences and want to try once to win themselves, it is a detox journey.
2/ Phu Quoc island
Phu Quoc island is one of the most famous and popular islands in Vietnam. In the southern sea of the country, Phu Quoc Pearl Island is one of the most wonderful places to visit and relax. Traveling to Phu Quoc, you can immerse yourself in the blue water, breathe the fresh, calm sea breeze at Tranh River, and enjoy fresh seafood and so on.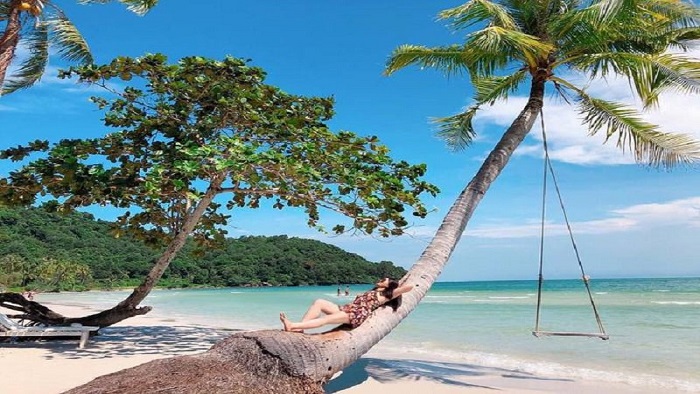 Where you should visit in the summer- Phu Quoc or Koh Samui?
3/ Climate
Koh Samui has two distinct sunny and rainy seasons which is quite similar with Phu Quoc Island. The island has a tropical monsoon climate with two distinct seasons: the dry season from November to April next year, the rainy season from May to October. You can rest assured to travel to Phu Quoc at any time. Any point of the year because the average annual temperature is only about 28 degrees Celsius; year-round cool weather is pleasant.
4/ Cost for traveling
Another important point that many tourists decide to choose between these two islands is the cost. Compared to Phu Quoc Island, Koh Samui is somewhat more isolated due to its geographical location, so most items and products shipped to Koh Samui will cost slightly more than Phu Quoc Island.
Koh Samui has an airport, but it is a private airport, so the price of air tickets is quite expensive. You can fly to Koh Samui from Bangkok, Phuket, Singapore, and Malaysia ... and connect to fly to the island. Meanwhile, there are many cheap airlines making flights to Phu Quoc.
However, when it comes to accommodation services, Koh Samui seems to have better quality and cost. For example, 3-star hotel in Koh Samui are clean, airy, comfortable and cost only two-thirds of a 3-star hotel you find in Phu Quoc Island.
5/ Beach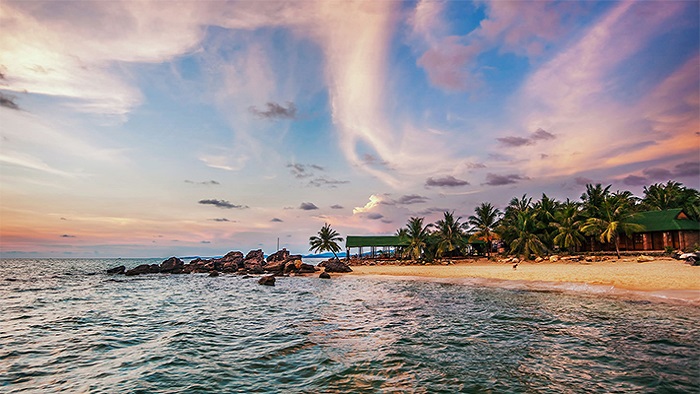 Where you should visit in the summer- Phu Quoc or Koh Samui?
The beaches surrounding Phu Quoc Island are invested and thrived in quality and service. It also means that it is almost impossible to find a peaceful and uncrowned beach in Phu Quoc Island.
But when visit Koh Samui; you can comfortably sunbathe without being bothered by anyone. You can walk around the beach, or relax with glasses and snorkel to see firsthand the vast underwater life.
6/ Nightlife
When visiting Phu Quoc Island, you can enjoy a lot of vibrant activities which you can find in the night in Phu Quoc only such as Phu Quoc night market, Duong Dong town and so on.
What about Koh Samui? It is difficult for you to find bustling clubs and bars.
Phu Quoc Island can provide you with a variety of entertainment and truly suitable destinations for your groups.
About Koh Samui, it is place suitable for those who are looking for a place to relax because this place is suitable for couples who enjoy a honeymoon.
So, if you want to enjoy a vibrant nightlife, Phu Quoc is definitely the place to go. But for a person who wants to find peace and relaxation, Koh Samui is a reasonable option.
Hope that after the post tourists will understand more about Phu Quoc Island and Koh Samui. In fact, each place will bring unique and attractive things for tourists but depending on your budget and requirement, you can choose the best one for traveling.
Besides that, if you need more useful information for traveling to Phu Quoc or Koh Samui or other destinations, you don't forget to visit our website to get the more necessary information.