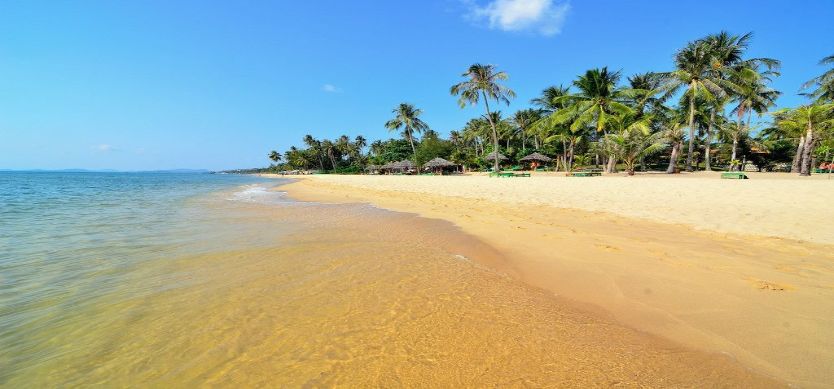 Long Beach is one of the most beautiful beaches in Phu Quoc stretching over 15 km long with a side of lush poplar rows and blue sea water in another side.
Itinerary to Long Beach
We arrived in Phu Quoc having failed to book a room in the hotel we wanted, and lucky for us, we had the other great choice, the rooms are bungalows, pretty simple, but they have air conditioning, big bathrooms – wet rooms really, mosquito nets – you really do need these here.
The bungalows are set in fantastic grounds, with access to the best stretch of beach in the entire length of Long Beach. The staff is incredibly friendly and helpful. The prices vary hugely depending on the time of year, we were there at the start of December and we paid $45 a night (with breakfast) when we left (a week later), the same room was going for $75 a night. Hire a motorbike (scooter, fully automatic) from the hotel – 140.000 dong a day, it's great fun and the only place in Vietnam where you have at least a fighting chance of survival! The hotel tends to close very early, but it's only a 5 minutes walk to restaurants and bars along the road. This is secluded, quiet and relaxing – with massage on the beach, plenty of shade and a decent pool. The food is good – but better food is available in the night market – it's about 20.000 dong for a taxi, which the staff is more than happy to call for you. It's got a great terrace to watch the sunset over a beer or G&T. The family here is friendly, and the staff speaks very good English. Great laundry service and internet are available (as if free Wifi) but this isn't actually free – although I never actually got charged. Aimed to spend 3 days here and then do the Mekong tour – stayed for 7 nights it was so relaxing – will now have to go back to Vietnam to see the Mekong – and it really was worth it. If you have been on the road for any amount of time, you must go and chill in Phu Quoc island. Seafood is great!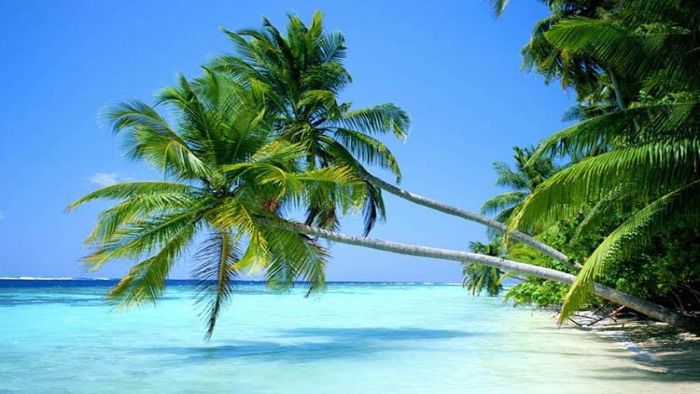 Long Beach
Some information you need to know before visiting Long Beach
Long Beach is a beautiful beach situated in Phu Quoc island district, Kien Giang province in the southwest of Vietnam. With the length of 15 km run along the central west of island from Ganh Dau Cape to Cua Van. This is a wild white sandy beach with clear blue sea and pristine forests aside. Standing on the beach facing the sea, you can see Doi Moi island, this is a small island about 1 km from Phu Quoc island, this island features the 50-meter pure white sandy beach, this is the ideal place for going fishing and diving.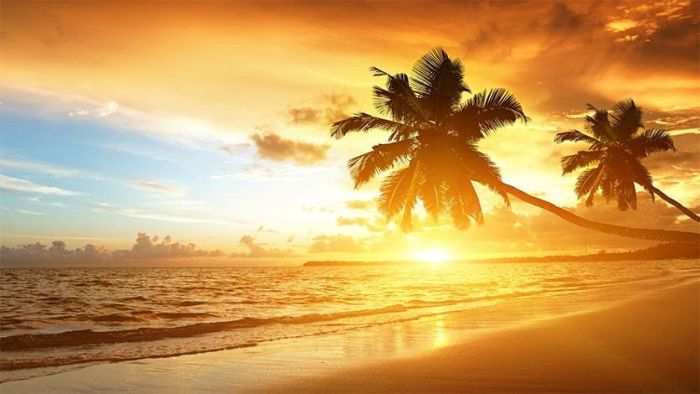 Sunset in Long Beach
The atmosphere on Long Beach is very fresh that seduces tourists by the mix of salty sea and fragrant forest. Coming to Long Beach, tourists will have chances to watch the glorious moments of the day with the sparkling sunlight reflecting on the sea surface, and enjoy the quiet and peaceful space with waves and breezes. Long beach is really different from other beaches on the island because this beach has not yet affected by tourism.
With its pristine beauty, Long Beach has listed on top most beautiful beaches in Vietnam. If you visit Phu Quoc, don't forget to have a trip on Long Beach. If this information is useful for you, share this post with others. Thank you!