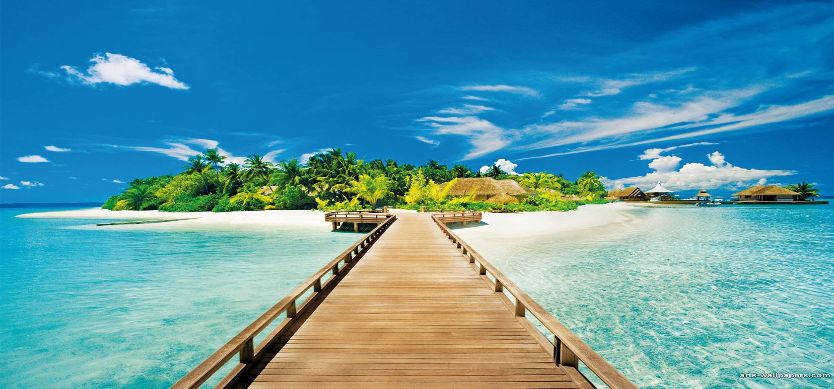 If Halong Bay is the sea paradise of the north, central Vietnam has Danang, and Nha Trang, Phu Quoc deserves to be the pride of southern people. With the pristine and white smooth sandy beach and blue clear sea, Phu Quoc attracts millions of domestic and international tourists each year.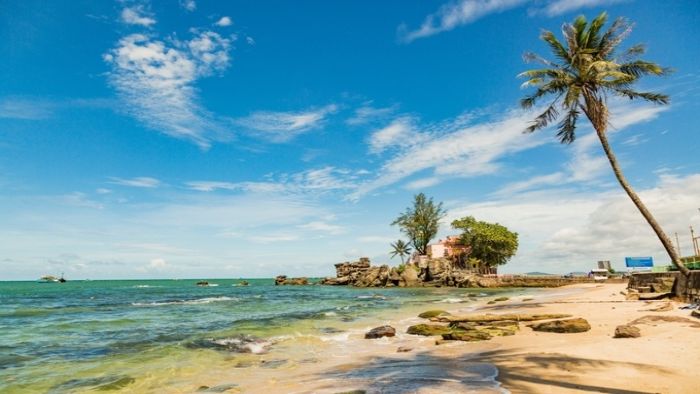 Phu Quoc beach
Different experience in Phu Quoc
I spent two weeks in Phu Quoc in early October and definitely fall in love with it. If you're already familiar with Thailand's islands, you should find Phu Quoc to be a refreshing change. The sand is coarser (at least on the Long Beach side), similar to what you might see on far northern Phuket, but what makes Phu Quoc island stand out is the sheer volume of totally undeveloped beach.
Every day I'd go for a ride along Long Beach and I tell you, the empty beach just goes and goes away my vision. I'd keep looking to my right and it was always, yup, the empty beach! The downside of no development is that the empty beach can get a bit messy with refuse from the sea, but it's typical flotsam but you'll find the water to be warm and calm. I pulled up the bike one morning when the waters were especially calm, jumped in and floated there by myself for almost an hour. I could hear the water slowly slapping on the beach and could just see the palms out of the corner of my eye – it was divine!
Also unlike Thailand, the accommodation is of a different standard. There's little in the way of thatch bungalows, instead, it is mostly cement chalets and the like. I'd heard a lot of reports of people having difficulty getting a room, but in October at least, I had no problems. I stayed at Beach Club a few nights, but then moved a bit closer to the restaurants and stuff in some forgettable Vietnamese place, it was cheap too!
It's really easy to hire a motorbike (with or without driver) and I highly recommend it. Most days I'd just pack some water, a towel, and a book and buzz off – loads of beaches to try out and also some islands off the southern tip. I didn't venture down to them, but a guy at one of the dive shops in Phu Quoc said they are brilliant and I think I will try it next time.
Also unlike islands in Thailand, there isn't an oversupply of bars and clubs. I found a few places for a beer at night, but really, I wasn't there to party.
Lastly, you can get boats there from both Rach Gia and Hon Chong.
Some tips for travelers when traveling in Phu Quoc
Although it is possible to visit Phu Quoc all year round, it is recommended that the best time to visit this island is from November to March of the following year. This is the ideal time to enjoy the scenery and beaches because it is the dry season on the island. The weather is nice, sunny and the sea is calm. Besides that, this is the festival time of Vietnamese people as well as the winter break of Western people, so there are a lot of tourists coming to the island. It is better to book the tickets in advance.
There is an interesting thing if you travel to Phu Quoc in the rainy season. Don't worry about the heavy rain because the rains this time don't last long and after the rains, everything on the island become more colorful.
If you want to enjoy a sweet holiday with your lover. The autumn is such a great time for you because this is the low season, and the famous resorts such as Saigon Phu Quoc resort, Eden resort, Sasco Blue Lagoon resort, etc often lower the price and have many interesting discount programs. So, it is also the chance to enjoy a luxury Phu Quoc trip in the best resorts in Phu Quoc.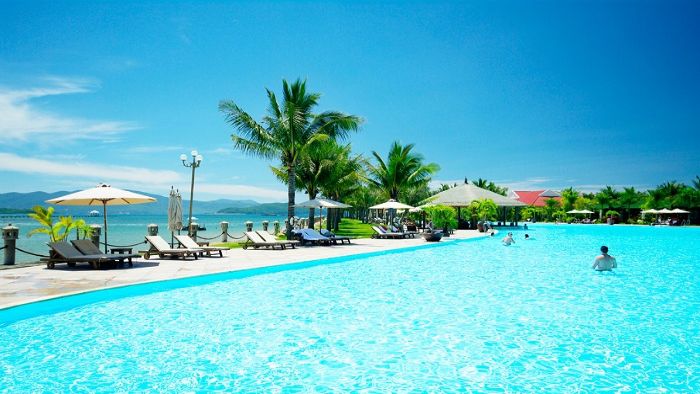 A luxury resort in Phu Quoc
Thank you for watching this post, if you think this post is useful, don't hesitate to like and share with others. Thank you!