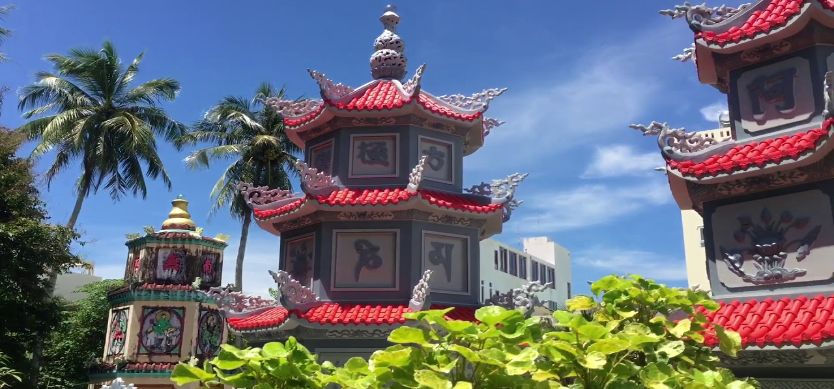 Sung Hung pagoda is known as the most ancient pagoda in Phu Quoc and an indispensable tourist site in Phu Quoc tours.
About Sung Hung pagoda
Built in the early 19th century, Sung Hung Pagoda, with its original structure and intriguing statues, is well worth visiting.
Previously, this place was a cemetery, so the people had contributed to build two pagodas named Sung Nghia and Hung Nhan to worship and pray for the souls. Later, these two pagodas were merged into a large pagoda named Sung Hung.
During the two resistance wars against the US and France, the pagoda became a solid secret base so that revolutionary officials could contact each other. Moreover, because of the love and respect for Uncle Ho, the 7th abbot of the pagoda, Thich Hue Chanh, celebrated Uncle Ho funeral after his death (1969). Up to now, the pagoda continue to worship Uncle Ho for the past 40 years.
Located in Duong Dong Town, visitors will experience the peaceful ambience under the old banyan tree at Sung Hung pagoda. This pagoda is surrounded by huge old trees. The main entrance conforms to a traditional three-gate style (Tam Quan).
The statue of the Goddess Quan Am Bo Tat overlooks the centre of the courtyard over a small lotus pond. In the main hall, Tam The Buddha is placed on the highest altar. On the wall is a painting depicting Monk Duong Tang's journey to the West. Behind this is the shrine that worships Gautama Buddha's ascendancy to Heaven.
In the same case with many other Vietnam pagodas, Sung Hung pagoda had undergone two times of restorations in 1924 and 1960.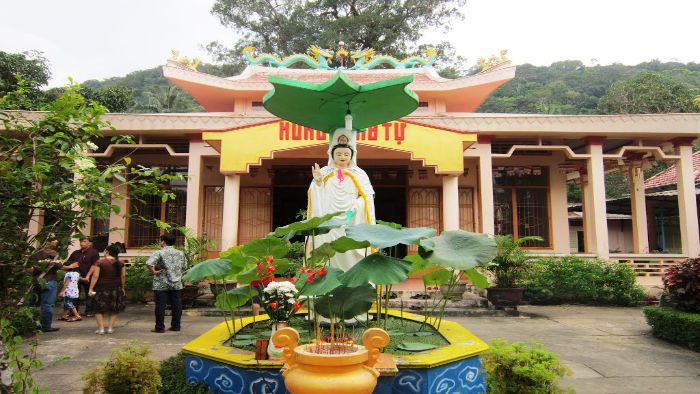 Sung Hung pagoda
What to visit in Sung Hung pagoda
Tourists to Phu Quoc can be easy to visit Sung Hung ancient pagoda, this pagoda opens from 7:00 am to 6:00 pm and no entrance fee. For foreign tourists, exploring this pagoda is such an indispensable tour, joining in this tour, you will update many useful and interesting knowledge of Vietnamese religion and understand more about traditional Vietnamese culture.
Coming here, you will mix into the peaceful atmosphere, rest your soul in calm, and burn an incense to pay for safety, happiness and luckiness.
The pagoda is near Dinh Cau night market, after paying a visit in the pagoda, tourists can walk to the night market to explore and enjoy the famous specialties of local people as well as buy gifts for your friends, family.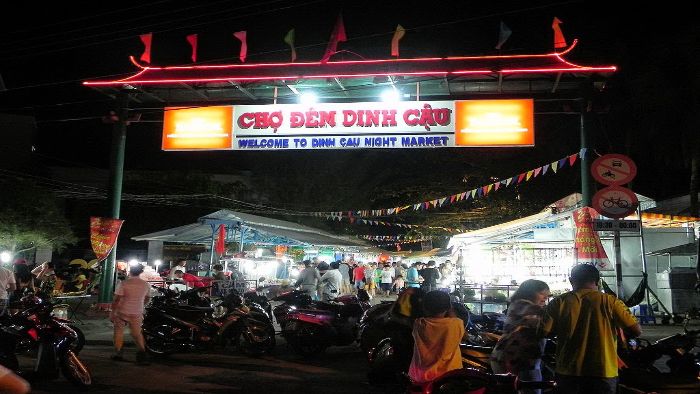 Dinh Cau night market
Sung Hung pagoda is the oldest and most sacred pagoda in Phu Quoc which is a place local people find whenever they need a spiritual hold. If you want to explore Sung Hung pagoda in your Phu Quoc trip, let's contact us. Thank you!