Tomentose rose myrtle alcohol is considered as a Phu Quoc specialty and it is famous national wide for its especially good smell and nice taste.
Not only is Phu Quoc famous for the fish sauce but specialties of Phu Quoc also include tomentose rose myrtle alcohol made from tomentose rose myrtle fruit which usually lives in many parts of the world such as the Philippines, Malaysia, Indonesia, and the tropical regions in Asia. It is wonderful when nature gives Phu Quoc land of Kien Giang province with the most simulated forest of this special fruit.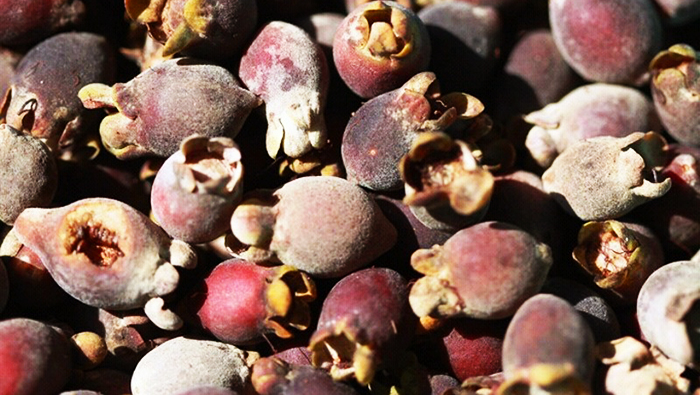 Tomentose rose myrtle fruit on Phu Quoc island
A special kind of alcohol in Phu Quoc
The tomentose rose myrtle fruit is a special one which is present throughout Vietnam, but in Phu Quoc, it is "sublimated" into a special kind of alcohol with fascinating violet color. Made of tomentose rose myrtle fruits and mostly produced by a manually fermented method, this alcohol has a very beautiful clear yellow-turned violet color and the typical smell of tomentose rose myrtle fruits. It tastes delicately sweet mingled with acrid.
How to make tomentose rose myrtle alcohol
In the island district of Phu Quoc, there are now relatively many tomentose rose myrtle hills within protective forest area of Ham Ninh, Duong To commune, and Duong mouth. Tomentose rose myrtle blossoms and fruits almost all year round, but, according to the experience of alcohol producers, the spring crop offers the best quality fruits with a lot of honey – the best material for good alcohol.
If talking about the recipe for tomentose rose myrtle alcohol, visitors will be very curious because the recipe is only available to Phu Quoc people. But it is mostly based on the formula for making grape wine and grape honey to apply to this kind of fruit. The ingredients to make the alcohol are very simply which include wide tomentose rose myrtle, fruity yeast, and wine of 29 Celsius degree.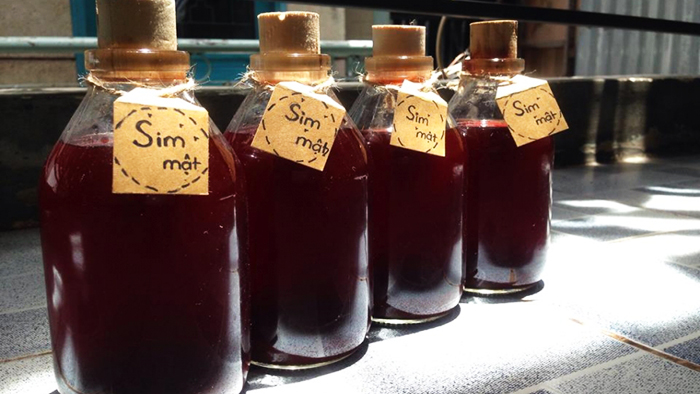 Tomentose rose myrtle honey
In the tomentose rose myrtle season, people pick up ripe fruits and bring them to clean, puree, and then ferment with sugar in a certain proportion. The incubation takes more than 1 month until the alcohol is pink like wine color, featuring a sweet flavor and a little acrid taste.
The use of tomentose rose myrtle alcohol
Like wine, Phu Quoc tomentose rose myrtle alcohol is also very good for human health, for the digestive system, especially when you have a full stomach or eat too much protein. In addition, it is good for blood, blood circulation, eating, sleep, and the old's degenerated bones.
Where to buy tomentose rose myrtle alcohol
Today, there are some brands of this alcohol which were passed the quality test of the State's medical organizations such as "Ruou Sim Rung" (Tomentose rose myrtle alcohol) and "Mat Sim Rung" (Tomentose rose myrtle honey) with the beautiful packing. Tourists can look for many famous and reputable brands to buy genuine tomentose rose myrtle alcohol, including Bay Giao, Thanh Long, and Sim Son tomentose rose myrtle alcohol. With a separate processing method that brings its own flavor as well as the aroma of tomentose rose myrtle alcohol, the products of these brands carry their own characteristics and cannot be mixed with any other wine. Prices range from VND 140,000 to VND 200,000/bottle.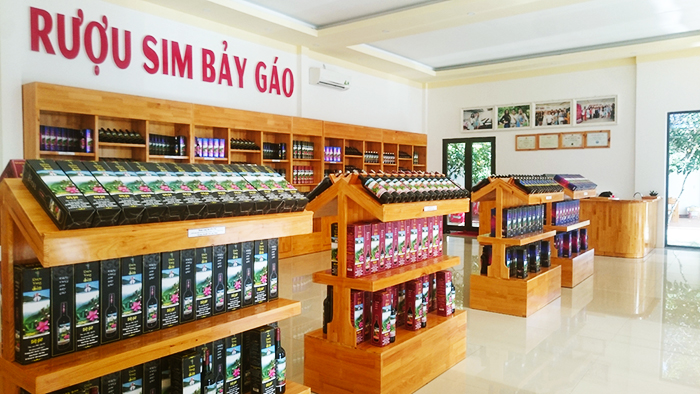 Tomentose rose myrtle alcohol sold in Phu Quoc
If Dalat is famous for its aromatic and sweet taste of grape wine, Phu Quoc tomentose rose myrtle alcohol also owns special taste as delicious as other excellent wines. For further information about Phu Quoc tours or where to eat in Phu Quoc, feel free to contact us or visit our website, and don't forget to like, share the article with others. Thank you.