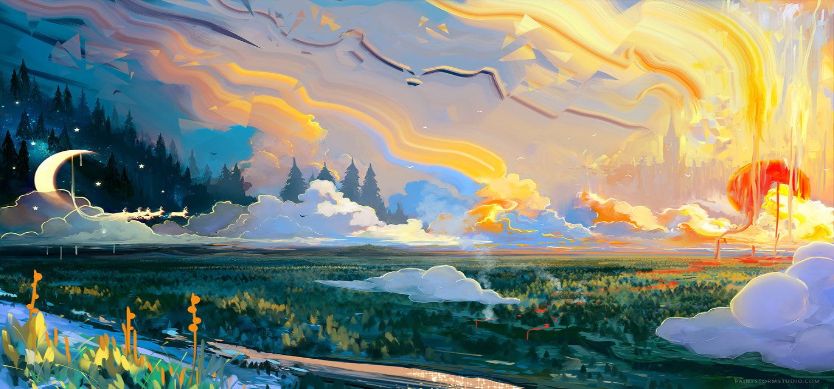 Artist Pham Huy Hung is fulfilling a long cherished dream of holding his second painting exhibition in the Museum of Fine Arts in Ho Chi Minh City, after a successful exhibition at the Viet Art Center in Hanoi.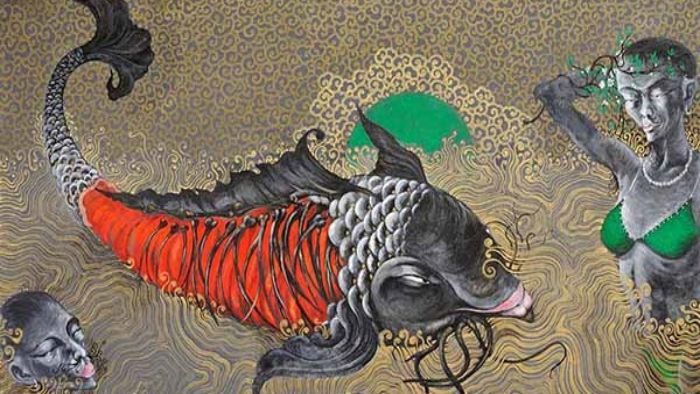 A masterpiece of Pham Huy Hung
The present exhibition will feature 52 lacquer works and oils on canvas.
Born in the north central province of Thanh Hoa, he graduated from the Vietnam University of Fine Arts in 1999. He chose to pursue a style of painting that is inspired by his feelings and views on life. By experimenting with various kinds of mediums such as silk, lacquer, oil on canvas, Hung has found his own niche.
All paintings in this exhibition illustrate either his emotions or his beliefs. In some pictures entitled 'Stormy Rain', 'Countryside Land', 'Heaven, Earth and Man', viewers can identify the struggle of humans against disaster, as well as his philosophic ideas on the impact of mankind on nature.
In other paintings like 'The Seat', 'Self Portrait', viewers can catch his criticisms of social climbers, ill treatment of people and even a hint of sarcasm aimed at himself.
However, his most popular topic is, like many other artists, love and beauty. It could be as simple as a cloud in the sky like the series 'Cloud I, II, III, IV, V' or as sophisticated as feminine exquisiteness in his lacquer works. Beauty is also illustrated through his oils on canvas of normal everyday life.
There are paintings on philosophic ideas such as the series 'Four Goddesses of Cloud, Rain, Thunder and Lightening', 'Trends of Operation I, II, III, IV, V', in which Hung has excellently applied both the traditional lacquer art technique and national symbolic patterns found in Ngoc Lu drums that describe Vietnamese belief in the Higher Power or the everlasting movement of time through 12 traditional Zodiac Animals displayed along side modern clocks.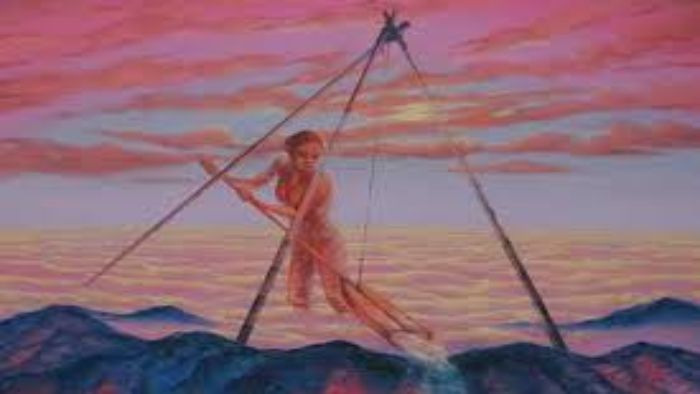 A paiting displayed in Pham Huy Hung exhibit
Explaining his reasons for choosing traditional themes, especially symbols found on bronze drums as base of his works, Hung shared that he had discovered in the traditional fine arts a happiness, cheerfulness and sense of humor. Each symbol also presented a thoughtful lesson. "The beauty of the soul and the nobility of heart always surpass sorrow, loss and misery in human beings," added Hung.
The exhibition is on till 24 September 2011.
There are a lot of cultural events as well as art performances for you to visit in Phu Quoc island and Vietnam all year round. If you need further information about cultural Vietnam events, don't hesitate to contact us. Thank you!