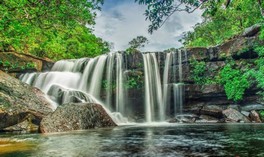 Jan 15 2019
Being regarded widely as one of the most beautiful islands in Vietnam, Phu Quoc has increasingly attracted more and more visitors. Beside...

Jan 04 2019
Besides picturesque beaches and islands, Phu Quoc also owns a lot of beautiful streams. One of them is Tranh stream - a destination that tourists s...

Jan 04 2019
Tranh stream is one of the must-visit destinations for tourists in Phu Quoc tours. Tranh stream features the lush beautiful natural landscapes with...
Log in to Phu Quoc Island Explorer
Log in to add things to your wishlist and access your bookings from any device.
Log in with Google
Or
New here ?Create an account