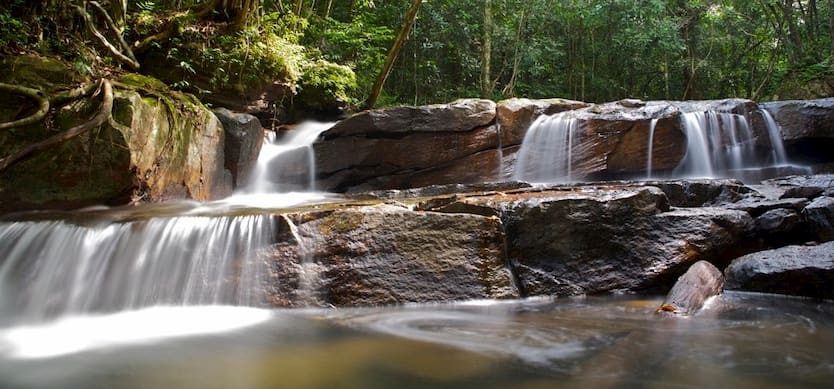 Tranh Stream - A Destination That You Should Not Miss In Phu Quoc
Being regarded widely as one of the most beautiful islands in Vietnam, Phu Quoc has increasingly attracted more and more visitors. Besides Mo So cave, Long Beach, etc., Tranh stream is one of the most exotic natural places in Phu Quoc. If you like to mix with nature fully, Tranh stream is a must-visit spot.
What is Tranh stream?
Tranh Stream is a marvelous spot that visitors who once have the chance to set foot on Duong Dong town shouldn't miss out. Just taking 15 minutes to drive a motorbike from Duong Dong town, you will reach Tranh Stream. From the main entrance to Tranh stream, tourists can slowly walk on the road with moss rocks on both sides and enjoy the refreshing feeling under the evergreen canopy as well as the cool breeze.
One part of the path in the forest looks a bit mysterious and gloomy since it is covered with tangled vines. However, once travelers already go through it, they will reach the trail, where there is plenty of sunshine crept through the greenish canopy to the ground full of the dried yellow leaves and grass. Walking on this small trail road, you may feel that your journey to discover Tranh stream is not really challenging.
The atmosphere in the jungle is incredibly cool and refreshing. When getting closer to the stream, travelers will feel the comfortable cold sensation, listen to the murmuring sound of the immense forest and the sound of running water echoed nearby. When reaching the stream, you can hike up for around 300 meters to the zone for camping and swimming, or you can simply stay there, contemplate the waterfall and relax.
Tranh stream looks like a beautiful painting that is given to the Pearl island by Mother Nature. It is not large and rapid is not steep, high or pounding. The stream drizzle onto the stone blocks, sometimes sluggish, sometimes murmuring. Some parts of the stream flow through the rapids, creating a slight white waterfall in the evergreen floral background. It's a good idea to immerse yourself in the cool water of a tiny lake, where Tranh stream runs through the high rapids before pouring down.
The stone blocks along the streambank which are covered with green moss have a charmingly wild beauty but it's a bit challenging to pass them since they are fairly slippery. Therefore, visitors must take caution and follow the instruction of tour guides before they like to try climbing on them.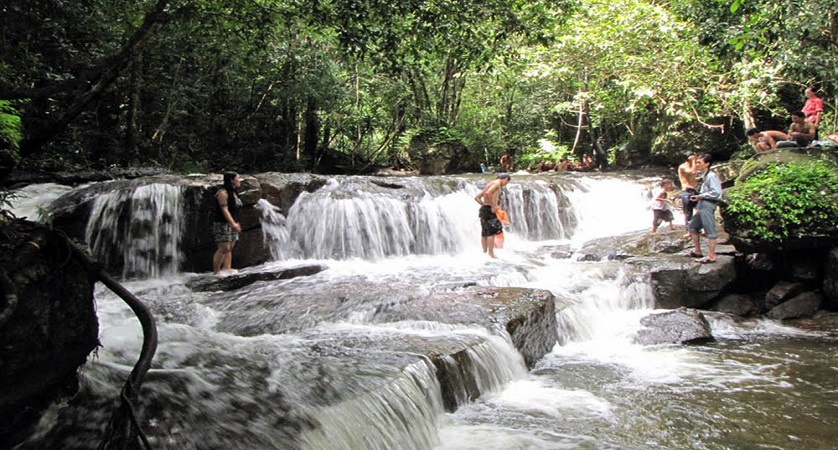 Tranh stream
What to do at Tranh stream?
You will definitely amazed at resting your backs against the cliff and enjoy a pleasant massage of water flow. In the short moments, all your tiredness and sorrow seem to disappear while the relaxation and calmness come back to you. Moreover, you can carry a fishing rod, leisurely go fishing and enjoy the peaceful space in a flowing water area. It's also exciting to lay back on a dry rock and read books in an environment surrounded by the beautiful birds singing, the stream's murmuring sound and the faint aroma of forest's flowers in the breeze.
Tranh stream is a perfect spot for picnicking and camping at the weekend. Campers may carry some foods, prop up a camp along the stream, and then wandering around the forest for sight-seeing flora and fauna. After long hours spending on exploring, you may have a picnic together with your fellow on the streambank. You can enjoy some simple grilled dishes, take a sip of the aromatic Rose Myrtle wine while chatting with another happily in the fresh air. At that joyful moments, it's quite possible to forget the way back home.
If you are free and don't want to waste your time, you aren't still tired and want something more adventurous or challenging, you can continue climbing higher to explore the mountains and forest. It is quite interesting for travelers to hike through the forest in their own way, or you can follow the available small roads with stone steps along the stream. In Tranh stream's source, on the summit, there are many exotic caves inside the mountains, which are worth exploring.
Located on the highest mountain, the Bat cave which is about 200 meters in height and 50 meters depth has many fanciful stalactites. This deserves to be the next spot for tourists. Then, the visitors can plunge into the refreshing stream for relaxation and return to the camp for lunch at noon.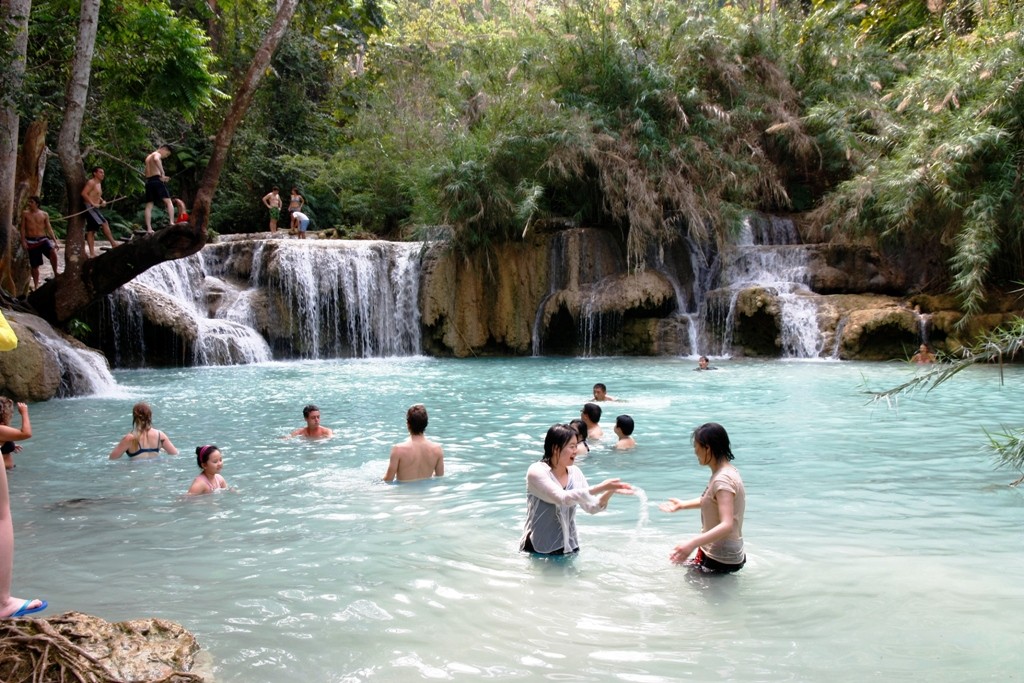 Relaxing in Tranh stream
Insider tips
► The best time to visit Tranh stream is from May to October since it can be relatively dry in the high season.
► It's better to wear a sandal, good walking shoes or tennis shoes.
► It's advisable to carry a spray of mosquito or bug since you are likely to be bitten.
You are a nature lover? You want to relieve all your everyday stress and troubles? Tranh stream is for you. Once you set foot on Phu Quoc, do not forget to explore Tranh stream. Are you ready to immerse yourself in nature? Tranh stream is waiting for you.