DURATION

1 day

TRAVEL TYPE

Cruise tour

PRODUCT CODE

T88PQB12

DURATION

1 day

TRAVEL TYPE

Land tour

PRODUCT CODE

T88PQB07

Duration

1 day

Price per day

US$75

DURATION

1 day

TRAVEL TYPE

Land tour

PRODUCT CODE

T88PQL04

Duration

1 day

Price per day

US$26

Feb 13 2019
Phu Quoc is famous as a beautiful island with white sandy beaches and turquoise blue sea. With Phu Quoc tours, visitors must wow because ...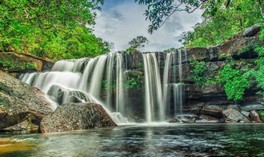 Jan 15 2019
Being regarded widely as one of the most beautiful islands in Vietnam, Phu Quoc has increasingly attracted more and more visitors. Beside...

Jan 15 2019
Phu Quoc prison is a historical site on Phu Quoc island and a bleak reminder of Vietnam's turbulent past where thous...
Log in to Phu Quoc Island Explorer
Log in to add things to your wishlist and access your bookings from any device.

Log in with Google
Or
New here ?Create an account