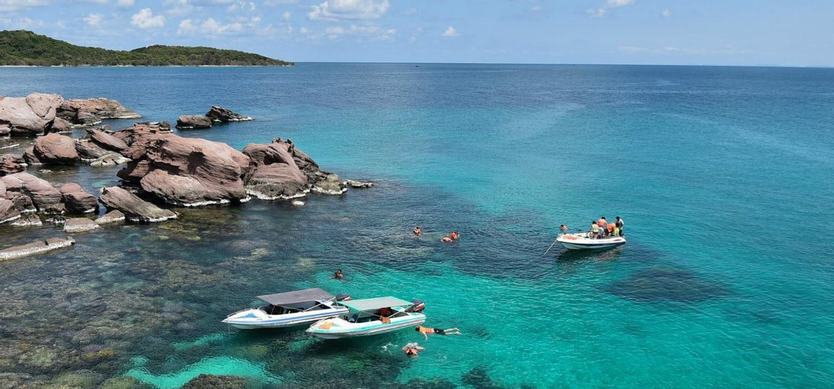 Phu Quoc always has something that makes tourists busy, from its breathtaking landscape to engaging activities.
I've traveled to this beautiful island twice, but each trip left me different feelings. The thing I liked most is the pristine beauty of the beaches and islets.
5 exotic islets to explore in Southern Phu Quoc
Thom Islet
Mong Tay Islet
Gam Ghi Islet
May Rut Islet
Xuong Islet
In this post, I'm going to share with you these top gorgeous islets that you cannot miss in Phu Quoc Southern Island day tour.
Let's see.
Thom Islet
Thom Islet is located in Hon Thom archipelago in the south of Phu Quoc Island. The water is very deep and clear, with beautiful rocky rapids and fancy shapes. At the bottom of the sea, there are colorful coral reefs and marine creatures (especially in the north of the main island), so Hon Thom is one of the most beautiful diving spots in Phu Quoc.
Thom Islet is home to many beaches, in which the most beautiful ones are Nom Beach, Nam Beach, Chuong Beach or Trao Beach with coconut trees and clear blue sea.
Around Thom island, there are unspoiled small islands. If you are into mingling with the wild nature, you can rent a boat to visit these neighboring islands.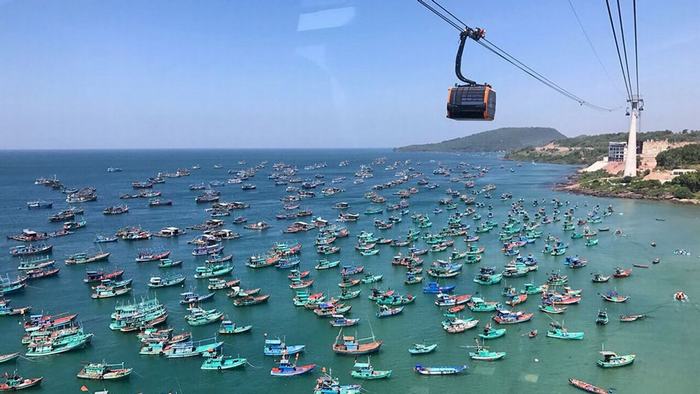 Cable car in Thom Island
One of the most popular spots for tourists here is the Sun World Hon Thom Nature Park. Do not miss the chance to experience Hon Thom Cable Car. With a journey of 15 minutes on an altitude of 800m going through 3 large islands, you can admire the stunning views from above and capture beautiful photos.
Mong Tay Islet
Mong Tay Islet is in Duong Hoa commune, Kien Luong district, located off the coast of Kien Giang province, south of Phu Quoc island.
The highlight of this islet is the beautiful coral reefs, just 5 minutes from the island. The corals here grow close to a giant beach with many beautiful and sparkling colors. Because the sea is too clear, so just put your face down in the water, you can delight in watching the beautiful small sea fish swimming around the stunning reefs.
The coral ecosystem here is ranked the first place in Vietnam in terms of abundance with 17 different types of soft, hard and different anemones. The colorful coral reefs will surely impress visitors.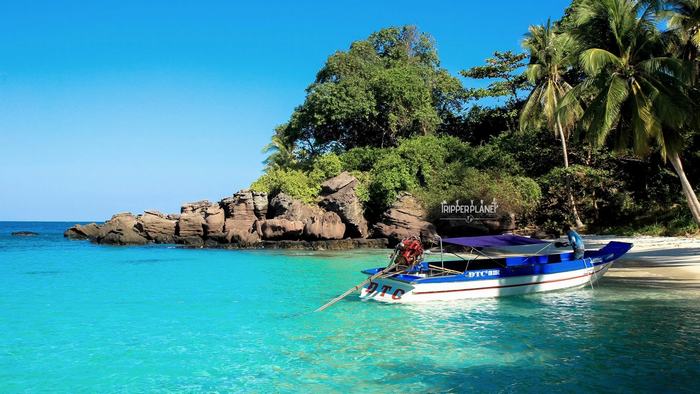 Mong Tay Islet
For those who love taking photos, Mong Tay island is a perfect spot. The beautiful scene is the ideal backdrop for photos. Watching the sunset or dawn is a wonderful experience you should not miss there.
Gam Ghi Islet
As the farthest islet in the south of An Thoi archipelago, Gam Ghi is a beautiful islet with a pristine beach, rocky outcrops with strange shapes, white sand, a world of coral reefs under the water.
To reach this uninhabited island, the only way is to travel by boat from An Thoi port.
Gam Ghi is still wild, with diverse ecosystems, is a suitable destination for tourists who like to explore the ocean.
Gam Ghi's blue sea is also the typical color of Phu Quoc beach. The water is clear that you can easily see the colorful coral reefs below. Therefore, it is considered one of the places with the most diverse coral and anemone ecosystems in Vietnam and is one of the most beautiful coral reefs in Phu Quoc until now.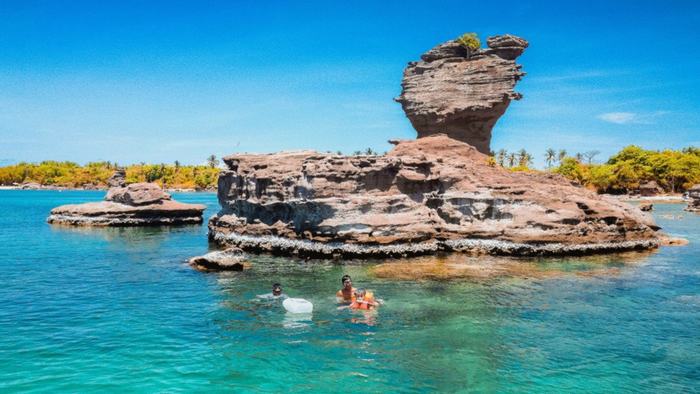 Gam Ghi Islet
May Rut Islet
May Rut is a small and uninhabited island located in the southwest and separates from Phu Quoc Island.
In May Rut Islet, it is not difficult to find an ideal beach with smooth white sand beaches stretching in the south of the island. Smooth rocks lying close to the coast in the north is the habitat of many sea creatures.
Besides the pristine nature, May Rut also possesses an extremely diverse and vibrant ecosystem. Coming here, you should not miss the fishing activity and enjoy what you catch processed right on the boat. And for those who love the ocean, you can enjoy watching colorful coral at Hon May beach.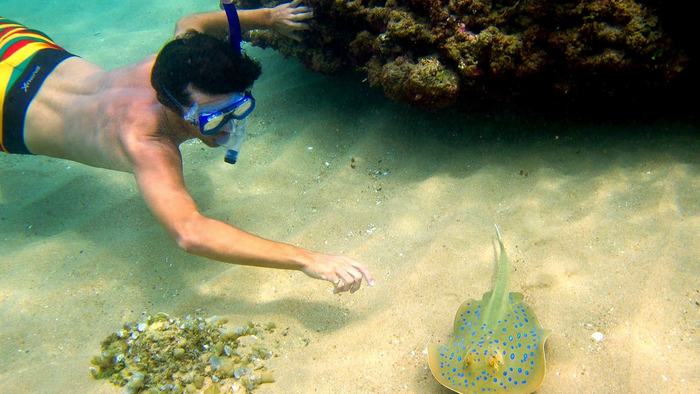 May Rut Islet
Xuong Islet
Xuong Islet is also known as An Tay island, located in the south of Phu Quoc island. This islet is famous for its rare coral reefs and majestic natural beauty.
According to Standard Magazine, Phu Quoc and Xuong Island are Vietnam's "most kept secrets." Xuong Islet is the most beautiful place in the surrounding islands and can only be reached by boat. The picturesque beaches and forests around the island are still intact, retaining its natural appearance.
Such amazing places to spend your holiday, right? Let's take Phu Quoc tour three days two nights and enjoy yourself. For more information about Phu Quoc Island, you can visit our website. If you have any questions, feel free to contact us. Share this article with others if you find it helpful. Thank you!