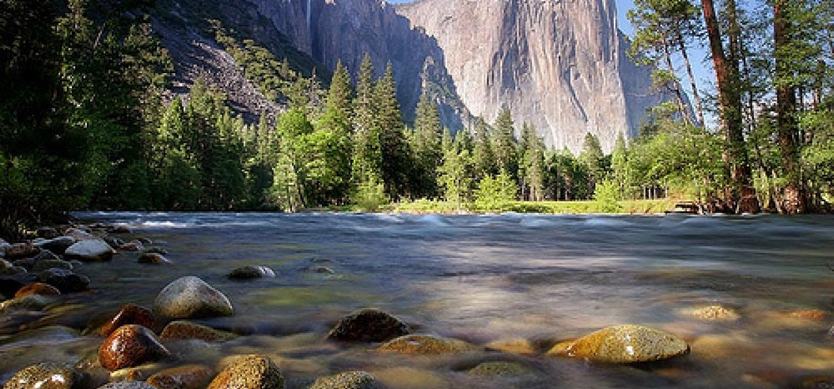 When talking about Phu Quoc, people will think of a poetic pearl island, surrounded by the blue sea and beautiful resorts in hot sunny days. However, few people know that Phu Quoc also possesses a lot of picturesque streams.
Top 3 picturesque streams in Phu Quoc
Tranh Stream
Da Ban Stream
Fairy Stream
In this post, we're going to introduce to you these beautiful attractions that you cannot miss when traveling there.
Tranh Stream
Tranh Stream is one of the most beautiful streams in Phu Quoc and also the most popular tourist attraction on the island. Despite not being the largest stream, Tranh stream has a natural beauty that makes it impressive.
How to get to Tranh Stream
From Long Beach in Duong Dong town, it takes you 15 minutes to get to Tranh Stream. Head south on Tran Hung Dao Street, before going to the airport area, turn left, go all the way about 5 minutes to turn right into the main road. Continue to straight and turn to the left-hand side you will see Tranh Stream.
What to see in Tranh Stream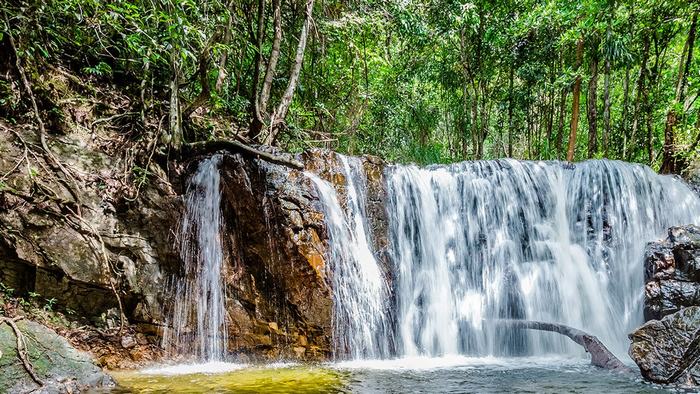 Tranh Stream
Bat Cave: is an impressive cave, a place worth exploring for a visit if you have time.
Wild orchids and ginseng: are quite rare plants, but you can see them when walking along the trail.
Camping is a popular activity there. You can bring food and drink while enjoying the beautiful scenery in Tranh Stream.
Da Ban Stream
Da Ban Stream, also known as Da Ban Waterfall, originates from Ham Ninh mountain range near Duong Dong Lake. The landscape here consists of a series of flat stones like tables - so it is called Da Ban Stream.
This place is also a suitable place for camping or outdoor picnic.
Da Ban Stream has a very small mainstream. It is not as beautiful as other streams, but the highlight of the flow is a small wooden suspension bridge. This place is not too touristy, and especially near Duong Dong town, so you can walk here easily and safely.
How to get to Da Ban Stream
Da Ban Stream is about 6km from Duong Dong town to the Northeast. From Duong Dong, go down Nguyen Trung Truc street toward Bai Thom commune and Ganh Dau commune, then turn right to Duong To commune. The red dirt road will take you to Da Ban stream. From there, you go about more 4km more to get to the car keeping place.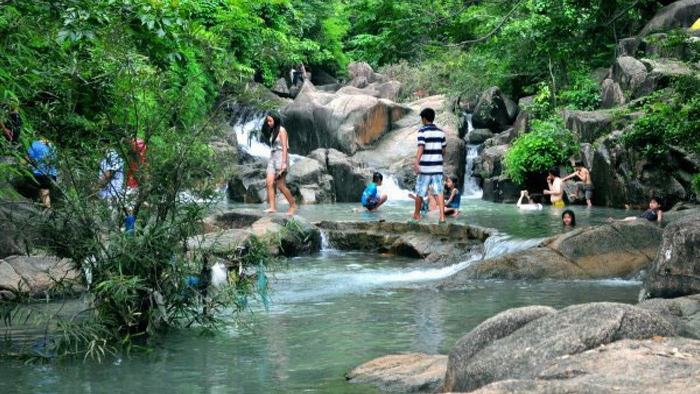 Da Ban Stream
What to see in Da Ban Stream
Coming to Da Ban stream, you have a chance to see the fauna and flora systems such as frogs, lizards, snakes, wild orchids, mushrooms, or forest ginseng. The wooden suspension bridge is quite impressive; if you are afraid of heights, there is a more solid path than you can explore on your own.
There are several lakes created by the stream; you can freely soak in it.
Fairy Stream
Fairy Stream is a famous stream in Phu Quoc by the landscape with large, flat rocks. It is only about 1km long.\
According to the villagers, the name Suoi Tien originated from the legend that a man went to the forest to take wood. When he was very thirsty, he found this stream and saw beautiful fairies bathing here.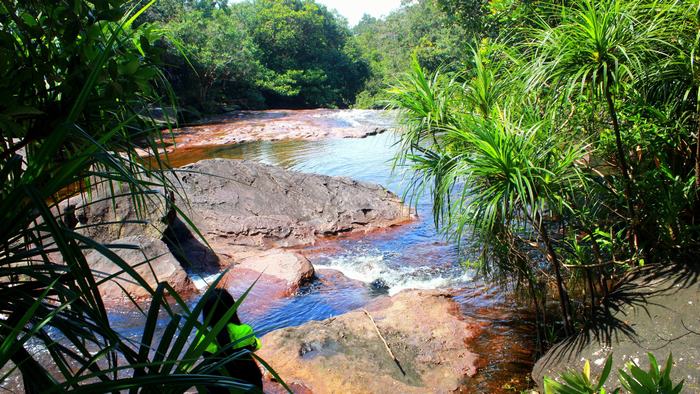 Fairy Stream
How to get to Fairy Stream
From Duong Dong town, you head the north to Bai Thom commune about 5km, turn left at the intersection and go down the front dirt road about 2km to the stream. The best means to get to Fairy stream is motorbikes or bicycles. Along the way, you can see the famous pepper gardens and the murmuring sounds of flowing water.
What to see in Fairy Stream
The natural scenery at Fairy Stream is quite beautiful and peaceful. Around the stream, you can discover rare plants such as wild orchids, ginseng, fruit trees, or rose myrtle (sim). Local people often come here to collect sim for selling or making sim wine.
For more information about Phu Quoc Southern Island Day Tour, you can visit our website. If you have any questions, feel free to contact us. Share this post with others if you find it helpful. Thank you!