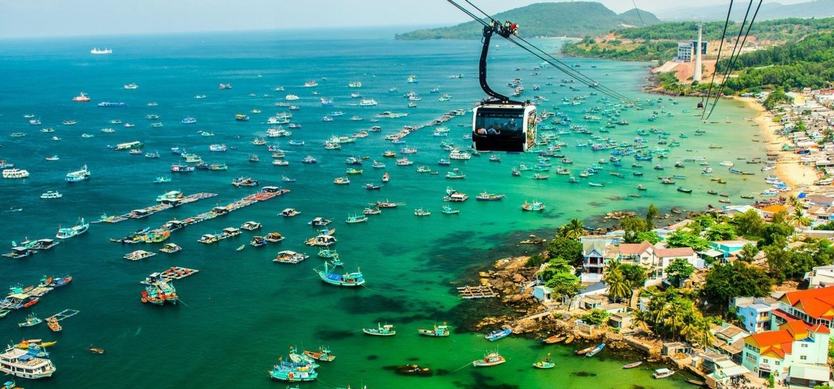 Southeast Asia is an appealing destination that always attracts numerous travelers around the world. If you are into gorgeous beaches, this region has a lot to offer, in which Phu Quoc and Phuket are among the most famous ones. And if you are still confused about which is the better choice, then keep reading our post below!
What makes Phu Quoc worth a visit?
Favorable weather
Phu Quoc is a beautiful island with a pleasant climate all year round. The average temperature of the year is about 28 degree Celsius.
From October to May is the best time to visit Phu Quoc. At this time, it has little rain so that you can freely to explore and participate in recreational activities on the island.
It's the chance for you to immerse yourself in the clear blue water, sunbathe on the white sand beaches or enjoy diving and watching colorful corals. You can also ride on a motorbike through the primeval forest, or wait for the magnificent dawn or sunset.
As the peak season, Phu Quoc at this time is often crowded with tourists, and of courses, the cost of service and accommodation are much higher.
Stunning sunset in Phu Quoc
Marvelous tourist attractions
There is no shortage of stunning places to visit when traveling to Phu Quoc.
Beautiful beaches are the most popular and famous spots that visitors should not miss. Phu Quoc is home to loads of charming ones such as Sao Beach, Long Beach, Khem Beach, Ong Lang Beach, etc. Some of them have been voted as one of the gorgeous beaches on the planet.
The fishing village is also a must-see destination in Phu Quoc Island. The most outstanding one is the Ham Ninh fishing village. Coming here, you can learn more about the daily life of local people, how to net fish and enjoy savory fresh seafood that they catch.
Phu Quoc night market is the place where you can find a lot of local specialties and unique souvenirs to bring home for family and friends.
For those who are into something adventurous, Phu Quoc can also satisfy them with a lot of brilliant streams, lush primary forests, Phu Quoc National Park and green pepper gardens.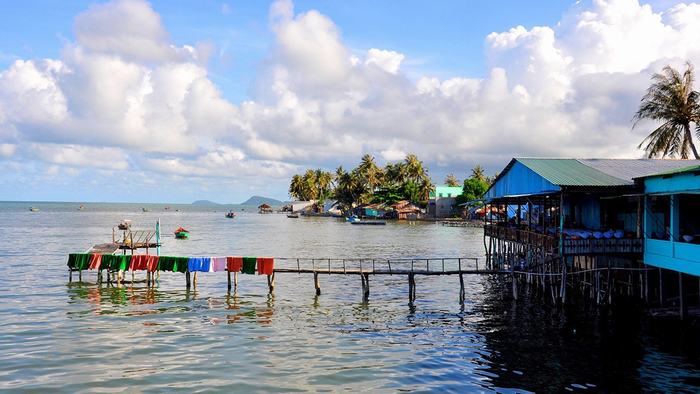 Ham Ninh fishing village
Delicious seafood
Along with famous tourist destinations, Phu Quoc attracts any visitor with its amazingly stunning seafood. It will be deficient if you travel there without trying savory dishes such as raw herring salad, flower crabs, grilled Bien Mai scallop, grilled sea urchin or grilled abalones.
You can enjoy these dishes at restaurants along the beaches or head to local markets.
Best reasons to visit Phuket
Dubbed as the tourist paradise of Thailand, Phuket has breathtaking scenery, distinctive culture, and cuisine that attract a large number of international visitors. Below are the top reasons to choose Phuket as your upcoming holiday.
Spectacular islands
Phang Nga Bay is the first place you have to visit when coming to Phuket. It has more than 100 vertical limestone islands on the emerald water that enchants a lot of travelers. James Bond Island - the excellent spot in Phang Nga has a funny finger shape where the famous "The man with the golden gun" from the popular "007 Spy" series was filmed.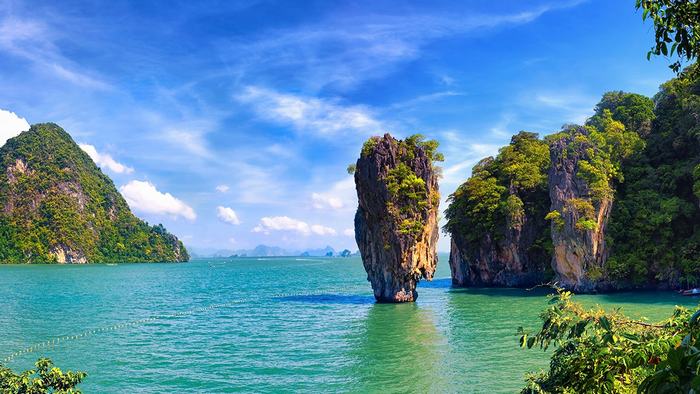 Beautiful scenery of Phang Nga Bay
Being world famous for the scene of more than ten Hollywood movies, Phi Phi Island - an archipelago off the coast of Phuket has been ranked among the top 20 most beautiful beaches in the world. You can find yourself as living in a dream when your feet reach the smooth white sand and cool water.
Fascinating activities
Phuket offers a lot of exciting activities for tourists to bring them an unforgettable trip.
Wander around Phuket Old Town
Unlike other provinces in Thailand, Phuket Town leaves its mark with the old town in the center where there are the most historical areas such as ancient tombs, temples, museums, and villas.
Watch Simon Cabaret Show
Every night, this unique show attracts thousands of visitors from all over the world. They come to admire the performances of traditional Thai culture.
Explore the underwater world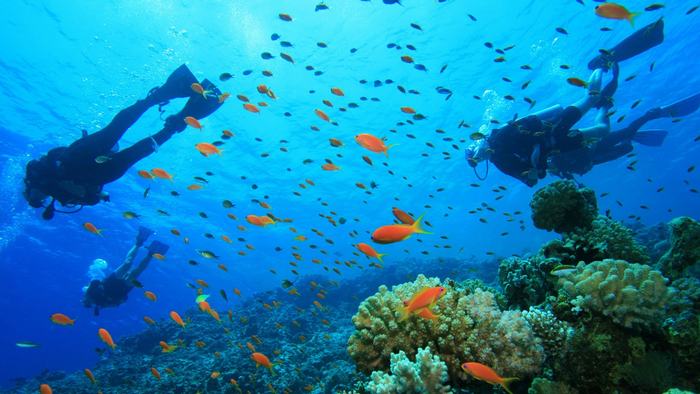 Diving in Phuket
In every tour in Phuket, diving is a must-try experience. You'll be immersed in the sea with countless tropical fish and colorful corals when coming to some of Thailand's best dive sites. Head to Hin Daeng and Hin Muang to feel how wonderful the underwater life is.
Enjoy amazing local cuisine
Phuket cuisine is very rich and exquisitely mixed between herbs, spices, and fresh food. From the Chinese dishes to the spicy local ones, all can please the most fastidious diners. The seafood is very clean and is made with many tasty dishes such as Thai Pad, seafood rice or fried noodles with seafood.
Phuket is also renowned for its street food at a reasonable price.
In a nutshell, whether Phu Quoc or Phuket can make your trip extraordinary with its own remarkable features. We can say exactly which one is better, let's come and explore yourself. If you concern more about Phu Quoc Tours, please visit our website. Do not hesitate to contact us if you have any questions and share this post with others. Thank you!