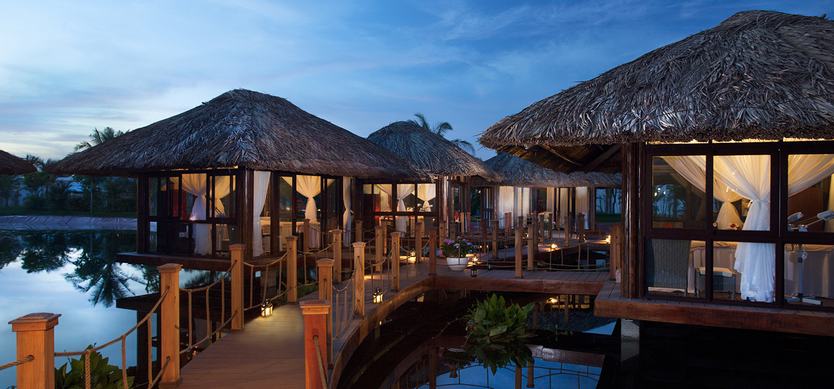 Vinpearl is not only a chain of resorts but also a tourism and entertainment complex. With the excellent service and various diverse exciting tourist activities, Vinpearl has been increasingly improved its position in the field of tourism in Phu Quoc. Vinpearl Phu Quoc is worth considering for your trip.
Vinpearl Safari
Situated in Long Beach area, to the northwest of Phu Quoc island, Vinpearl Safari is Vietnam's first and only open zoo. Being 380 hectares in size, Vinpearl Safari represents 150 species of rare animals from all parts of the world and is divided into two main zones: Safari Park (Wildlife Park) and Open zoo.
Open Zoo
In the Open Zoo, many rare native species and wild animals which come from the outstanding global biogeographic regions such as South Africa, India, Australian, etc are nurtured and conserved. With a surrounding moat, this semi-open residence not only creates a naturally harmonious habitat for animals but also offers visitors the most authentic and lively view.
Walking along the small bending shady roads, visitors will be amazed at discovering the Primate World with the occurrence of Pile Gibbon, Silver Langur, Macaque, etc; watching the Asian elephants bending down the stream; contemplate the majestic beauty of the African Lion, white Bengal Tiger or observe the naughtiness of the Striped Hyena, one-hump Camel or more funnily the laziness of the adorable bears, etc. In addition, Bird Park with the presence of Stock, Peacock, and Blackbird, combined with Flamingo lake, will take tourists back to mother nature in a peaceful and refreshing atmosphere.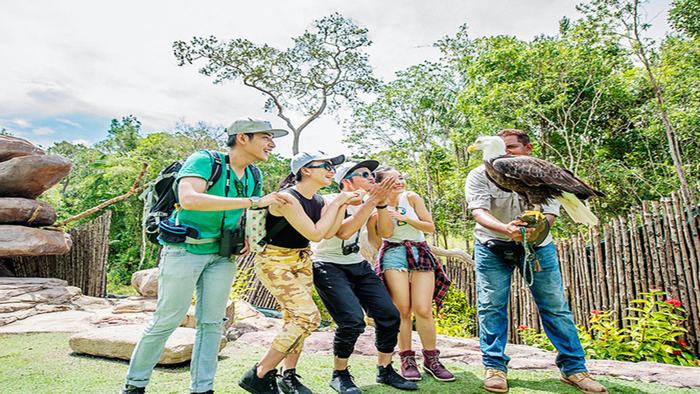 Vinpearl Safari
Wildlife Park
Covering a large area with an abundant floral system, the Wildlife park consists of various subdivisions. Each subdivision is a different habitat ensuring the suitable biological behavior of each species. Tourists will explore the Wildlife park via a specialized vehicle in a very unique and exciting manner where they will be caged up instead of the animals themselves. Visitors will take a chance to closely watch lions playing in the hay, giraffes cruising slowly across the road the road, or rhinos wandering around and sinking themselves in wet mud, etc. This open living space not only enables the animals to express their instinctive behaviors freely but also offers visitors a great opportunity to experience genuine wild lives. Participating in this exotic and exciting wildlife exploration, visitors will be surely closer to the natural wild lives than ever.
Vinpearl Land Phu Quoc Amusement Park
Located near Long Beach in Ganh Dau Commune, Vinpearl Land Phu Quoc Amusement Park is about 25 kilometers from Phu Quoc International Airport to the North. Being the largest and most modern amusement park in the region of Mekong River Delta, with a total area of 170,000 square meters, Vinpearl Land Phu Quoc Amusement Park offers a wide selection of entertainment services for the customers at different ages. The indoor game zone features plenty of diversified high-tech games as game machines, 3D games, 5D cinema, etc. Besides the indoor game area, the park also owns the outdoor game zone with many unusual thrilling games as the roller coaster, disk's coaster, swing carousel, etc. Moreover, coming to Vinpearl Land Phu Quoc, visitors will take the chance to participate in the amazing water games in the water park. Visitors also shouldn't pass Vinpearl Aquarium that is described as a miniature ocean with the presence of hundreds of marine creatures from all around the world such as white sharks, penguins, tortoises, etc. Additionally, do not forget to take part in the large-scale culture or entertainment events in the 2,500-seat musical water stage.
Together with the amusement areas, the system of restaurants will satisfy the gastric of any visitors with fast food as well as the traditional, Asian and Western cuisines. Moreover, visitors can do the shopping in jewelry stores, fashion and accessories shops or the traditional arts and crafts shops, etc in Shopping Street that is designed in the European style.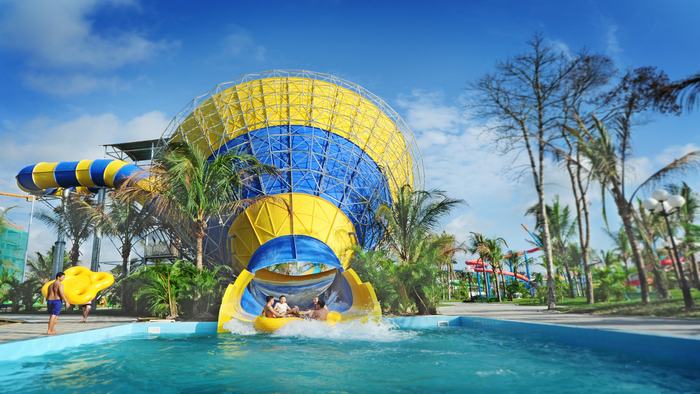 Vinpearl Amusement Park
Where is Vinpearl Phu Quoc resort?
Location: Bai Dai Beach, Ganh Dau Commune, Phu Quoc
In Phu Quoc, there are five Vinpearl resorts. Each one aims to a particular group of customers.
VinOasis Phu Quoc
Located in the ideal position, this luxurious resort features the high-quality entertainment. The resort has 1.378 rooms of different types including standard rooms, Suite, the special VinSuite and the disabled-friendly rooms, along with high-end restaurants, and bars. Moreover, the resort also has the gym, spa center, Kid's Club, and the conference center. VinOasis Phu Quoc will surely meet all your requirement.
Vinpearl Discovery 1 Phu Quoc
Vinpearl Discovery 1 Phu Quoc is a perfect choice for families and friends who like a long stay to explore Phu Quoc Island. With the beautiful villas around the splendid natural lakes, the resort stretches along the coast offering a full range of services to satisfy all the needs of customers during their stay.
Vinpearl Discovery 2 Phu Quoc
Being an unparalleled tourism and entertainment resort complex, this charming Mediterranean-style resort is a great spot for your perfect seaside holiday in villas surrounded by endless grass carpets. The villas all have the spectacular views of the sea. Especially, the resort offers visitors unique golf courses.
Vinpearl Resort & Golf Phu Quoc
Designed in the European neoclassical architecture, Vinpearl Resort & Golf Phu Quoc owns 402 guest rooms, 220 villas, 2 conference rooms, and 6 restaurants & bars. This opulent accommodation can hold the large outdoor parties next to the resort's swimming pool and beach for up to 2,000 guests at one time.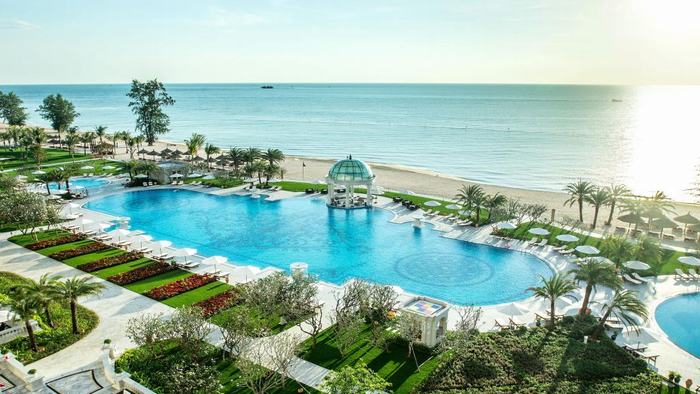 Vinpearl Resort & Spa
Vinpearl Resort & Spa Phu Quoc
Designed in the Asian-style architecture, this resort which has 605 guest rooms, 4 villas, 7 conference rooms, and 6 restaurants & bars owns international-standard 27-hole golf. Moreover, Vincharm Spa's exquisite massages will help you relieve all daily stress and tiredness.
Vinpearl Phu Quoc always offers customers the fabulous travel and entertainment experiences. When taking Phu Quoc tour, do not forget to explore Phu Quoc Safari Zoo, Vinpearl Land Phu Quoc Amusement Park or stay in Vinpearl resorts. You will surely have an enjoyable trip!