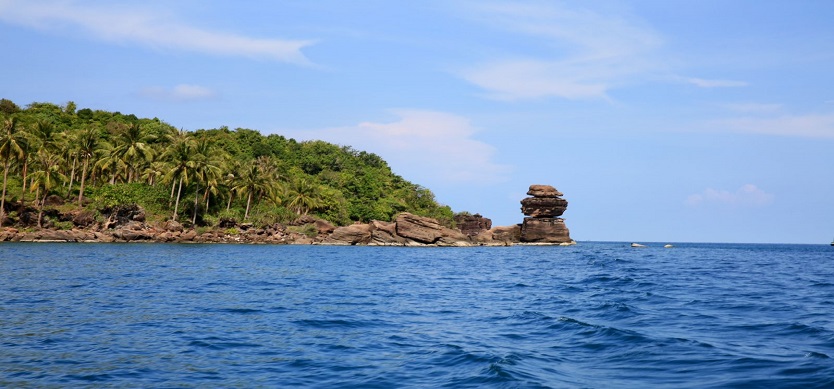 If you have satisfied with the beautiful sites of Phu Quoc, then you should try this new destination of Thom island.
Why should you travel Thom island?
It is because Thom island has a fine white sandy beach, clear turquoise water, and wild old forest.
So, whether one day is enough to explore all Thom island or not?
See Thom island travel guides below to get it more!
Overview of Thom island
Thom island is a large island belonging to the An Thoi archipelago - Hon Thom commune - Phu Quoc district - Kien Giang province. The island has an area of ​​about 5.7km2, which is home to the clear sea water, beautiful beaches filled with smooth white sand, natural rocks and mysterious old wild forests and very famous for Phu Quoc southern island day tours. Only with beautiful charm from the natural landscape is enough to make many believers enchanted when visiting Thom island.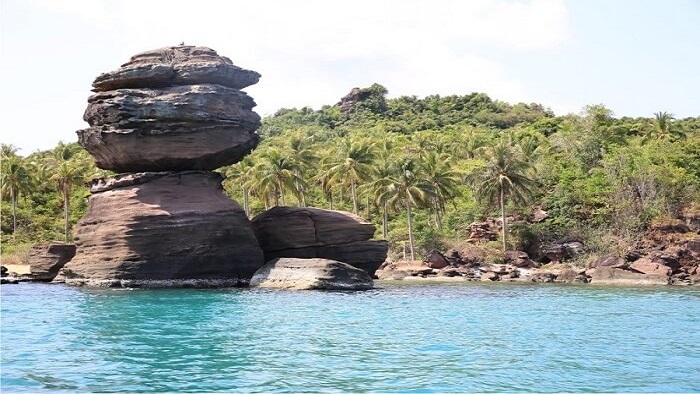 Thom island
Thom island has 4 big beaches: Chuong beach, Nam beach, Nom beach, Chao beach. Each beach has white sand dunes stretching and covered with green trees.
Thom island is a charming island of Phu Quoc, the best time to visit Phu Quoc is from March to December. Chao beach is located in the northwest of the island with straight rows of coconut trees running along with 2 majestic rock rapids creating an extremely interesting scenery. Not far away, the Unicorn Cape is a diving spot that can not be overlooked and it is also a charming landscape with many fancy shapes attracting tourists.
Around Thom island is the big and small islands with the inherent wild beauty, forming an attractive island cluster for tourists. Therefore, Thom island is considered as a precious gem in the development of Phu Quoc tourism, is an attractive destination for tourists when visiting Phu Quoc.
The legend of Thom island
People on Phu Quoc Island recounted that the islands here involved many escapes and the vengeance of the Nguyen in the battle with the Tay Son insurgent when they ran to Phu Quoc.
Guides to move to Thom island
To Thom island, you can go by speedboat or cable car. The cable car route here is now completed connecting from An Thoi port on Phu Quoc island to the center of Hon Thom island that takes about 30 minutes.
And to get to An Thoi seaport from Duong Dong town, you can take a bus, taxi or car to go to the seaport. Or if you can rent a motorbike, it is so good to enjoy the exciting feeling of the comfort and freedom, driving by a motorbike, you can discover many beautiful sceneries on the way to the port.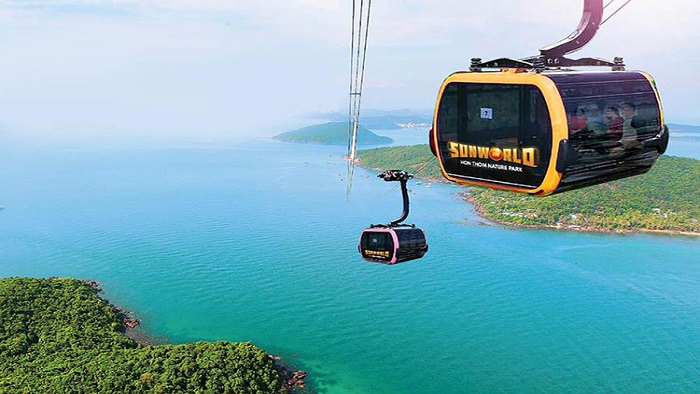 Thom island cable car
The current cable car ticket price is 500.000 VND for adults above 1.53m and 350.000 VND for children.
If you do not want to take a cable car, you can take a boat to Thom Island. People like to sit on the boat to have new experiences with the locals here. If you take the boat, it only takes 50.000 VND / person and the traveling time is 30 minutes. However, you note that the boat only runs during the main hours of the day.
Or you can rent a speedboat if you want to move faster with about 15 minutes to arrive. Rental price of the high-speed boat is about 300,000 VND.
Amazing experiences in Thom island
Best things to do in Hon Thom island, Phu Quoc
Fishing
Night squid fishing
Catching sea urchin
Swimming and diving to see coral reefs
Visiting the pearl farms
Coming to Thom island, visitors will be fascinated by colorful coral reefs, fine white sandy beaches, the shadow of coconut trees stretching over the sand, clear and fresh sea. This is also an ideal place for visitors to participate in activities such as swimming, fishing, snorkeling, visiting pearl culture areas.
Fishing
Guests will enjoy the pleasure of cruising on the boat to sea fishing. And more amazing is when the spoils that you catch will be processed into a fresh and delicious fish salad on the boat for you and your fellow travelers to enjoy.
Night squid fishing
Arriving in Thom island, why not make a trip to the sea at night, sit in front of the deck, sip a cup of hot coffee with the members on the boat, you will be able to see the wild beauty of Thom island at night that is extremely charming under the lights, then sitting squid fishing is an extremely interesting experience.
Catching sea urchin
Coming to Thom island, local fishermen are always ready to be a guide to teach visitors how to catch the sea urchins on the rock and then processing it into an attractive grilled sea urchin dish.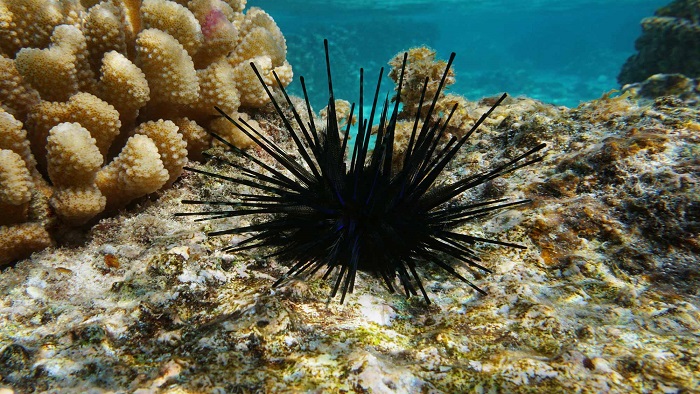 Sea urchin
Swimming and diving to see coral reefs
Thom Island has a colorful coral reef. Here, tourists who want to save a wonderful Phu Quoc tour can dive into the sea and see the beauty of multicolored coral reefs. But do not touch them because they are very vulnerable and take a long time to recover.
Visiting the pearl farming area
Many of the islands in the Thom island group are home to cultured pearls that bring great economic benefits to Phu Quoc island district. Traveling to Thom island, Phu Quoc, tourists definitely have to buy for themselves the very sophisticated pearl jewelry or buy it as a gift for relatives.
Traveling to Phu Quoc, let's join Phu Quoc island explorer to discover the wild and charming beauty of Thom island. Have a nice trip!