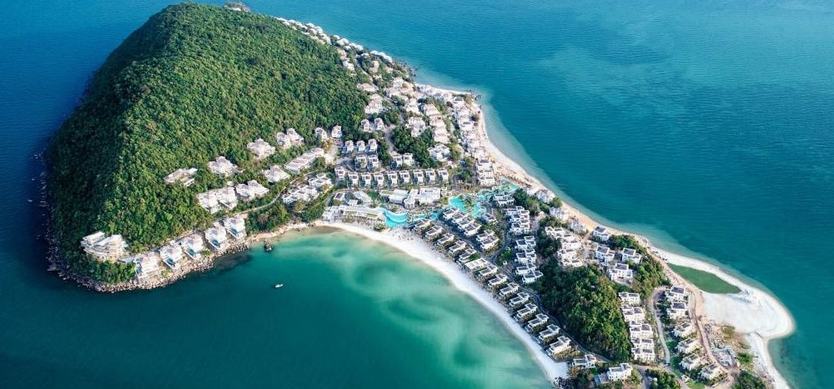 As the biggest and most gorgeous island in Vietnam, Phu Quoc Island is always the top choice for tourists, especially the international ones. If you're in Bangkok and wondering how to get to Phu Quoc, take a look at our post below to find the most suitable one for yourself.
The distance from Bangkok to Phu Quoc
As the capital of Thailand, Bangkok is one of the most attractive tourist spots with a lot of beautiful places. In addition, the unique culture and stunning cuisine are also outstanding features that tourists should not miss to experience.
Coming to Bangkok, you will be overwhelmed by the magnificent pagodas with unique architecture. After your journey in the "country of golden pagodas", if you want to explore new things, especially for sea lovers then Phu Quoc Island Vietnam is the ideal spot. The distance from Bangkok to Phu Quoc is about 544 kilometers. There are a lot of ways to travel between two places, depending on your time and your budget.
Traveling by airplane
It is undeniable that traveling by airplane is the fastest and most convenient way to get to Phu Quoc from Bangkok. You will depart from Suvarnabhumi International Airport in Bangkok and land at Phu Quoc International Airport. The airlines that serve this route are Bangkok Airways, China Southern Airline, Hahn Air Systems, and Vietnam Airlines. The price of the flights ranges from $90 - $350 and it will take you about two hours and a half to fly.
From Phu Quoc International Airport, you can get to your hotel by taxi.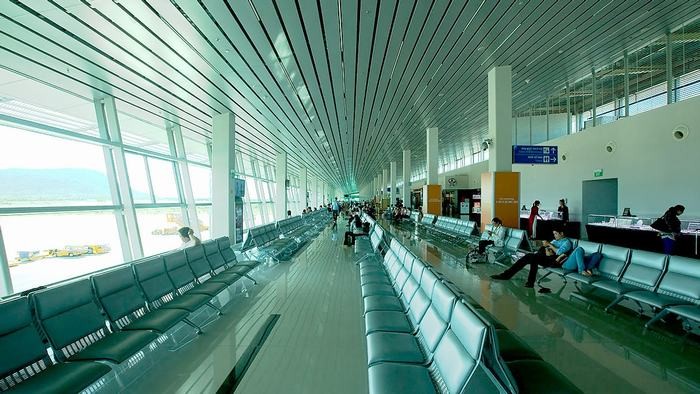 Phu Quoc International Airport
Traveling by bus
Traveling by bus is another option when getting to Phu Quoc from Bangkok. It will take you around 21 hours and a half (including transfer time). The cost ranges from $64 - $82.
The route is Wat Ratcha Nanda Ram - Mochit 2 Bus Depot (32 minutes) - Bangkok Mochit Bus Terminal. From there, you will head to Phnom Penh (around 11 hours and the bus runs once daily). You continue to take the bus ferry from Phnom Penh to Phu Quoc for about six hours and a half.
On your bus trip, you can sightsee along the road or indulging in miles on end of beautiful scenic views.
Bus - Train - Ferry (Bangkok - Phnom Penh - Ha Tien - Phu Quoc)
This way will take you about 25 hours and 45 minutes with the cost ranging from $65 to $76. You will depart at Khaosan Road Travel Mart by bus (twice daily). After 14 hours, you will arrive in Phnom Penh (transfer at White Hotel - Medical University). From Phnom Penh Station, you will take a train for 4 hours and 40 minutes to Kampot Station. You then travel by car for three hours from there to Ha Tien. The ferry from Ha Tien to Phu Quoc runs every 4 hours and takes about one hour and twenty minutes.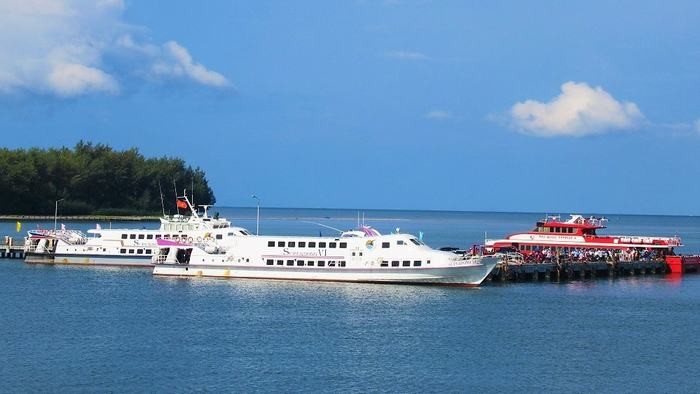 Ferry to Phu Quoc
Night bus - Minivan - Ferry
The route will take you 21 hours and it costs $56 - $59 (including 2 hours transfer). Departing from Bangkok Khao San Road, the night bus (every four hours) will take 13 hours to get to Phnom Penh Virak Buntham Express. You head to Phnom Penh Champa Mekong to get the bus (twice daily). After four hours, you will arrive at Ha Tien. Take a ferry (every four hours) and you will get to Phu Quoc after one hour and twenty minutes.
Transportations to get around Phu Quoc
Motorbike
Motorbike is the most popular and convenient transport to travel around Phu Quoc. You can hire a motorbike at your hotel or motorbike rental service shops. The rate ranges from VND 120,000 - VND 200,000. When renting, you only need a copy of your identity card and deposit. You can book the motorbike 3-5 days in advance and it will be delivered in Duong Dong Town.
Some reputable motorbike rental addresses in Phu Quoc:
Be Ba store: 118/6 Tran Hung Dao, Duong Dong Town

Thanh Hai Hotel: 118/2 Tran Hung Dao, Duong Dong Town.

Motorbike rental store at 62 Tran Hung Dao
Taxi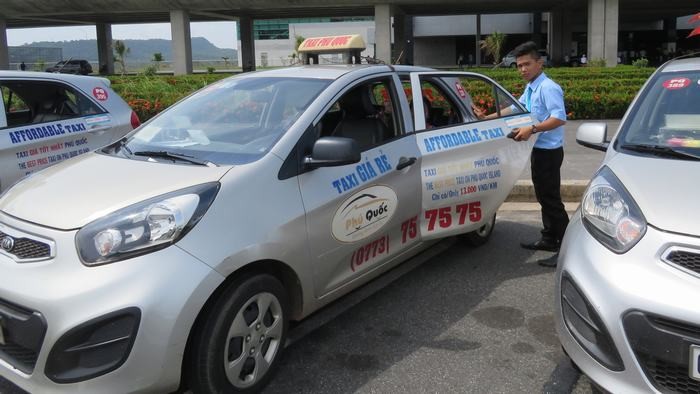 Taxi in Phu Quoc
If you cannot travel by motorbike due to the bad weather or do not know the way then taxi is the suitable choice for you. At present on Phu Quoc Island, there are a large number of taxis with a variety of 4-seat and 7-seat types. The distance between attractions is quite far, so you should consider the price when traveling.
Bicycle
If you want to enjoy the quiet atmosphere and refreshing moments with your family and friends then the bicycle is an ideal choice for you. You can easily rent a bicycle at your hotel or resort. The renting price for a bicycle is VND 100,000 per day and it costs VND 150,000 per day for a tandem bike. It would be VND 20,000/hour if you hire by the hour.
We hope that this article will make your traveling to Phu Quoc much easier. If you concern more about Phu Quoc day tours, please visit our website. Share this post with others if you find it helpful. Thank you!