Con Dao or Phu Quoc? Choosing between two stunning islands is never easy. They are both beautiful places but they are totally different in terms of accessibility, infrastructure, food, accommodation, and beaches. The article below will break down each of the criteria above and help you decide which one is perfectly fit for you.
1. Accessibility
Con Dao
Getting to Con Dao is quite easy. There is a ferry between the mainland and Con Dao. You will have to take the ferry (one hour) from Vung Tau. When the weather is good, the ferry runs as frequently as every two days; when the weather is bad, like during windy season from November till March, it can be down to once a month.
The second option is taking a flight ticket and get there; it seems much easier than by ferry. Con Dao Airport (VCS) is located on the main island Con Son. It is 13 kilometres from town, taking a leisurely 20 minutes to get to or from. There are meter taxis at the airport. Arranging a transfer ahead of time with your hotel can be cheaper; expect to pay around 200,000 dong.
Phu Quoc
If you want to discover the green island of Phu Quoc, there are two options to get to the stunning island: by ferry or by plane. If you choose the ferry, you can only reach Phu Quoc from Vietnam. Although the island is closer to Cambodia, there are no routes yet. There are two starting points for the ferry: you can either take the ferry from Ha Tien or Rach Gia. Depending on which type of ferry you will choose (fast or slow), the trip will take between 45 minutes and 3 hours and a half.
Conclusion
I think that Phu Quoc is definitely easier to reach. The ferry works quite well, and it arrives on schedule.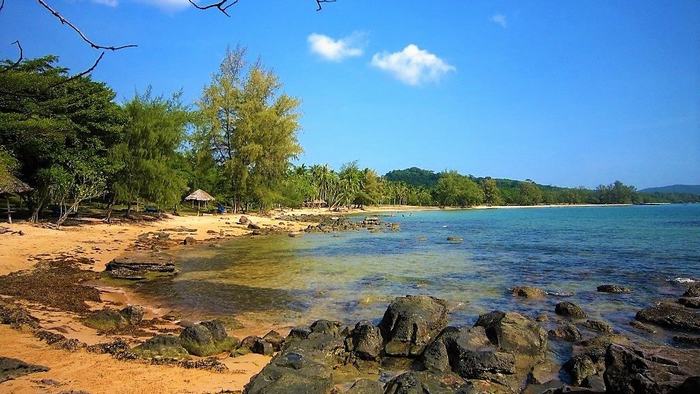 Pristine beach in Phu Quoc
2. Infrastructure
Con Dao
Con Dao's roads are virtually deserted – even in town in the middle of the day – and the coastal road delivers jaw-dropping sweeping views. Roads are not lit at night and there are some sharp, blind turns. Dirt trails to the beaches have patches of sand that require finesse to navigate. Guesthouses and hotels rent motorbikes for 100,000 dongs per day. There are two petrol stations in town.
Phu Quoc
Phu Quoc has great infrastructure: wide roads, making any part of the island easily accessible. You can get around the island by taxi or scooter. I definitely recommend renting a scooter since it is the cheapest option. If you are wondering where you can rent a scooter, you can usually rent it from hostels, hotels or guesthouses.
Conclusion
By far, Phu Quoc is the winner again. With a great infrastructure, you can get easily anywhere on this island.
3. Food
Con Dao
Aside from seafood, some vegetables, and meat, everything is imported to Con Dao when it comes to eating, so the price of a good meal here reflects that. Food is more expensive than on the mainland, but there are some very tasty eats to be had.
Now Con Dao has many eateries serving tourists and selling fresh seafood dishes. You can also save some money by going to Con Dao Night Market to have snails, fish, shrimps, or noodles
Phu Quoc
Finding food in Phu Quoc is not a problem. There are various restaurants and fruit markets all over the island. You can choose between both local and international dishes and the prices are accessible. If you don't know what to do at night in Phu Quoc you can visit Phu Quoc Night Market to buy some shrimps, squids, or fresh cuttlefish.
Conclusion
It seems that Phu Quoc keeps winning. Also, I found food prices in Phu Quoc slightly cheaper.
4. Accommodation
Con Dao
There are a lot of choices for accommodation and hotels on Con Dao ranging from standard to luxury. However, in the busy traveling season of Vietnam (national holidays and summer), it is better to make a reservation two days in advance.
Phu Quoc
From hotels, resorts, hostels or guesthouses, Phu Quoc has it all. There are options for any budget.
Conclusion
And the winner is…. Phu Quoc again!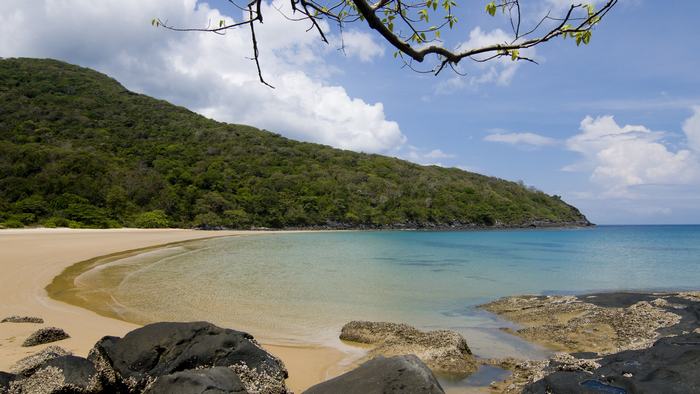 Dam Trau Beach in Con Dao
5. Beaches
Con Dao
If you are usually enchanted by long sandy beaches with clear blue water, visiting Con Dao is definitely a good option for you. Con Dao possessing an untouched nature with light waves, blue water, white sand, and colorful coral reefs, road tunneled by fores. Thanks to this geographic separation, the beach is nearly unspoiled with white sand and lush mangroves.
Phu Quoc
Phu Quoc has many beautiful beaches to choose from. If you like marine life, you can visit the Starfish Beach, or if you just want to indulge yourself in the sun, I definitely recommend a private tour phu quoc. The beaches in Phu Quoc are clean and the water is perfect for swimming.
Conclusion
I would call this a tie. Both islands have beautiful beaches. I just cannot decide which one I liked more. However, if I had to choose only one winner it would be Con Dao because the beaches here are not crowded.
Even though it seems that Phu Quoc is the best option, it really depends on what you are looking for. If you are looking for a quiet place, far away from the hustle and bustle of big cities, then definitely go for Con Dao. However, if you are looking for an island with all the amenities of big cities, then Phu Quoc is the right choice for you. If you have any questions about Phu Quoc, don't hesitate to contact us. Thank you!