The Mekong Delta - rice bowl of Vietnam or Phu Quoc Island boasts idyllic beaches. They are both beautiful places but they are totally different in terms of accessibility, food, accommodation and destinations. The article below will break down each of the criteria above and help you decide which one to choose.
1. How to get there
Mekong Delta
It takes you nearly three hours to reach the Mekong Delta by bus. You have many bus options but the most popular ones are Futa Bus Lines (also known as Phuong Trang Futaru ), Mai Linh Express, and The Sinh Tourists.
There is a domestic airport located in Can Tho city. Instead of wasting four hours sitting on an express bus, you can spend 45 minutes enjoying the view from 10,000 meters above.
Traveling by motorbike is an awesome idea. You can rent a motorbike, and ride it yourself, remember to download Gmap or Maps.me to get exact riding route.
Phu Quoc
Phu Quoc International Airport is located at the southern of Long Beach, about 9 kilometers from Duong Dong town. There are several flights a day from Ho Chi Minh City and Hanoi, however, domestic flights are so crowded and the price is increased slightly during high season.
Besides, you can travel from Saigon to Phu Quoc island by bus with a change to a ferry. The bus will take you to the city of Rach Gia, in 6-7 hours. You need to spend another 2 hours getting from Rach Gia city to Ha Tien Pier, and the same amount of time – on the ferry to Phu Quoc island.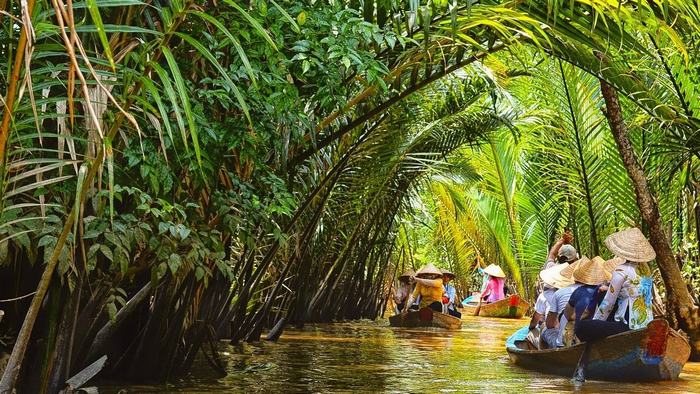 Mekong Delta
2. Cuisine
Mekong Delta
The cuisine of the Mekong Delta reflects characteristics of local life. Some people wonder how the food in Mekong Delta looks like, what kind of ingredient is included. Natives believed that food must meet three basic requirements: well-presented, flavourful, and good for health. You might be surprised that there are multiple culinary art groups that serve different parts of the human body such as food for kidney, for bone, for heart and so on.
Phu Quoc
Home to pristine beaches and traditional fishing villages, Phu Quoc island is not only a paradise for nature lovers but also for seafood fans. Seafood in Phu Quoc is cheap, fresh, and succulent. It is said that no trip to this island is complete without regional specialties such as raw herring salad, grilled squid, fish hot pot, and shrimp sautéed with onion.
There are various restaurants and local markets all over the island. You can choose between both local and international dishes.
3. Where to stay
Mekong Delta
Finding the right accommodation while you're exploring a new land plays a significant role in making your trip a success. There is a wide variety of accommodation options scattered all over the delta serving all budget brackets. Depending on your budget and travel style you desire, research in advance is highly recommended. The available accommodation ranges from fancy resort hotels, simple hostels, to cozy homestays.
Phu Quoc
Tourists should never worry about where to stay in Phu Quoc island. Accommodation on this island ranges from hotels, resorts, hostels or guesthouses. Hotels and resorts are ideal retreats for a relaxing holiday, offering well-appointed guest rooms and easy access to numerous attractions and prominent beaches. Phu Quoc 2019 has too many hotels to choose from, but to choose a hotel with a good location convenient for moving, you should choose accommodation in the center of Duong Dong town. However, in national holidays or summer, the price is increased so that, visitors should book well in advance.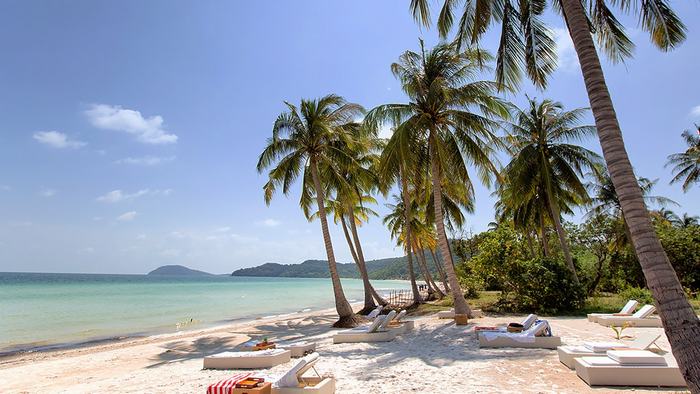 Long Beach
4. Destination
Mekong Delta
Mekong Delta is one of the best destinations that attract a lot of tourists thanks to a system of rivers, canals, and channels as well as lots of rice paddy fields. The best way to enjoy this land is from cruises or from boats with hand-rowed sampans viewing pristine nature and daily activities of locals along the river while tasting fresh tropical fruit.
Phu Quoc
The nation's biggest island with an area of nearly 600 square kilometers, is endowed with romantic sunsets, evergreen forests, a serene atmosphere, pristine reef, and a mild climate. If you are a nature lover, then Phu Quoc will definitely complete your vacation.
If you are still looking at the computer screen and reading these lines, don't think, just open another tab and begin planning your trip to the Mekong Delta then go along the Cuu Long River flow and take a day tour Phu Quoc to acquire real experiences of the two.