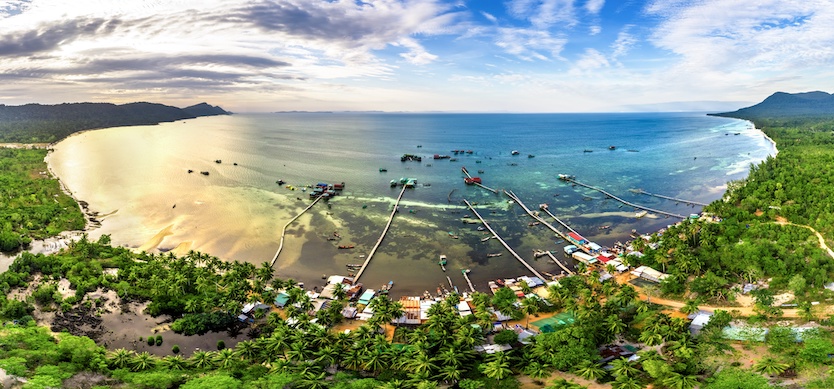 Hoi An in the Central and Phu Quoc in the South are among the most beautiful spots in Vietnam with distinct beauties.
Therefore, foreign tourists usually stay in Hoi An for at least 2 days and then choose traveling to Phu Quoc as the ending destination of their vacation before going to Saigon.
The route of Da Nang - Hoi An is quite easy but from Hoi An to Phu Quoc, it would be complex if you first visit Vietnam because Hoi An is just a town of Quang Nam province and Phu Quoc is an island in the South.
Therefore, reading this article, you will be able to clarify the most convenient and safest means of transportation, thus making the trip memorable.
How far is it from Hoi An to Phu Quoc?
While Hoi An is an ancient town with a peaceful and charming lifestyle, Phu Quoc is considered a heaven of islands and beaches.
Phu Quoc is located in Kien Giang province, in the Gulf of Thailand. Traveling to Phu Quoc is coming to the clear blue beaches such as Sao beach or Bai Dai beach, lush green pepper gardens, fishing villages to feel the simple and idyllic life in remote islands.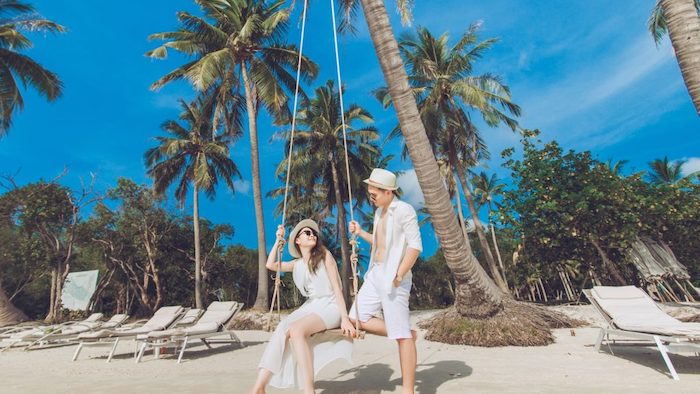 Enjoying Phu Quoc beaches
Because it is the farthest island in the South, Phu Quoc is almost 1,200 kilometers far from Hoi An. So, to know how you can reach here, move on to the next section.
How to go from Hoi An to Phu Quoc
The best way how to go from Hoi An to Phu Quoc is an airplane though it is not the cheapest means of transportation. The reason is that Phu Quoc is an island, so traveling from the Central like Hoi An will take a lot of time and effort if you choose other ways like motorbike, train, or car.
You will combine the means of a taxi/open bus and plane to move in the route Hoi An - Da Nang - Phu Quoc. That is, you will go from Hoi An to Da Nang International Airport by taxi and then fly to Phu Quoc Airport.
Typically, a 4-seat taxi costs about VND 450,000-550,000/round trip why the open bus ticket is VND 100,000-150,000/guest. However, buying a taxi package takes only VND 250,000/round trip. Hence, if you go in a group, the taxi will be the perfect choice for you. The travel time is 45 minutes.
Currently, there is only Jetstar Pacific airline operating the flight route of Da Nang - Phu Quoc with ticket prices ranging from VND 1,500,000 to 2,300,000/guest. The travel time is 5 hours.
From Phu Quoc, you can catch a taxi, bus, or motorbike taxi to Duong Dong town, which takes about 25 minutes. While the 4-seat taxi takes you VND 180,000-220,000, the bus ticket is VND 50,000/guest, and the motorbike taxi takes around VND 60,000-70,000.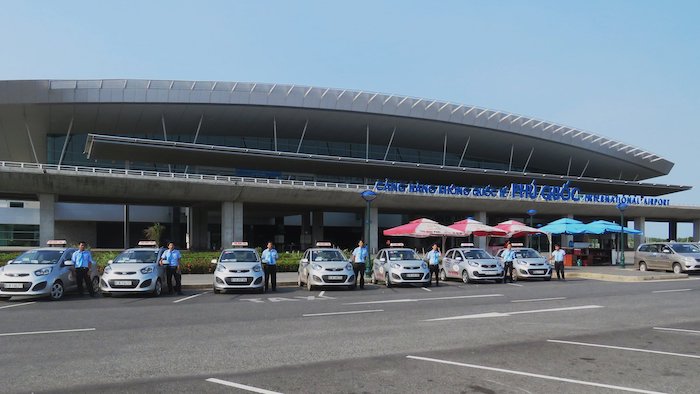 Phu Quoc taxi
How to visit around Phu Quoc island
For visiting many attractions in Phu Quoc, the most convenient means include rental motorbike and boat, because all the destinations here are far from each other.
The rental fee of a motorbike is VND 120,000-150,000/day depending on different types of motorcycle. You can contact the lines of Minh Man (0913 027 823), Van Vu (0987 539 960), Mr. Tinh (0909 895 969 or 0987 441 799), and Mr. Phu (0909 296 989 or 0977 893 979).
For traveling between islands and beaches like Fingernail island, An Thoi archipelago, it cannot be lacked the ship and boat rental service.
The Phu Quoc boat tour will help you have a relaxing time on the sea, while the canoe can bring the feeling of playing adventure games when surfing as fast as a wind on the sea. Price for a canoe tour is always higher than the boat tour, so if you want to save money, you should take a trip by boat.
Moreover, in the ports, you can rent small boats to the islands near the ports, costing about VND 100,000-150,000/boat.
For renting a canoe, you should go straight to An Thoi, and there is a variety of choices which cost about VND 500,000/person (in the group tour). Otherwise, if you want to travel on your own, it'll cost about VND 2.5-3 million/canoe for 6 people. The travel time is from 9.00 am - 3,00 pm.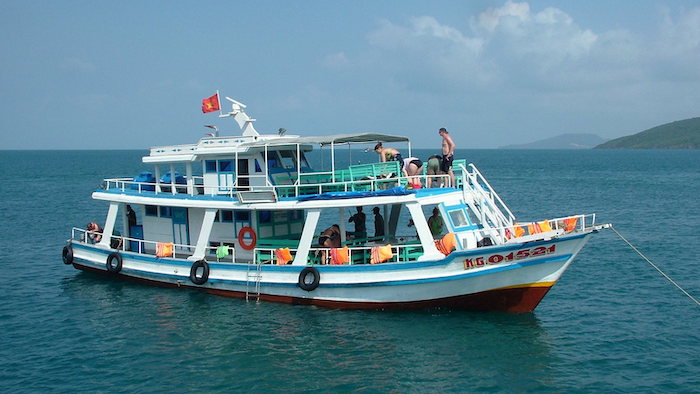 Exploring Phu Quoc with a boat tour
Hope that with our detailed guides, your trip from Hoi An to Phu Quoc will get more accessible and more fanciful with attractive destinations and activities. For further information about what to do in Phu Quoc island, don't hesitate to let us know or visit our website. If you find the article useful for you, please like and share it with others. Thank you.