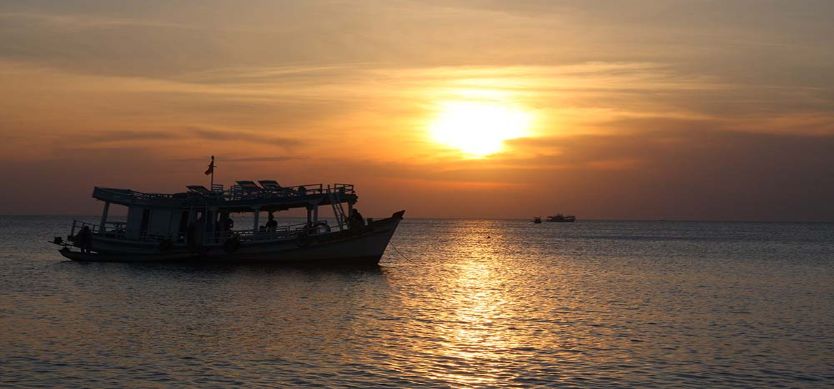 Squid fishing at night is a very interesting activity for tourists. Especially, in Vietnam, squid fishing has become very popular because of the interesting feeling when floating on the sea in the middle of the night.
However, this activity requires a favorable location as well as thorough preparation. Therefore, not all beaches are convenient for organizing night squid fishing tours for visitors.
Let's check the list below to see the best places for squid fishing in Vietnam.
Best Vietnam spots to have exciting squid fishing experience
Halong Bay
Phu Quoc island
Cua Lo beach, Nghe An
Nha Trang
Phan Thiet
Night squid fishing tour in Halong
Overnight on Halong Bay is a wonderful experience that everyone once wants to enjoy. But there is another wonderful thing that many people here do not want to miss, it is the night squid fishing on Halong Bay.
Night squid fishing is considered the most exciting activity in Halong Bay at night. Joining a night squid fishing tour in Halong Bay, tourists are provided with fishing rods and racquets so that they can use them to catch squids.
In the past, in order to get the wonderful experience of night squid fishing, tourists had to pay a lot of money. But now, night squid fishing in Halong has become a service with a private tour and you can easily do it any day of the week. The squid season in Halong is usually between April and July of the calendar. This is the time when squid comes near the shore to breed. Only with the amount of 300.000 VND- 500.000 VND / person, you have a wonderful 6-hour night fishing trip on Halong Bay. While admiring the beautiful Halong Bay at night, you have just experienced the feeling of fishing and enjoy the fresh squid dishes right on the boat.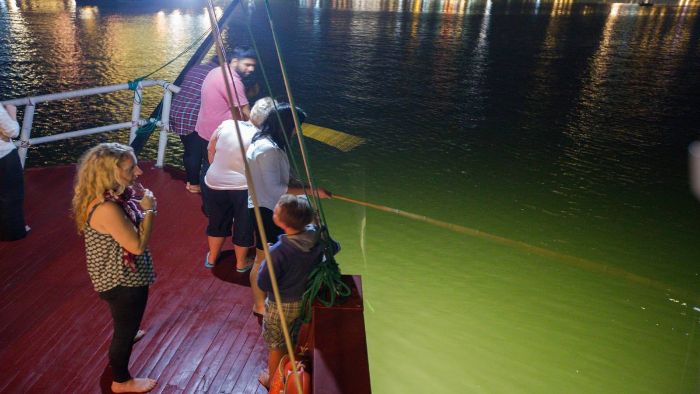 A group of tourists is catching squids in Halong sea
Night squid fishing tour in Phu Quoc
The night falls down relatively quickly in Phu Quoc, the sun has just disappeared in the horizon, a black color covers the space of Phu Quoc. And this is the ideal time that visitors can experience relaxing and interesting moments with Phu Quoc night squid fishing tour.
In Phu Quoc, there are many boats going to squid for you to choose freely. Usually, the squid fishing boats here start at 5 pm every day. However, 6 pm is the best time to squid because it is dark so the ink will be easier to be caught. Therefore, you should negotiate with the owner to get the most successful fishing trip.
With the squid caught up, you can ask the shipowner to process and enjoy right on the boat. Enjoying fresh squid makes everyone feel excited and satisfied.
Night squid fishing tour in Cua Lo
Cua Lo is one of the most beautiful beaches in Vietnam and squid fishing at Cua Lo beach is one of the interesting activities here. Recently, night fishing in Cua Lo beach, Nghe An has become an attractive tour not only for domestic tourists but also for international visitors. A night squid fishing at Cua Lo beach is a really great experience on my trip to this charming beach.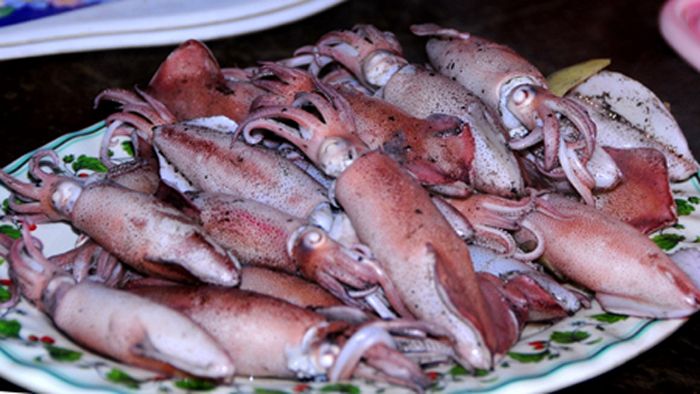 Delicious fresh squid dish right on boats
Night squid fishing tour in Nha Trang
Night squid fishing is such a great experience in Nha Trang. Walking on the beach before taking a short squid fishing tour at night will make your evening in this coastal city more refreshing and much more interesting. Tourists will be able to participate in the experience as fishermen as well as enjoy the squids that they caught in the night. They are the delicious fresh squid dishes. From the boat, you can watch the whole Nha Trang city at night, it is so amazing.
Night squid fishing tour in Phan Thiet
Night squid fishing is an interesting activity in Phan Thiet, which is loved by many tourists. Night squid fishing boats usually depart at 17:00 in the fishing village. Squid fishing boat will take you to the sea with many squids to experience night squid fishing. Squids will be cooked or grilled right on the boat so you enjoy between the vast sea space while enjoying extremely delicious and fresh squid dishes.
The squid fishing journey takes place about 4 hours. Currently, in Phan Thiet, there are many fishing tours with night packages including tools with prices ranging from 300,000 VND to 500,000 VND / person.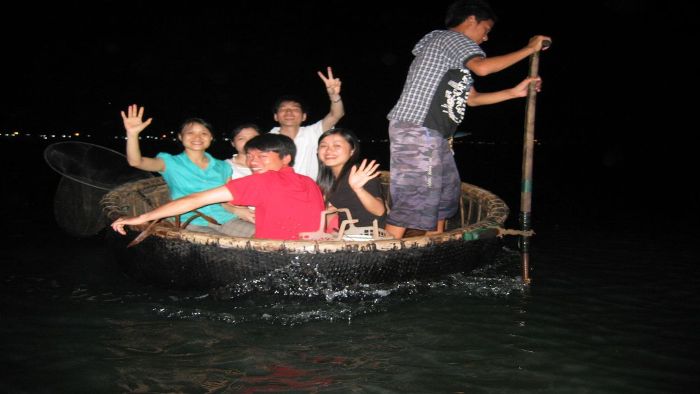 Enjoy the funny moment in Phan Thiet night sea
Being a beautiful country with a diverse landscape and distinct culture, Vietnam is becoming one of the most worth-visit places in Asia for international tourists in recent years. With amazing and flexible types of tours and services, night squid fishing included, tourists will have great moments in Vietnam that linger their foot more than once. If you have any question about night squid fishing tours or squid fishing destinations, please contact us to get more detail. Thank you!