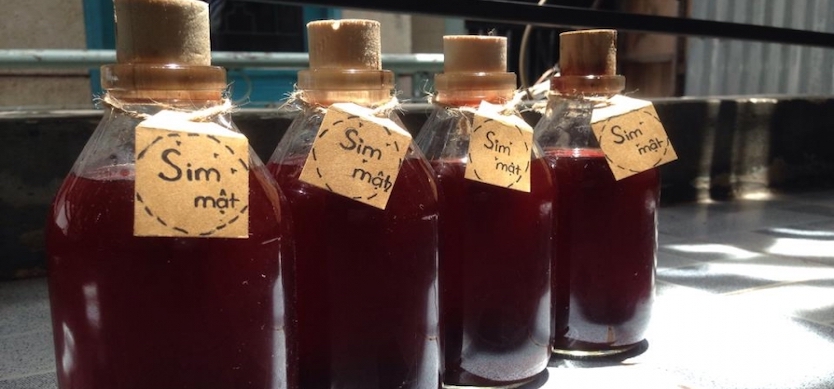 What if you travel to a foreign country, but cannot buy anything because they are too expensive? Maybe that's because you don't know the proper shopping spots which serve tourists the high-quality products and services at a reasonable price.
Therefore, with a long experience as one of the most outstanding tour suppliers in Phu Quoc, we'll provide you with useful guides for an enjoyable shopping experience here. It will cover not only the souvenirs that you can buy as gifts for friends but also the address of the best restaurants and bars, so make sure you'll not miss anything in this article.
Where to buy souvenirs
Rhodomyrtus tomentosa wine
Rhodomyrtus tomentosa wine is a famous specialty of Phu Quoc that you cannot ignore when visiting this island. The rhodomyrtus tomentosa trees are available in Phu Quoc, so people usually pick and then process the fruits to become a very good drink for health, with the treatment of aches, enhancing digestion, etc.
The strong aroma of rhodomyrtus tomentosa wine is a gift you can buy to give friends and relatives. Besides the wine, rhodomyrtus tomentosa syrup is also popular and great to make summer cocktails.
The addresses of the delicious rhodomyrtus tomentosa wine in Phu Quoc are Apple Garden Restaurant (Cua Lap hamlet, Duong To commune) and Bay Gao rhodomyrtus tomentosa wine (124, 30/4 street, Duong Dong).
Fish sauce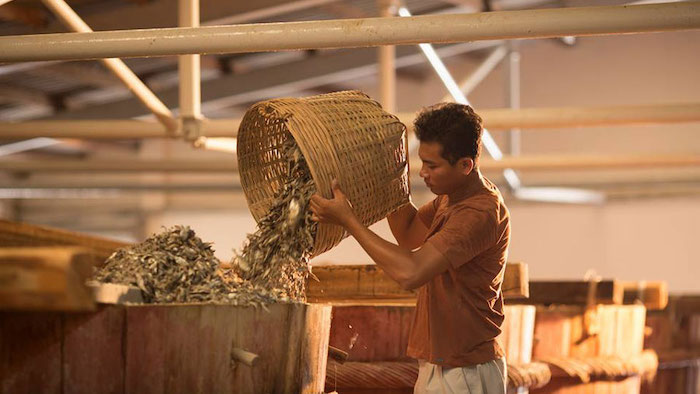 Watching the process of making Phu Quoc fish sauce
According to many people, especially the housewives, Phu Quoc fish sauce is highly appreciated by the most delicious and attractive taste made from traditional fermented fish.
Raw materials for making Phu Quoc fish sauce must be fresh anchovies, of which the best one is spined anchovy.
You can find the delicious fish sauce at many production facilities, selling points, or supermarket markets in Phu Quoc. The prestigious Phu Quoc fish sauce brands are Mr. Ky, Thinh Phat, Duong Dong, and Khai Hoan.
Pepper
Phu Quoc pepper has three types to choose from, including raw or ground white pepper, whole pepper, and sugar fish sauce pepper.
Phu Quoc pepper is famous and loved by people because of the strong, spicy, and aromatic flavor. When traveling to Phu Quoc, you should combine to visit the green pepper gardens to take pictures and try the products made from peppers.
It is possible to buy the high-quality pepper on the way to Ham Ninh in Duc Ninh pepper garden with the price of VND 200,000/kg of black pepper and VND 260,000/kg of white pepper.
Pearl
Everyone knows that Phu Quoc is "a land of pearls" because it is blessed with clear and clean water, creating favorable conditions for the development of beautiful pearls.
More than that, according to our Phu Quoc tourism experience, you can also visit a pearl factory which is one of the most exciting things to do in Phu Quoc and choose Phu Quoc souvenirs made from pearls as gifts that are both valuable and meaningful.
Phu Quoc pearls are quite expensive, and their prices depend on the quality, color, and shape of the pearl, which can range from a few dozen to several thousand dollars.
The addresses to buy high-quality pearls in Phu Quoc are Quoc An facility (Duong Bao hamlet, Duong To commune), Ngoc Hien pearl (Duong Bao hamlet, Duong To commune), Long Beach Pearl showroom, and Quoc An pearl facility.
Dry seafood
Dry seafood is a gift you can buy for friends and family
As a typical sea area, Phu Quoc cannot lack dry products made from seafood. They are sold a lot in Duong Dong market and are extremely rich in types.
Going to the markets here, you can choose a variety of dry seafood such as dried shrimp, squid, and fish, etc.
Where to enjoy fresh seafood
Seafood in Phu Quoc is available and abundant, but the cheapest seafood is sold in many markets, especially Ham Ninh markets and many restaurants in Ham Ninh fishing village like Manh Nhung or Song Le.
The village is most famous for its Ham Ninh crabs. Therefore, when coming to Ham Ninh market, travelers definitely enjoy this famous dish and buy it as a gift for their family.
Where to rent motorbikes
From Phu Quoc Airport, you can rent the motorbike to travel around the island with an average price of VND 120,000-150,000 depending on the types of the means. The most popular stores are Anh Phu (0909 29 69 89), Anh Tinh (0909 89 59 69), Anh Cuong (0917 774 228), etc.
Remember to prepare your ID card and deposit before renting the motorbikes here. Also, after receiving the motorcycle, you should refuel it.
The most reasonable eateries, bars, and coffee shops
Quan Viet (54 Bach Dang street, Duong Dong town)
Xin Chao restaurant (next to Phu Quoc night market)
Trung Duong Marina restaurant (30/4 street, Duong Dong)
Le Giang (289 Tran Hung Dao, Duong Dong)
Ut Luom noodle (30/4 street, Duong Dong)
Eateries on Nguyen Trai street
Fishing village crab soup (30/4 street)
Kien Xay noodle (28 Bach Dang)
Chuon Chuon Bistro & Sky Bar (69 Tran Hung Dao)
Rory's Beach Bar (Group 3, Cay Sao)
Pho Bien cafe (2 Bach Dang, Duong Dong)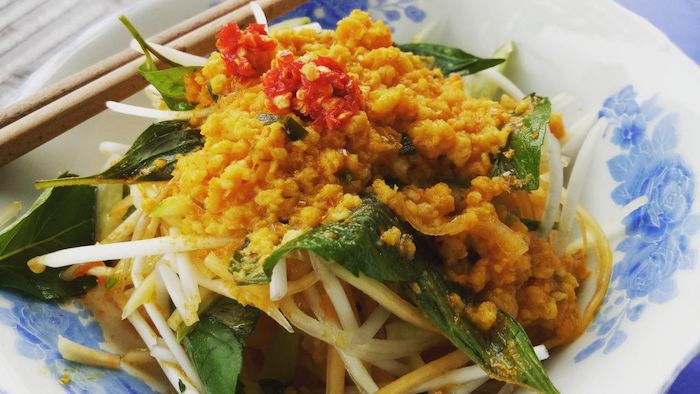 Ut Luom noodles
Hope that with our guides of the best places to go shopping and where to eat in Phu Quoc, you'll be able to save the best memory here at a reasonable budget. If you find the article useful for you, please like and share it with others. For further information, don't hesitate to let us know. Thank you.