Summer is around the corner. Are you ready for your holiday in Phu Quoc Island with your beloved?
There is no shortage of beautiful resorts on the island where you can enjoy a relaxing time.
5 best Phu Quoc beach resorts for summer 2019
Richis Beach Resort Phu Quoc
The Shells Resort & Spa
Salinda Resort
Famiana Resort & Spa
Chen Sea Resort & Spa
Following many reviews of guests on reputable booking sites, we would like to suggest you top Phu Quoc beach resorts that are worth a visit in this summer 2019.
Check it out!
Richis Beach Resort Phu Quoc
Richis Beach Resort Phu Quoc spreads out on a beautiful romantic beach in Duong Dong town, is an airy resort that harmonizes comfort but still ensures visitors the most comfortable stay.
Moreover, Richis Beach Resort is only 15 minutes drive from the airport and 5 minutes to the city center.
With a convenient geographical location facing the sea, Richis Resort accommodates 141 rooms including Superior, Deluxe, Deluxe Bungalow, and spacious Suite for family.
Orchid Spa will bring you special therapies both physical and mental health. It gives you the perfect experience, helping you rejuvenate and energize.
Richis Restaurant will satisfy your appetite, giving you a truly unforgettable culinary experience.
The Lounge Bar, in front of the beach and next to the swimming pool, gives you relaxation and discovery of pearl island paradise, with snacks and a unique collection of wines.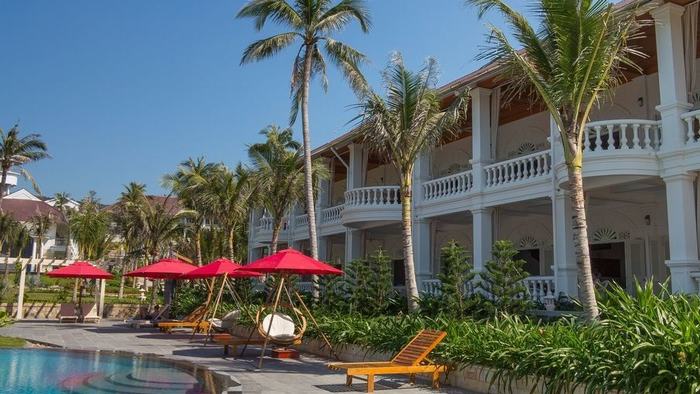 Richis Beach Resort Phu Quoc
The Shells Resort & Spa
The Shell Resort & Spa is a 5-star luxury resort, about 17 km from Phu Quoc airport, about 5 -7km from the town center. The architecture of the resort is designed in a striking spiral like shellfish reaching out to the sea.
In 2015, The Shells Resort & Spa was honored in the Best Hotel Architecture Design category.
The Shells Resort & Spa accommodates a total of 40 sea view rooms and 94 Villa rooms. The bungalows are divided into two categories, including 19 bungalows on the shore with private pools and 12 bungalows on the beach.
All rooms are equipped with air-conditioning, free tea, coffee and mineral water prepared every day, and the bathroom with a comfortable bathtub.
Resort specially designs swimming pool overflowing with the sea with the appropriate depth of 1.4m, arranged more chairs and sunbathing umbrella to serve guests. There is also a designated area for children with a safe depth of 0.3m.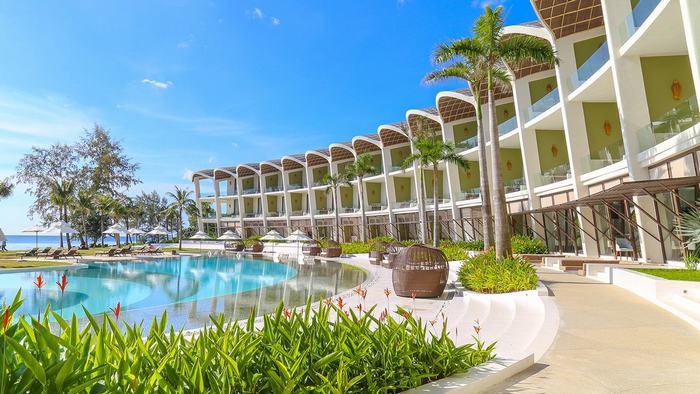 The Shells Resort & Spa
Salinda Resort
Located on a beautiful and peaceful beach in Duong Dong town, about 4 km from Phu Quoc International Airport, Salinda Resort Phu Quoc Island is created on the idea of interference between indigenous culture and contemporary architecture.
All the materials in the resort including 121 rooms and villas are perfect products reflecting the creativity and luxury, but still very close and peaceful.
The resort has an outdoor pool using salt filtration technology. The modern, eco-friendly electrolytic salt filtration system, without Chlorine, helps protect skin and hair, giving you a sense of security even though swimming for hours in the sun.
Babysitting service at the Kid's club will bring hours of fun to your children while you can comfortably walk on the beach. The play area has a spacious playground with full facilities and many interesting games.
Famiana Resort & Spa
Located along Long Beach, one of the most beautiful beaches on Phu Quoc Island, Famiana Resort Phu Quoc Resort & Spa covers an area of more than 4 hectares with a gorgeous private beach with a long golden sandy coast, gently sloping by the green coconut trees.
Famiana Phu Quoc Resort & Spa consists of 100 rooms divided into 2 Beach & Spa and Green Villa areas which are elegantly designed in the style of bungalows and separate villas. They are suitable for those who love natural beauty and want to enjoy a relaxing space.
Besides, Famiana Resort & Spa Phu Quoc also provides a full range of amenities such as swimming pool, Asian - European cuisine restaurant, café, bar, spa, gym and recreational sports activities including golf, tennis courts, or archery.
The most outstanding feature in Famiana Phu Quoc Resort & Spa is the quality of service with an enthusiastic, friendly and thoughtful style. Famiana is always ready to serve to bring you a meaningful vacation with your family and loved ones.
Chen Sea Resort & Spa
Chen Sea Resort & Spa Phu Quoc is a 4-star beach resort located in a quiet bay area of Phu Quoc Island. The resort has its own villas and bungalows with extensive spa facilities.
Chen Sea Resort & Spa Phu Quoc accommodates 36 rooms, designed by the inspiration of peaceful space. All bungalows and villas have terraces overlooking the sea.
The restaurant is located in a perfect location on the beach and serves Mediterranean specialties and local and international cuisine.
The spa here offers a combination of traditional and modern treatments to help guests relax.
Guests can participate in various water sports activities such as sailing, windsurfing, kayaking, and beach volleyball.
We hope that with our suggestions above, you can choose the most suitable one for your upcoming trip and get unforgettable experiences. For more information, you can visit our website. If you have any questions, feel free to contact us. Have a nice trip