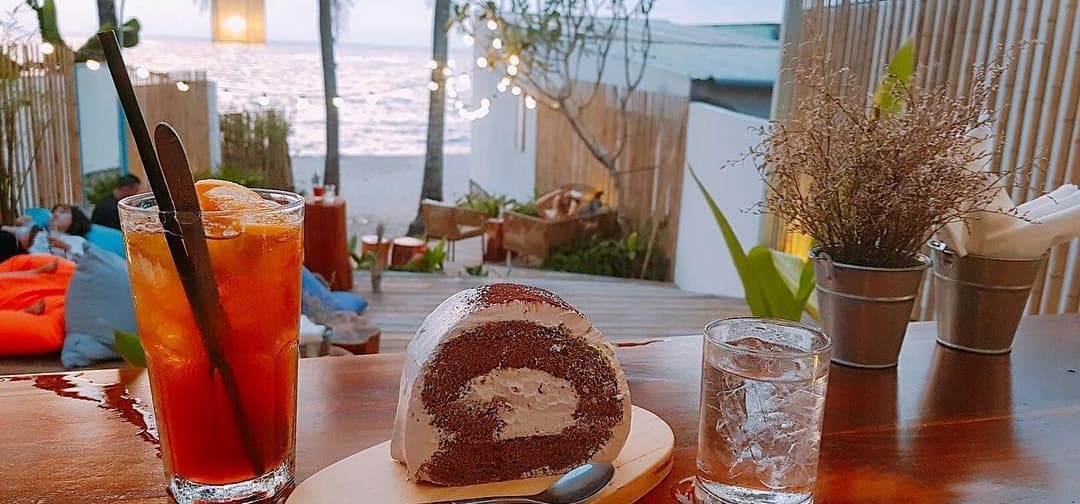 Phu Quoc Island is an amazing and attractive destination in Vietnam with a lot of imposing and stunning landscapes.
But for some tourists, the best place to learn about culture, in addition to traditional markets, is coffee shops. At the same time, they can relax, breathe the fresh air and make small talk with friends.
It is the reason why the post will introduce popular and lovely coffee shops in Phu Quoc Island.
Top 8 famous coffee shops in Phu Quoc Island
La Coffee
Pho Bien coffee shop
Itaca Resto - Lounge
Buddy - Ice Cream & Info Café
Alanis Deli
Rory's Beach Bar
I Love Phu Quoc
Lantern coffee shop
La Coffee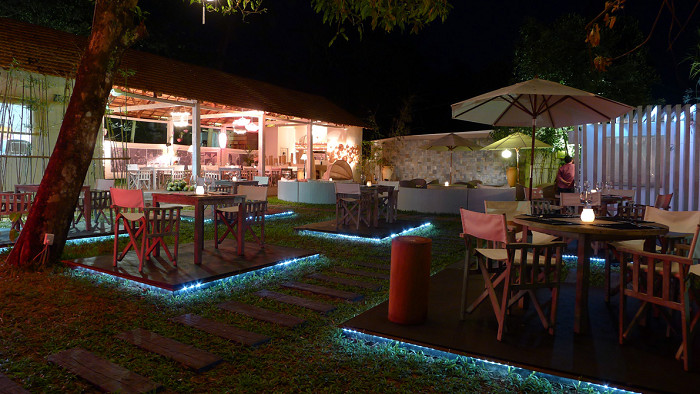 La Coffee
This is one of the qualities and the most famous cafes in Phu Quoc Island. The decoration of La Coffee is quite rustic and slightly nostalgic with unique details.
Furthermore, when visiting the coffee, tourists will have a chance to admire wonderful things from normal things such as tables, chairs, glasses, books, black-and-white television, old bicycles and all carry a nostalgic and charming feature. The shop has outside space for guests to enjoy Dinh Cau night market, a small and cozy interior space. The menu of leaves is quite rich with coffee, ice cream, cakes, smoothies, beer, cocktails and etc.
Pho Bien coffee shop
Whoever went to Sea Street agrees that this is Phu Quoc's most beautiful café. Pho Bien coffee shop is located in Phu Quoc Hydrometeorological Station with subtly subtle European - French architecture. Therefore, when visiting the place, surely tourists will take amazing pictures in there, especially if you are people who love the European style.
Moreover, the price for Drinks here is reasonable from 20,000 VND. Besides, the restaurant often plays soft music, so you will feel comfortable and relax when enjoying drinks and admire the beauty of Phu Quoc island. In addition, if you are looking for the best place for admiring the beauty of a sunset, you should refer to Pho Bien first one because the coffee shop located close to Dinh Cau, and overlooking the West Sea, so Pho Bien is also a place to watch the sunset of tourists favorite.
Address: 2 Bach Dang, Duong Dong
Itaca Resto - Lounge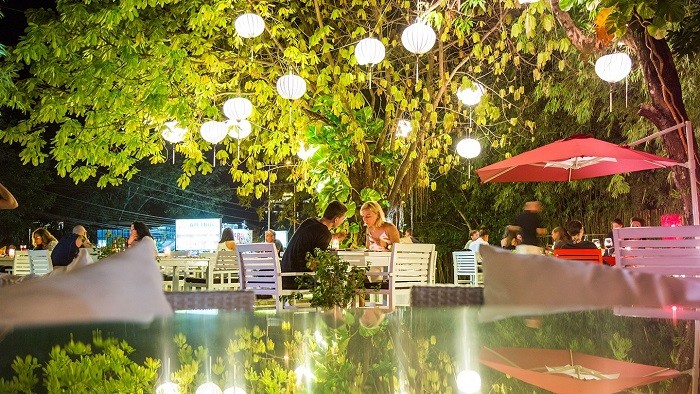 Itaca Resto - Lounge
Itaca Resto - Lounge is a Spanish restaurant located on Phu Quoc Island. Therefore, when visiting the coffee shop, you will feel like entering a place in Spain. In a large and airy space, friendly Spanish owners have designed and decorated the restaurant very aesthetically, elegantly, creating a pleasant feeling for diners.
Itaca consists of two areas, a restaurant and lounge bar. The food at Itaca is mostly in Spanish style and taste for those who are unfamiliar with these, these are not easy to enjoy. However, everyone who came to Itaca was satisfied with the enthusiastic and happy service style of the staff.
Address: 125 Tran Hung Dao, Duong Dong
Buddy - Ice Cream & Info Café
Buddy is located on Bach Dang Street which located opposite Ben Tau and concentrating on foreign tourists. Tourists often sit for breakfast, coffee at Buddy while waiting for the train to visit the islands, snorkeling and watching coral. The shop has beautiful decoration, exquisite, small details such as tables, chairs, pictures, fresh flowers in the restaurant are carefully cared for.
Buddy is famous as the best ice cream shop in Phu Quoc, the price of ice cream and drinks here is similar to the big ones in Hanoi and Ho Chi Minh City. In particular, the owner, Mr. Rohan Backs and his wife, Phu Quoc are thoughtful to make a table of information about tourism in Vietnam and Phu Quoc for reference. You will receive free maps, travel guides when enjoying coffee at Buddy.
Address: 6 Bach Dang, Duong Dong
Alanis Deli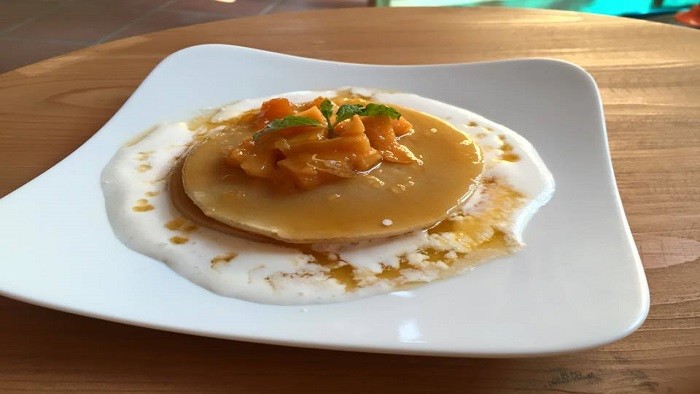 Alanis Deli
Alanis Deli is the first fast coffee model in Phu Quoc, therefore, you should spend time for traveling and enjoy coffee. Choosing the bright green color that makes the main theme in design, Alanis gives diners a youthful, joyful and airy feeling. Furthermore, the menu at Alanis is plentiful from Italian-style coffee with Caramel, Bailey's, Almond to 100% pure Vietnamese coffee. Besides, there are many fruit smoothies, cakes, ice cream, and baked goods made by the shop.
Address: 98 Tran Hung Dao, Duong Dong
Rory's Beach Bar
According to those who like to travel, Rory's Beach Bar is the best bar in Phu Quoc. The restaurant is located right at the beach, near the beach of the resort so it is very clean and secure. The menu has a lot of affordable dishes, you can come here to order a beer and lie on the couch watching the sea all day and night without fear of being bothered. Therefore, the place is really suitable for anyone who wants to find out the place which can enjoy in free time.
Address: 118/10 Tran Hung Dao, Duong Dong
I Love Phu Quoc
I Love Phu Quoc has 2 upstairs spaces and a ground floor on the beach, and comfortable space, very suitable for young couples. There are both food and drinks here. Price is also relatively moderate from 40,000 VND or more per dish.
Address: 40 Tran Hung Dao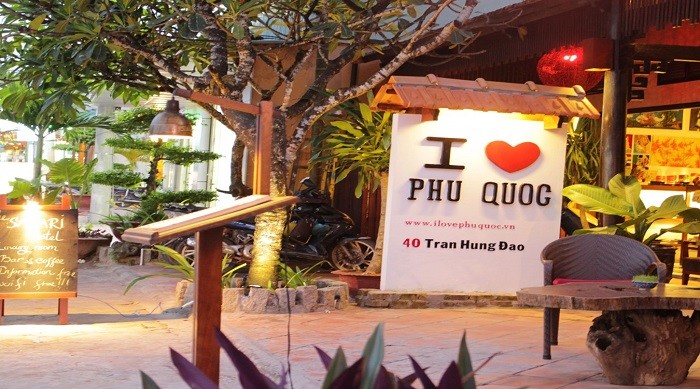 I Love Phu Quoc
Lantern coffee shop
The restaurant with the old name is Nha San coffee located on Nguyen Trung Truc street. Lanterns coffee shop has a lovely, elegant space, ancient wooden houses and tiled roofs of the restaurant which are characterized by old Vietnamese. However, the coffee shop will suitable for middle-aged guests, and prefer quietness.
The most beautiful Lantern Coffee in the evening, when colorful lanterns are shimmering. When visiting the place, you will feel like you are in a small Hoi An. Especially, every 19 pm every Saturday night, Lantern Coffee will have lion dance performances to serve tourists.
Hope that after the post, tourists will have useful and important information for traveling to Phu Quoc, especially coffee shops in there. Furthermore, you don't forget to visit our website to get more useful information.