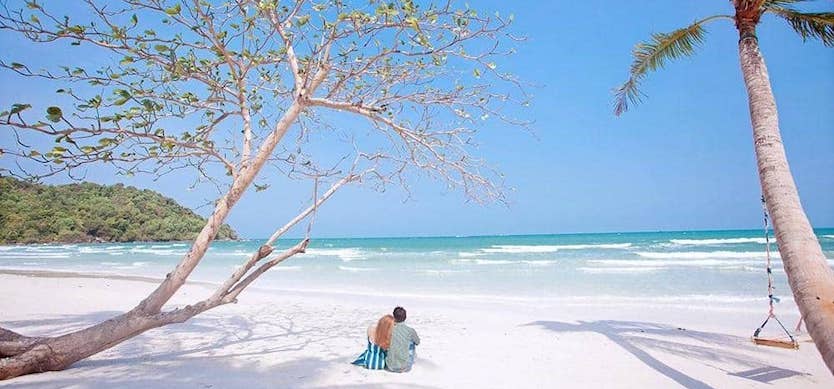 For a honeymoon occasion, what is more fantastic than playing on the tropical beaches, exploring the deserted islands, or enjoy seafood in the night markets? All those things can be turned into reality in Phu Quoc island.
Whether you are a fan of the bustling space or someone who enjoys exploring quiet, peaceful places, the Phu Quoc boat tour can adapt your needs with an offer of an excellent experience with your lover.
But, before finding out the most joyful activities and spots, let's move on first to the guides of ideal accommodations for couples on the island.
Where to stay
Except for Vinpearl Phu Quoc, most resorts and hotels here are concentrated in Duong Dong town. You can freely choose from hotels of 1-2 stars to resorts of 4-5 stars. However, the honeymoon is a once-in-a-lifetime occasion so you should not select hotels that are too cheap but hotels of 3 stars or more.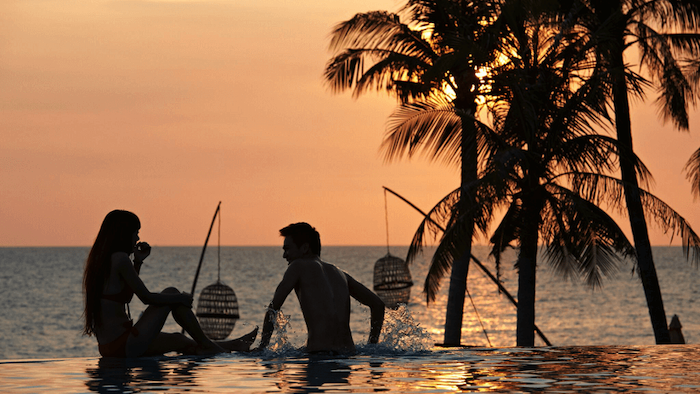 The swimming pool for couples in Phu Quoc homestay
In Phu Quoc, there is a variety of luxury 3-star resorts with swimming pool, private beach at a reasonable price of less than VND 1,000,000/night.
Usually, 4-star resorts will have free airport shuttle service for guests. You only need to schedule in advance, and they will pick you up from the airport. One more thing to note, when booking, there are many hotels, and resorts will have a free honeymoon set-up service. You should ask if the hotel you book has that service to have a perfect honeymoon.
What to do
Top Phu Quoc spots for your honeymoon vacation
Ham Ninh ancient fishing village
Tranh stream
An Thoi archipelago
Cua Can river
Rory's Beach Bar
Phu Quoc night market
Catching the first glow of dawn in Ham Ninh ancient fishing village
Ham Ninh ancient fishing village has existed for a long time, located at the foot of Ham Ninh mountain, in Ham Ninh commune. In here, young couples can watch the vast sea, idyllic roofs, silver color of the sea waves, and coconut swinging in the wind.
The sea here is like a heavenly mirror, printing and reflecting the light of the sky. In the morning, it is clear green and turns into dark yellow, sometimes red in the afternoon.
Enjoying the fresh water in Tranh stream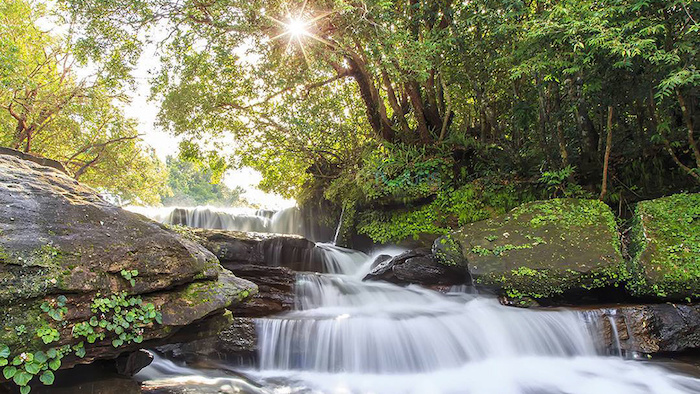 The beauty of Tranh stream
The trip to enjoy your Phu Quoc honeymoon will be a pity if you skip the Tranh stream in Suoi May hamlet, Duong To commune. The water source of Tranh stream originates from Ham Ninh mountain.
The couples coming here will be able to breathe the fresh air in the mountainous space, admire the poetic beauty of the winding stream, and enjoy the cooling nature.
Diving in An Thoi archipelago
About seeing corals, An Thoi archipelago is considered the most beautiful spot because it accounts for 76% of the total coral area of ​​Phu Quoc, including Hon Dau, Hon Dua, Hon Dam Trong, and Hon Gam Ghi islands, etc. Moreover, Turtle island and Fingernail island in the North also ideal.
Not only watching coral and experiencing the sea but fishing in these islands is also not a bad idea.
Kayaking in Cua Can river
Cua Can River is a long, curvy, and charming, running through Phu Quoc primeval forest.
Kayaking on Cua Can river is very interesting for active people who love to conquer and discover nature. After rowing through the poetic gardens, peaceful fishing villages, couples will reach the estuary and swim at the pristine Cua Can beach.
Drinking beer in the romantic sunset at Rory's Beach Bar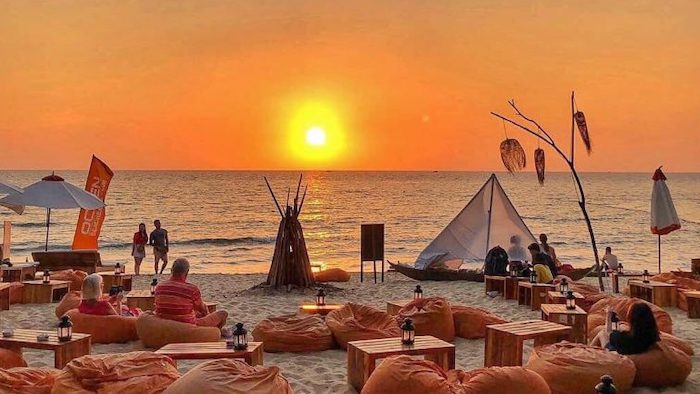 The sunset at Rory's Beach Bar
As soon as arriving at Rory's Beach Bar, you will surely be impressed by the small, beautiful, pleasant, harmonious space with nature, and the eye-catching decoration items here.
The bar is next to the beach, very romantic for couples who want to watch the sea and twilight. As a bar, it mostly serves Western dishes such as wine, beer, cocktails, hamburgers, etc. so most tourists coming here are foreigners.
Dining in the seafood heaven of Phu Quoc night market
Located at Bach Dang - Nguyen Dinh Chieu junction, Phu Quoc night market is open very early, around 5.00 pm until 2.00 am the next morning. Visitors coming to Phu Quoc night market can go shopping and enjoy the specialties of the island with a full range of fresh seafood beautifully displayed.
Phu Quoc is famous for many beautiful and enchanted places, associated with whispering waves, dramatic scenery and fresh air, very suitable for couples to honeymoon. If you need further information about the honeymoon tour in Phu Quoc, feel free to contact us or visit our website. Don't forget to like and share the article if it's useful for you. Thank you.