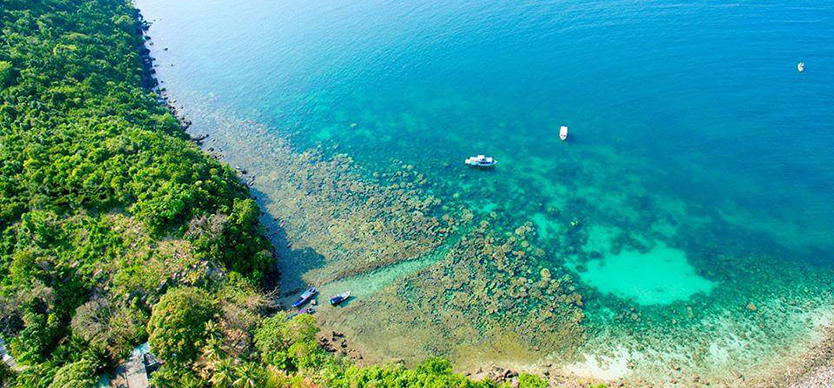 The famous Phu Quoc island is not as difficult to reach as many people thought. If you're planning to visit Phu Quoc from Phan Thiet, this is the guide to get to Phu Quoc for you.
How far is it from Phan Thiet to Phu Quoc?
Phan Thiet is the provincial capital, the political, economic, cultural and scientific center of Binh Thuan province. Phan Thiet is about 183 kilometers northeast of the administrative center of Ho Chi Minh city. The city is an urban center of the South Central Coast, in the South Central region.
Phan Thiet tourism has always been famous for blue beaches and stretching sandhills. From the diverse natural landscape of Mui Ne sand dunes, the large and small islands to historical relics that witness the flourishing Cham civilization once, etc, perhaps by these interesting things, Phan Thiet tourism has been more and more exciting for travelers, especially every summer.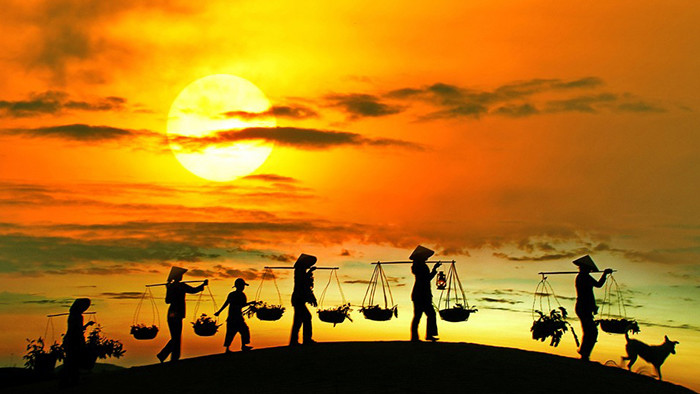 Phan Thiet tourism
About 577 kilometers to the south from Quy Nhon, Phu Quoc, also known as Pearl island, is the largest island in Vietnam and also the largest in the 22-island population here, located in the Gulf of Thailand. Phu Quoc island together with other islands constitutes Phu Quoc island district. The clear sea, peaceful streams, and unique seafood are the great advantages of Phu Quoc tourism, attracting a huge number of visitors coming here each year.
Best ways to go from Phan Thiet to Phu Quoc
Phu Quoc and Phan Thiet are the two famous tourist sites in South Vietnam, attracting a huge number of travelers each year. Hence, they are invested much in both services, especially transportation for tourists. Depending on differences in time and money, there are two options for tourists to move from Phan Thiet to Phu Quoc.
Passenger bus + speedboat
Traveling to Phu Quoc by car, speedboat, or ferry is probably the most popular means of transportation for tourists in the South. From Binh Thuan, travelers can also go to the island by ferry or speedboat. They just need to pick up the buses from Binh Thuan to Rach Gia or Ha Tien, which cost about VND 300,000-400,000/guest. Depending on the distance of departure, travelers can go to the nearest pier and then continue to take a speedboat to the island. This is said to be an interesting type of travel, which brings a feeling of pleasure to visitors that they can sit on the decks to admire the ocean, and experience the sea breeze.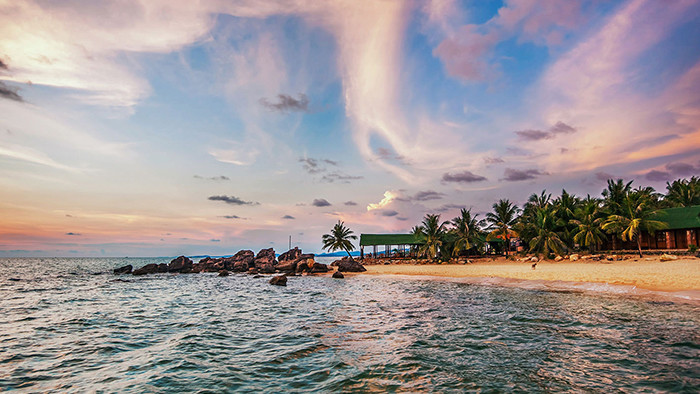 The beautiful sunset on Phu Quoc beach
From Ha Tien, the ferry departs at Thanh Thoi ferry port and arrives at Da Chong harbor (Bai Thom commune, Phu Quoc). The ferry capacity is very large that can carry all kinds of cars. Traveling time by ferry is over 2 hours. The distance from Da Chong harbor to the center of Duong Dong town is about 20 kilometers so visitors can go by bus or motorbike taxi.
Speedboats Ha Tien - Phu Quoc include Superdong I and Superdong II which depart from Ha Tien port to Phu Quoc and vice verse at 8:00 a.m and 1:00 p.m. Hong Tam high-speed boat also serve this tour, starting from Ha Tien to Phu Quoc at 1:30 p.m and from Phu Quoc to Ha Tien at 8:30 a.m daily. Travel time is around 1.25 hours. Prices range from VND 150,000-230,000/guest.
From Rach Gia ferry port, tourists will continue to go to Phu Quoc island by the speedboat. Superdong boat line with the route Rach Gia - Phu Quoc and vice verse depart at 8:00 a.m and 1:00 p.m. The time of traveling on the sea is 2.5 hours and it takes around VND 240,000-330,000/guest.
Plane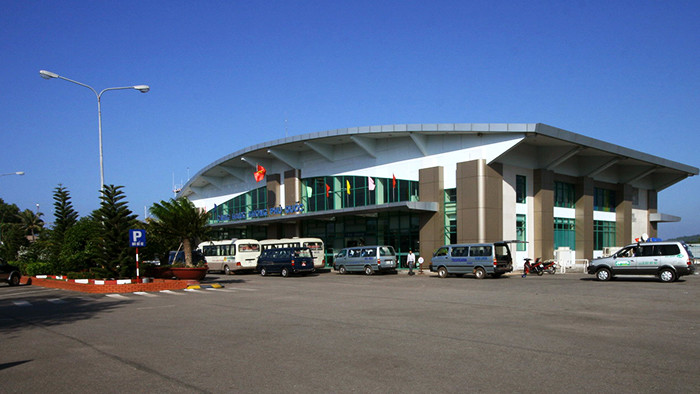 Phu Quoc Airport
The advantage of air travel is saving time, giving tourists more time to explore and relax in Phu Quoc island. From Binh Thuan, there is no direct flight to Phu Quoc, so travelers need to move to Saigon by the passenger car and then take a flight from Saigon to Phu Quoc directly, with airlines like Vietnam Airlines, Vietjet, and Jetstar. The travel cost to get to Saigon is about VND 160,000-200,00/guest. Vietnam Airlines operates 17 flights a day with the ATR and 1 flight with the Airbus. Also, Vietjet Air operates a daily flight with the Airbus. The flight time from Saigon to Phu Quoc is 50 minutes.
Hope that with our detailed guide, you will have a safe and convenient trip to Phu Quoc island from the coastal city of Phan Thiet. Feel free to contact us or visit our website for further information. If the article is useful for you, don't forget to like and share it with others. Thank you.