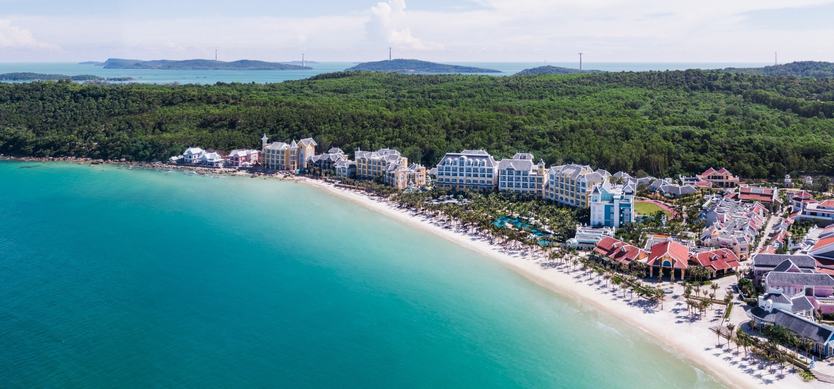 Dubbed as the Pearl Island with the breathtaking landscape that charms any tourists' hearts, Phu Quoc is an ideal destination for visitors to spend their holiday. There is no shortage of interesting things to do when traveling there.
You may have heard a lot about Phu Quoc but do you know about Phu Quoc's geography? Read our article below to get more information!
Phu Quoc's geographical location
Phu Quoc is located in the Gulf of Thailand, in Kien Giang province, at the southwestern tip of Vietnam's territorial waters. Phu Quoc is an island with both forests and mountains with an area of 1320 km2. Its length is 48 km from north to south and a population of about 93,000 (2010). Situated about 45km west of Ha Tien and 15km south of Cambodia, Phu Quoc owns the most beautiful beaches and the best seafood in Vietnam.
Phu Quoc is not really part of the Mekong Delta nor inherits fertile silt to grow rice and fruit. However, Phu Quoc is home to the best fish sauce in Vietnam as well as the world. Besides, Phu Quoc is also famous for its pepper and seafood.
As the biggest island in Vietnam, Phu Quoc consists of 22 islands, of which 14 islands are in An Thoi Archipelago and 8 islands are in Tho Chu archipelago to the south. The gentle natural terrain runs from north to south with 99 hills and mountains. However, the small island cluster of An Thoi port is completely separated from the southern tip of Phu Quoc island by a strait with a depth of more than 60 meters.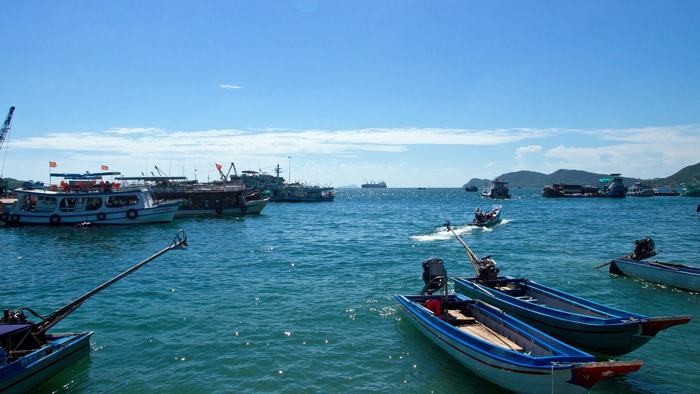 An Thoi harbor
The coast of Phu Quoc Island is situated between Vietnam's and the coast of Cambodia's Kampot province and the Poulo Wai group island. This sea plays great importance on national security and the economy of both countries.
Phu Quoc Island is also relatively close to all the major cities of Asia such as Bangkok, Singapore, Kuala Lumpur, Phnom Penh, Siem Reap, Ho Chi Minh City, Hanoi, Hainan, Korea, and even Hong Kong. Flights from major cities to Phu Quoc were set to begin in the fourth quarter of 2014.
Phu Quoc's climate
The geographical location affects the climate here. The weather in Phu Quoc has two distinct seasons: the rainy season and the dry season. The climate here is cool all year round due to the characteristics of the monsoon tropics.
The rainy season in Phu Quoc starts from June and lasts until the end of September. At that time, Phu Quoc often has heavy rain and high humidity (sometimes up to 90%). Rains in Phu Quoc are heavy but they stop quickly and after the rain, the landscape becomes brighter.
Despite the rainy season, Phu Quoc still attracts a lot of tourists to travel. Gorgeous streams like Tranh Stream, Da Ban stream or Da Ngon Stream create beautiful scenery as a masterpiece of talented artists. At this time, there are a lot of interesting watersports held.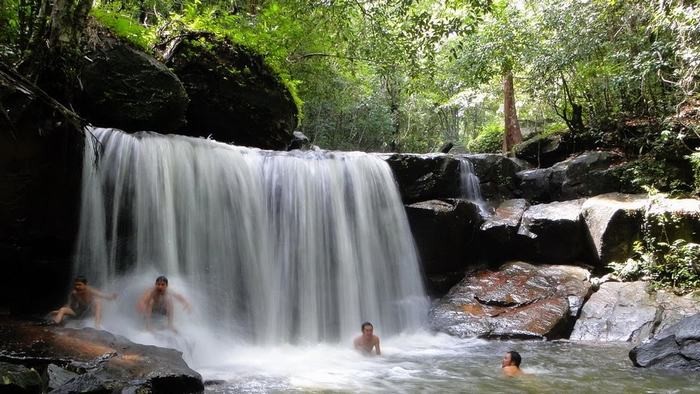 Tranh stream
The dry season in Phu Quoc lasts from October to March. This is an extremely favorable time for tourism. The climate at that time is pleasant due to the strong influence of the northeast monsoon. The average temperature ranges from 24 to 30 degree Celsius.
Tourists can relax on beautiful beaches such as Sao beach, Khem beach, Ong Lang beach, or Long Beach. In addition, the journey to explore the north island, south island or east island promises to bring unforgettable experiences for visitors.
Other useful information about Phu Quoc you may not know
When one talks about Phu Quoc, it's deficient if we do not mention the traditional occupations of people here. These are the production of fish sauce and pepper growing which are the world-famous products for a long time. Apart from these two professions, the main economic activity of Phu Quoc residents is seafood exploitation. Recently, thanks to the rapid development of tourism activities on the island, a part of residents have turned to provide tourism services such as restaurants or hotels.
Today, the system of roads on the island is developing rapidly. Besides, the routes of transporting passengers from the mainland to the island by both plane and boats are very convenient.
Best time to visit Phu Quoc
The peak season
What is the most beautiful time in Phu Quoc?
The most impressive time to visit Phu Quoc is defined as November through March when the temperature ranges from 25 to 28 degree Celsius. However, at that time, lots of tourists travel there and the accommodation service is often overloaded. Hence, you should plan your trip before you go.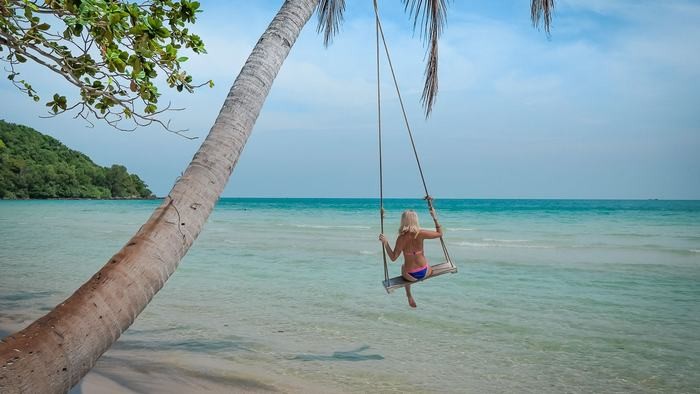 Phu Quoc beach
The shoulder season
If you want to save your money, the time from April to June and the end of October is suitable for you. However, from April to May are the hottest months of the year when the temperature can reach up to 35 degree Celsius.
The low season
From July to September is the period of monsoon influence and frequent rains. Traveling to Phu Quoc at this time, you can get many attractive service prices.
We hope that after this article, you will have a further look about Phu Quoc. Visit our website to get more information about traveling to Phu Quoc and choose the most suitable Phu Quoc tours for yourself. If you find this article useful, please share with others. Thank you!