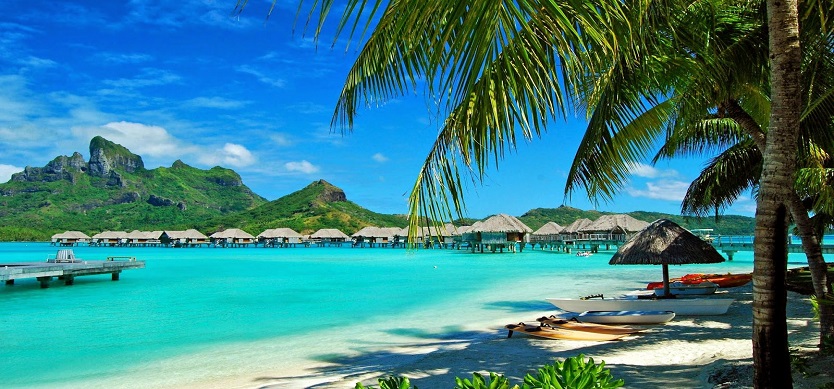 When visiting Phu Quoc, you will not be able to ignore Sao Beach, Ham Ninh fishing village, Ganh Dau nose, and many fresh seafood dishes.
So, there are a lot of tourists wanting to visit the destination one time, but where to go in 4 days in Phu Quoc island?
Click out the post to know more detail!
Itinerary for traveling to Phu Quoc island 4 days
Day 1: Hanoi / Ho Chi Minh City - Phu Quoc - Ham Ninh Fishing Village (East Island)
Day 2: Bai Sao - Phu Quoc Prison - Dinh Cau (Nam Dao)
Day 3: Mui Ganh Dau - Phu Quoc National Forest
Day 4: Shopping - Back to Hanoi / Ho Chi Minh City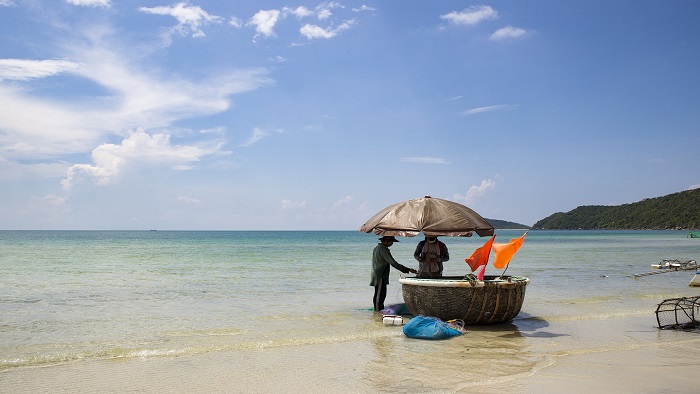 Where to go in 4 days in Phu Quoc island
- Day 1: Hanoi/HCMC- Phu Quoc island- Ham Ninh fishing village in the west of the island
You can start the journey to discover Phu Quoc from the east of the island. Due to the first day of traveling, you should only visit nearby places. Ham Ninh ancient fishing village will be an attractive option for you to begin the journey to discover pearl island.
About 20 km to the northeast of Duong Dong town, Ham Ninh fishing village remains untouched with picturesque roofs and bamboo walls.
It is famous for catching crabs, seahorses, sea cucumbers, seaweed picking. After learning about life in Ham Ninh fishing village, visitors can find fresh seafood that has been caught by fishermen here.
At night, visitors can walk along the beach to enjoy the fresh and quiet atmosphere of the pearl island.
- Day 2: Sao beach- Phu Quoc Prison - Dinh Cau (Southern Phu Quoc island)
You should get up early to go to Bai Sao. This is one of the most beautiful and crowded beaches in Phu Quoc. Sao Beach is about 30 km from Duong Dong town, you can catch a taxi here for about 300,000 VND. Furthermore, not only the pure beauty of nature, but Bai Sao also has many interesting activities for visitors. After sunbathing, swimming, you can buy scuba diving tours to see corals.
When visiting the place, you can comfortable to enjoy a package tour including fishing - diving - squid fishing with the price of 550,000 VND per person. Guests will be transported to the sea fishing on fishing boats, snorkeling and watching coral. The most interesting activity on this tour is night squid fishing.
Besides that Phu Quoc prison is also an interesting place for traveling if you want to learn more about the Vietnam War. This place was once seen as hell on earth with imprisonment and torture of political prisoners.
One of the experiences you should not miss is watching the sunset on Dinh Cau nose. If you do not participate in the night fishing tour, visitors can walk around Dinh Cau night market about 5 km from the sunset view.
Moreover, the food here is delicious and plentiful, the price is not too expensive. After walking around the night market, visitors can walk to the town center, take a break and prepare for the 3rd day to explore the island of Phu Quoc pearl.
- Day 3: Ganh Dau Cape - Phu Quoc National Forest
Ganh Dau cape is about 20 km north of Duong Dong town. It has a bow-shaped beach stretching about 500 m, also retains the wild character and very typical of Phu Quoc.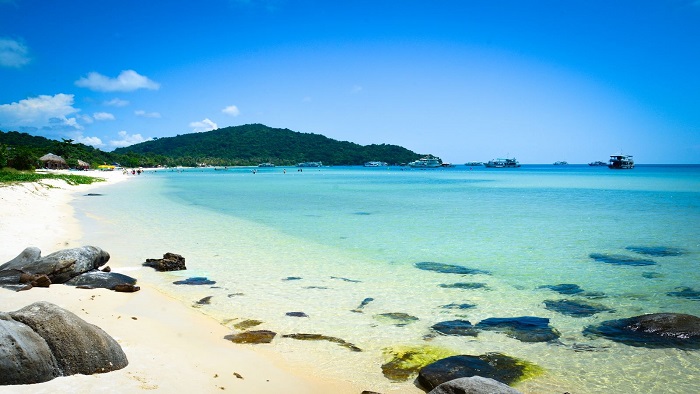 Where to go in 4 days in Phu Quoc island
From Ganh Dau cape, visitors can also go to Long beach, Ong Lang beach to swim. The seafood here is famous for being fresh and cheap, you can buy from the boat of the fishermen and ask the people on the island to process on site.
In the afternoon, visitors can conquer the journey through Phu Quoc forest with natural scenery preserved almost intact. If you have time, you can explore and conquer the Mount of God at a height of 565 m, which is considered the roof of Phu Quoc with a view surrounding the pearl island.
- Day 4: Shopping and back to Hanoi/HCMC
The last day in Phu Quoc, you can visit Ngoc Trai culture facilities, bee farms, fish sauce or pepper gardens to buy gifts and souvenirs.
Flights to Hanoi and Ho Chi Minh City often take off at noon. The earliest inland high-speed train was 8:40, the last trip of the day was 17:40.
Hope that after the post, tourists will have full and useful information about where to go in 4 days in Phu Quoc Island. Don't forget to share and like the post!