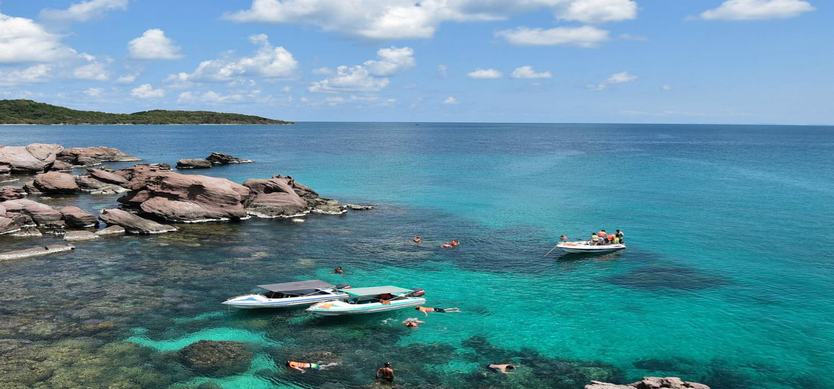 5 small islands around Phu Quoc attracting backpackers
As one of the most breathtaking islands in Vietnam, Phu Quoc is home to hundreds of beautiful spots that are worth spending your holiday.
However, Duong Dong town and famous islands are often crowded, bustling. If you like quiet, peaceful spaces, the smaller and more pristine islands are an ideal choice for you.
Taking Phu Quoc tours, you should not miss this guide to experience the wild beauty and explore the many exciting activities of the island.
5 small yet attractive islands around Phu Quoc
Xuong islet
May Rut Ngoai islet
May Rut Trong islet
Mot islet
Mong Tay islet
Xuong islet
This is the most remote island, located in the south of the island of Phu Quoc. Xuong islet's seawater is very clear and deep. The most interesting thing is a huge cave with imposing cliffs. From this cave, you can lie on the beach and see the beautiful view of Xuong islet.
May Rut Ngoai islet
May Rut Ngoai islet is located in the south of Phu Quoc Island, about 3 knots from the center of An Thoi town. In order to go to May Rut Ngoai islet, visitors can go by boat in about 1 hour.
May Rut Ngoai islet is pristine with many rocks and little sand so the water is very clear. During the season of alluvial sand, the beach full of white sand and blue water is beautiful as a picture. Here, you can swim or lie in the hammock for relaxing, listening to the waves slapping or wander on the island for expedition and shooting.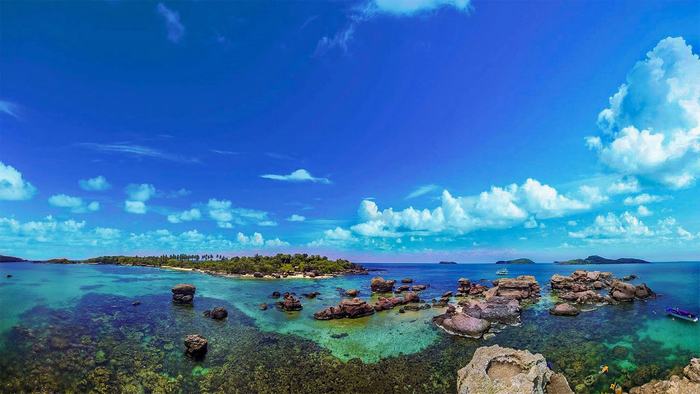 May Rut Ngoai islet
May Rut Trong islet
Similar to wild character of May Rut Ngoai islet, May Rut Trong islet attracts tourists by the long sloping beach, fine white sand stretching along with coconut trees. The regional sea has a diverse ecosystem with 125 species of fish and 150 species of mollusks. Besides, there are many rare marine species such as cow-ear clams, dugongs, sea turtle…
It attracts tourists of many interesting activities. The first is to participate in the snorkeling tour to admire the colorful beauty of more than 100 species of hard and soft corals. At night, visitors can experience an interesting feeling of squid fishing with fishermen. It takes only a 5-minute boat trip to visit the squid fishing village, visitors will be manually caught fresh squid which can be grilled or cooked porridge right on the boat.
In addition, guests are going to visit the pearl farm, the floating house specialized breeding of rare seafood such as abalone, sea cucumbers, turtles, grouper…
Mot islet
This islet is about 20 minutes of driving from the town of Duong Dong (Phu Quoc). Mot islet attracts tourists by the ledges with diversified shapes, strips of beach morning glory blooming very beautiful. Not deep seawater level helps visitors easy to see the coral, moss and all fishes swimming around. Here, you can be free for swimming, snorkeling and watching coral reefs, fish, crab, and pinch.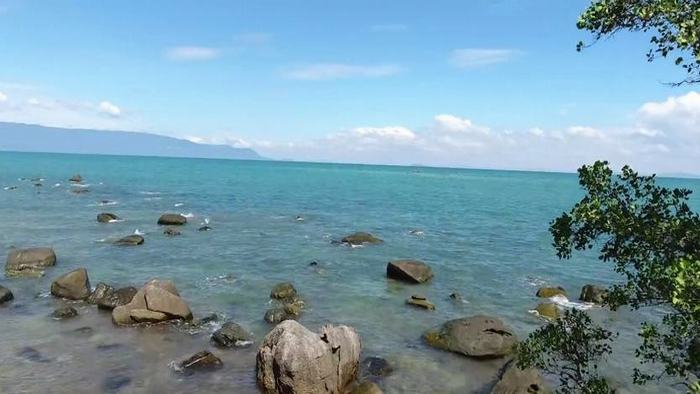 Mot islet
In addition, the island also has extremely diverse vegetation with many species of perennial trees and many strange fungi on tree trunks.
Mong Tay islet
Mong Tay islet is almost an absolute pristine island because it has no residents living and no intervention by the convenient services from the mainland.
Mong Tay islet is the ideal location for outdoor activities such as camping, swimming or going to explore deeper into the wilderness with stretching burning grasslands.
One other interesting activity that you can not miss when you come here is to experience scuba diving to explore the extremely rich coral ecosystem with 17 types of hard and soft types of anemones in brilliant colors. The coral reefs with all kinds of shapes, sizes, and colors will surely leave a great impression on your mind about a trip to the "desert island".
When it comes to cuisine, you can visit Phu Quoc island to buy seafood and bring it here to process your favorite dishes.
Hope that with our suggestions, you can find the most suitable one for your upcoming trip and enjoy the peaceful and pristine beauty of them. Do not hesitate to contact us via our website if you have any questions and need further information. Share this article with others if you find it useful. Thank you!