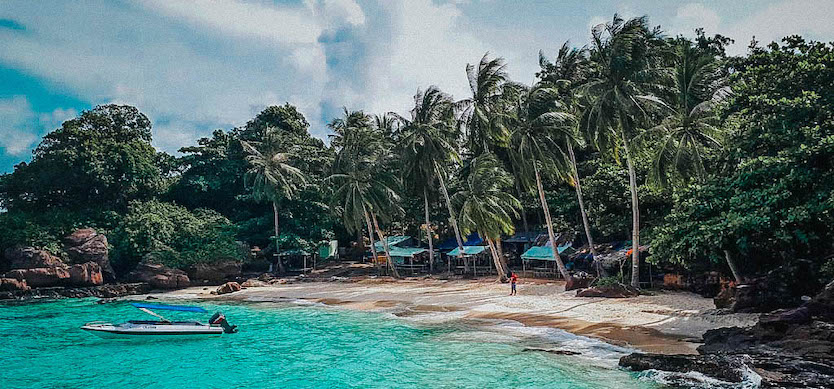 While you're probably familiar with the beauty of Phu Quoc island, Quy Nhon is an emerging destination for travelers in Vietnam with pristine nature and charming unexploited beaches.
So, which one will impress you more?
After reading this guide, you'll be able to answer about the most ideal spot for your vacation which mainly depends on differences in ease of movement, scenery, cuisine, culture, and so on. But firstly, let's find out where Phu Quoc island and Quy Nhon are located.
Where are Phu Quoc and Quy Nhon?
Phu Quoc
Phu Quoc is a beautiful archipelago located deep in the Gulf of Thailand, in Kien Giang province. Lying in the southern waters of the country, the Pearl island of Phu Quoc is also the largest one of Vietnam and in the 22 islands here.
Quy Nhon
Belonging to Binh Dinh province, Quy Nhon city is quite peaceful with a harmonious combination of mountains and sea. Quy Nhon is a first-class city, developing into a tourist center of the Central region.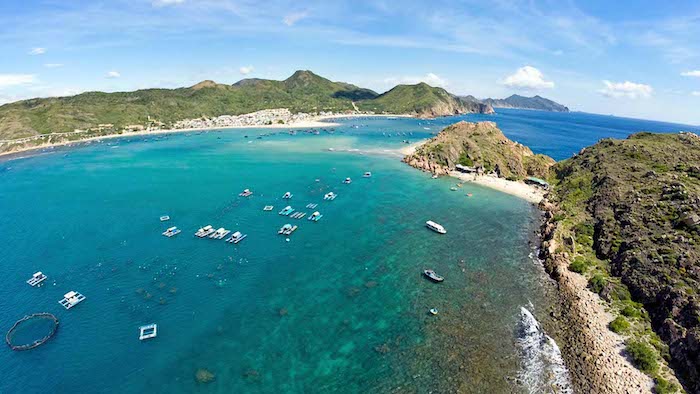 Quy Nhon beautiful beaches
When to go to Phu Quoc and Quy Nhon
Phu Quoc
The peak season in Phu Quoc is from April to September. However, the dry season (October to March next year) is the most beautiful time for Phu Quoc.
In general, you can travel to Phu Quoc at any time of the year because the average annual temperature is only about 28 degrees Celsius. The most important thing you should do is following weather forecasts to avoid stormy days.
Quy Nhon
Quy Nhon tourism mainly relies on sea tourism so it depends a lot on the weather. Therefore, the summer months from May to July are the most convenient time to travel to Quy Nhon.
In March and April, the weather here is also less rainy, sunny, clear blue but the waves are still strong, so some canoeing activities are limited. In return, the price of hotels and services is much cheaper than the peak season.
Why you should choose Phu Quoc island
Relaxing experiences
With a wild natural beauty, Phu Quoc is very suitable for honeymooners, people who like the relaxing vacation on the beach, or fans of nature exploration.
So, if you are one of them, then Phu Quoc will be your best bet.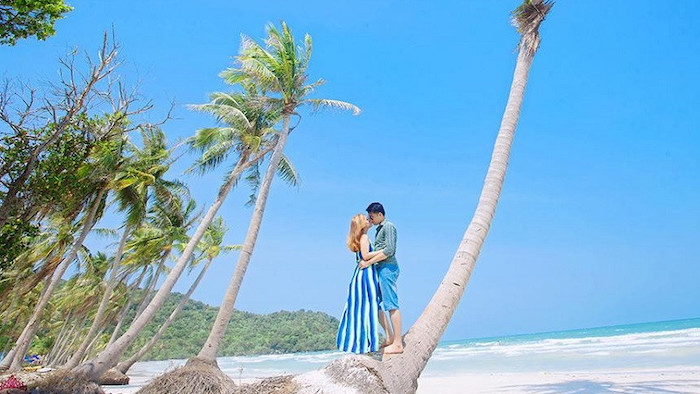 Enjoying the relaxing time in Phu Quoc
Heaven of tropical beaches and coral reefs
The sea water in Phu Quoc is extremely clear and fresh, along with smooth white sand and swinging coconut trees, making anyone visiting the island unforgettable. That's why Phu Quoc is listed in the top coral destinations travelers should go in Vietnam.
Luxurious resorts with world-class services
In recent years, Phu Quoc has strongly been invested in accommodations, entertainment, and services. Coming to Phu Quoc, travelers will stay in the luxury beach resorts and hotels like InterContinental, JW Marriott, Eden resort, Vinpearl resort and villas, and The Shells, etc., and enjoy the experience with works like Vinpearl Safari, Hon Thom island cable cars, beach bars, etc.
Abundant seafood
A visit in Phu Quoc cannot be lack of tasting the incredibly fresh seafood. You can enjoy in many restaurants in Duong Dong town, Phu Quoc night market, or many beaches like Ham Ninh or Bai Khem.
Culture of the traditional craft villages
To explore the culture in Phu Quoc, you can reach Ham Ninh fishing village, Khu Tuong pepper garden, fish sauce, pearls, and rhodomyrtus tomentosa wine production facilities, etc. Also, admiring the sunrise or sunset on Ham Ninh beach is what to do in Phu Quoc that you should not miss.
How Quy Nhon will make your trip great
Joyful experiences
While Phu Quoc impresses tourists by the wild and relaxing nature, Quy Nhon is very suitable for families or groups of friends to seek joy.
Convenient location
Compared to Phu Quoc island, Quy Nhon has a more favorable location that it is a coastal city in the Central. Therefore, reaching Quy Nhon will be easier and more convenient whether you're in the North or the South. You can save a lot of time and money with means of transportation like planes, passenger cars, or individual means like cars or motorbikes.
Peaceful nature and beaches
Quy Nhon beaches are diverse and unexploited, so they still keep their pristine beauty which is harmonious with the surrounding nature of mountains and greens. Notably, each beach in Quy Nhon has a different look that you'll find interested when enjoying.
Plentiful unique destinations
Except for beautiful beaches like Ky Co, Queen beach, or Hon Kho island, Quy Nhon is also well-known by various attractions like Eo Gio strait, cathedrals, Rang rapids, fishing villages, and Cham towers, etc.
Diverse specialties at low prices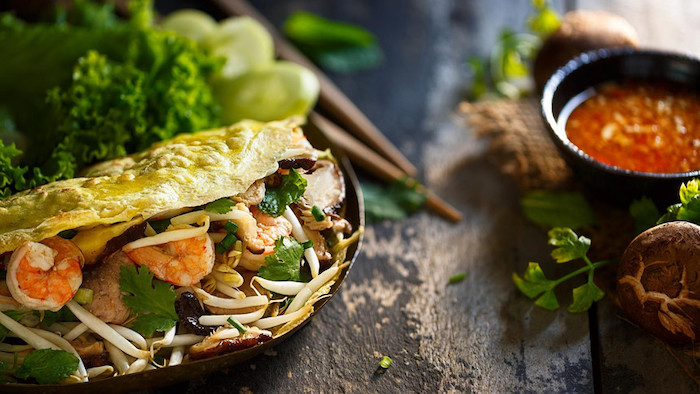 Quy Nhon cuisine
Specialties in Quy Nhon is extremely diverse because the city is the interference point between the cuisines between the North and the South, between mainland and sea. In here, tourists should not ignore the dishes of fish noodles, rice pancakes folded in half, bloating fern-shaped cakes, seafood, Phu Yen chicken rice, and Chau Truc shrimp noodles, etc.
Rustic people
Besides the scenery and food, tourists also love the local people who are rustic and sincere. For experiencing the indigenous life, you can choose to stay in a homestay and have dinners with the hosts or go to a market to explore.
After all, between Phu Quoc and Quy Nhon, do you finally pick for yourself the most appropriate destination? No matter which one you decide to visit, hope that you'll have a wonderful time here. If you need further information, don't hesitate to let us know or visit our website. Also, please like and share the article if it's useful for you. Thank you.