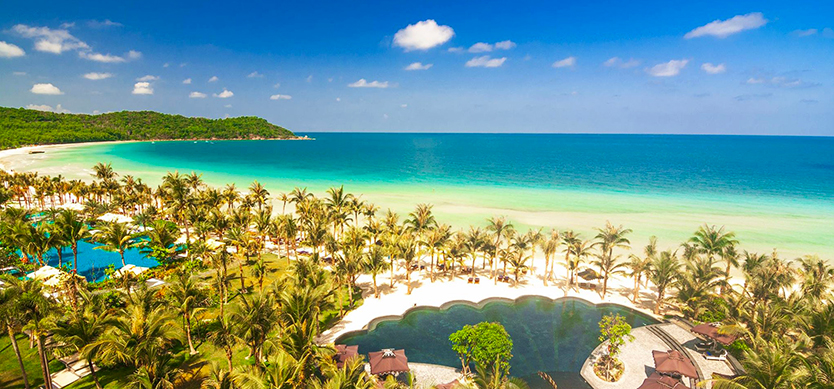 Phu Quoc island is considered heaven on the sea with majestic and wild nature. If you depart from the beautiful Quy Nhon, the guides below might be useful for you.
How far it is from Quy Nhon to Phu Quoc?
Quy Nhon is a coastal city in central Vietnam and is the economic, political, cultural, scientific, technical and tourism center of Binh Dinh province. In the past few years, Quy Nhon has become a tourist attraction by the beautiful natural scenery and rich cuisine. There is a long list of island and sea paradises waiting for travelers to discover.
About 879 kilometers to the south from Quy Nhon, Phu Quoc, also known as Pearl island, is the largest island in Vietnam and also the largest in the 22-island population here, located in the Gulf of Thailand. Phu Quoc island together with other islands constitutes Phu Quoc island district. The clear sea, peaceful streams, and unique seafood are the great advantages of Phu Quoc tourism, attracting a huge number of visitors coming here each year.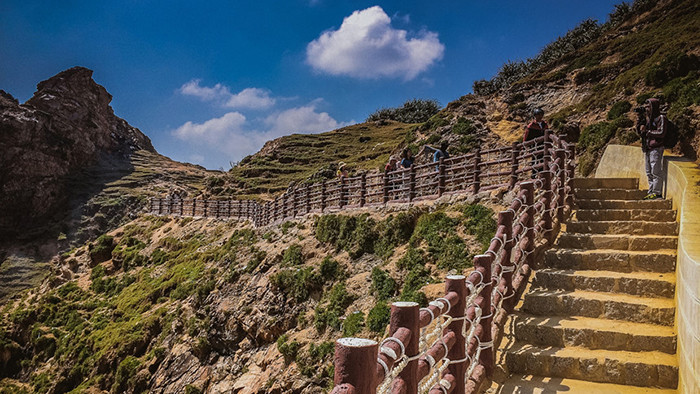 The Eo Gio attraction of Quy Nhon, Binh Dinh
How to go to Phu Quoc
Plane
From Quy Nhon, tourists can reach Phu Quoc by plane which is very convenient and fast, suitable for those who want to save time. However, this is not the most economical option, so to reduce transfer cost, travelers should look for cheap plane tickets to book early, before the trip a few months. The prices will range from VND 500,000 to VND 2 million and the travel time is 1 hour and 10 minutes.
From Quy Nhon, tourists go to Phu Cat Airport, Phu Cat district, Binh Dinh province, which is 35 kilometers from the city center, by bus or taxi. The bus will pick passengers up at 01 Nguyen Tat Thanh street, costing VND 50,000/guest. Travel time is about 50 minutes. Traveling to the airport by taxi is suitable for a group of 3-5 people, which is also reasonable that for now, there are many taxi lines organizing a package for travelers moving from airports to the city center and vice versa such as Mai Linh, Sun Taxi, Taxi Phu Cat, etc. Prices are VND 200,000-300,000. The plane will land at Phu Quoc Airport, Phu Quoc island.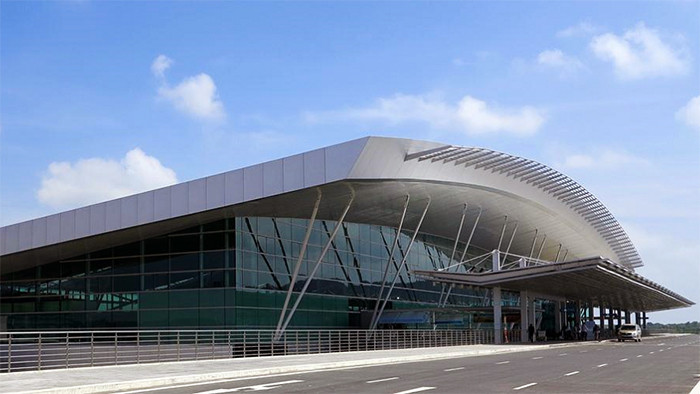 Phu Quoc Airport
Passenger bus + speedboat
Apart from the airplane, travelers can get to Phu Quoc island by the combination of passenger bus and speedboat. Nevertheless, this way requires tourists to have good health and plenty of time because there are no buses going from Quy Nhon to Kien Giang. Hence, tourists will go to Saigon to continue going to Kien Giang. Traveling by passenger bus will take travelers about VND 500,000-600,000.
From Quy Nhon Bus Station, tourists catch a bus to East Station, Saigon and buy a ticket to Ha Tien Bus Station. Afterward, travelers go to Ha Tien port by taxi or motorbike taxi. The ferry departs at Thanh Thoi ferry port (Ha Tien) and arrives at Da Chong harbor (Bai Thom commune, Phu Quoc). The ferry capacity is very large that can carry all kinds of cars. Traveling time by ferry is over 2 hours. The distance from Da Chong harbor to the center of Duong Dong town is about 20 kilometers so visitors can go by bus or motorbike taxi.
High-speed boats Ha Tien - Phu Quoc include Superdong I and Superdong II which depart from Ha Tien port to Phu Quoc and vice verse at 8:00 a.m and 1:00 p.m. Hong Tam high-speed boat also serve this tour, starting from Ha Tien to Phu Quoc at 1:30 p.m and from Phu Quoc to Ha Tien at 8:30 a.m daily. Travel time is around 1.25 hours. Prices range from VND 150,000-230,000/guest.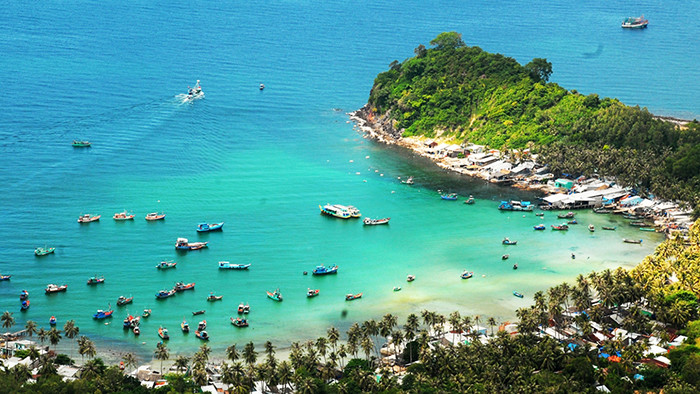 Phu Quoc is a heaven on the sea
Otherwise, visitors can go to Rach Gia Bus Station from East Station, Saigon to move to Rach Gia ferry port. From Rach Gia ferry port, tourists will continue to go to Phu Quoc island by high-speed boat. Superdong boat line with the route Rach Gia - Phu Quoc and vice verse depart at 8:00 a.m and 1:00 p.m. The time of traveling on the sea is 2.5 hours and it takes around VND 240,000-330,000/guest.
Certainly with the useful and detailed instructions on how to travel to Phu Quoc island in the nearest, safest, and most convenient ways, your trip to the beautiful island has never been easier. If you like the place, don't hesitate to like and share this guide with your dear friends to save the cherished memory in here with them. Thank you.