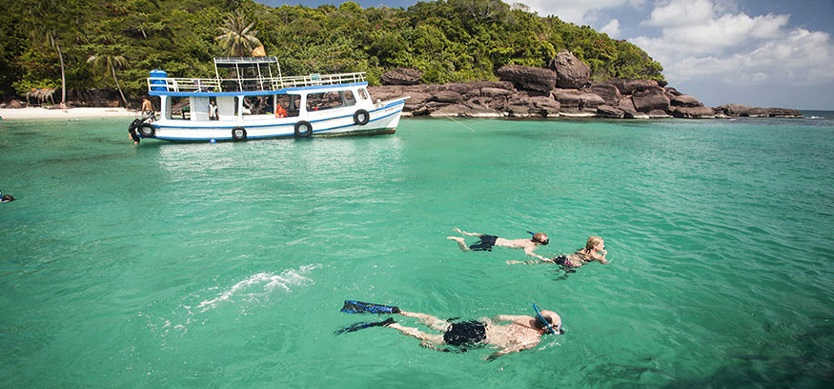 Honestly, if traveling to the island, swimming on the beautiful beaches is not enough, a diving trip to explore the seabed with colorful coral reefs and fish swimming is a wonderful thing you should not miss.
But have you known anything about coral diving tours in Phu Quoc yet?
If the answer is no, let's read this post below for deciding a diving site in Phu Quoc.
Top exotic diving sites in Phu Quoc
Turtle island
Fingernail island
Bang island
Fortune Teller island
May Rut island
An Thoi islands
Roi island
No hesitation, let's dive in it!
About the condition of diving in Phu Quoc
Diving sites in Phu Quoc island map are quite shallow with an average depth of about 10-12 m. In the North of the island, the diving conditions are better but not many dive sites. The South Island has more options for dive sites, but the weather conditions are erratic. The best time for diving in Phu Quoc is the dry season. From October to April, it is possible to dive in the two areas of North Island and South Island.
There are several beautiful diving spots to see the coral reefs, but these are where the currents intersect so you will most likely encounter very strong currents. Don't expect to meet big sharks or turtles, but the coral reefs here are great. You can meet blue-spotted stingray, scorpionfish, nudibranch, crustaceans, squid, octopus.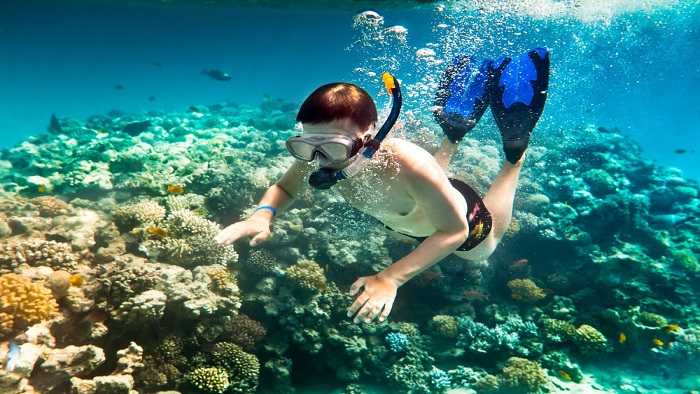 Diving sites in Phu Quoc
Diving sites in north island
Doi Moi island
Perhaps this is the best diving spot for coral reefs in the North Phu Quoc Island tour, coral is 12m from the water surface. Here you can see a variety of tropical fish. At a depth of 7-10m, there is a group of large rocks, forming a canyon that makes the terrain here very interesting. At the more shallow areas, you can see large hard corals and large sea anemones along with pink anemonefish. It is possible to snorkel around Doi Moi island.
Fingernail island
At low tide, Fingernail Island is connected to the mainland by a coral reef at only 10 m depth. This diving site has a system of large rocks piled up on the sand at the bottom, creating many hiding places for fish such as catfish or big pufferfish. Do not ignore the sand bottom here because if you are patient, you will discover many creatures of the same color as the sand that is right near you.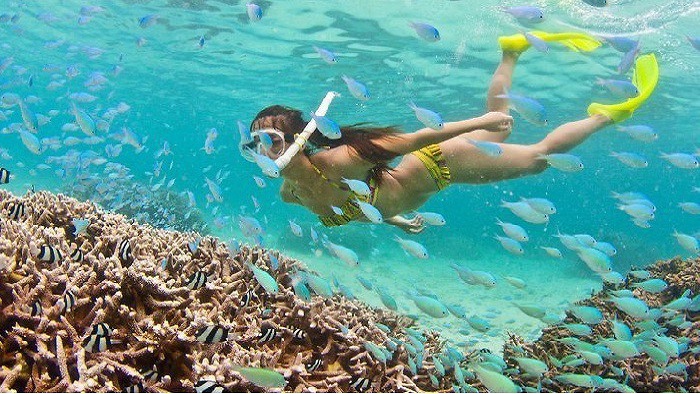 Diving in Phu Quoc
Bang island
This diving area is bordered by Cambodia. Called Bang island because there is a big terminalia catappa tree on the island, local fishermen often come here to avoid the heat. Here, the seawater is quite clear and large stones stacked to create a space to help corals live and develop.
Fortune Teller island
Similar to the Bang island, this island is not large but also an interesting and attractive diving spot for tourists.
Diving sites in the south island
The east of Turtle island
Turtle island is only 50 m long with a few palm trees, bushes, and sandy coastline. However, it is also the ideal place to snorkel. The waters around the island are relatively shallow with no more than 10m with an interesting range of hard corals, seaworms, small yellow fish. When coming here, if you are lucky enough, you can see rare blue gobies and coral groupers.
The south of Turtle island
This dive site has alluvial flow bringing nutrition to coral reefs. Nutrition from sediment also attracts a large number of other species. At a depth of 20m, corals grow on a large area, many reef fish also come here to live.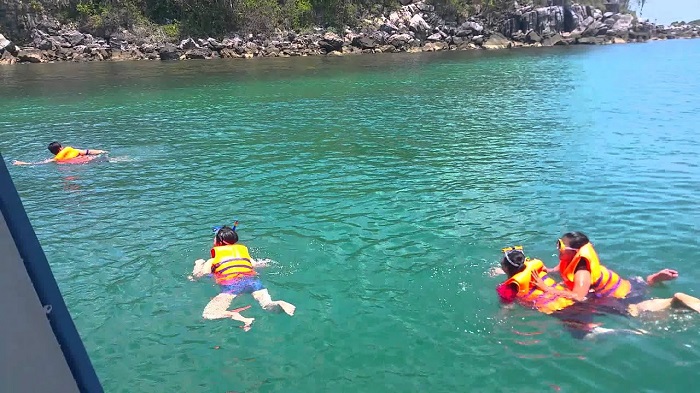 Diving in Phu Quoc
The west of May Rut island
This dive area is 25m deep because it is hidden behind ocean currents, so diving here is quite comfortable. The coral here grows well, sea snakes and sharks feed and hide behind large rocks.
An Thoi islands
An Thoi archipelago is a popular diving place in Phu Quoc to watch corals. The islands are located south of Phu Quoc. It takes about 45 minutes by boat tour Phu Quoc from Duong Dong town. The archipelago is made up of a collection of 15 large and small islands.
The topography of this islands changes significantly on the 60m deep strait between the island of Phu Quoc and Dua island. And the coral reefs slope gently on other islands. These islands also support some of the more popular seagrass reefs in the east of Phu Quoc. The archipelago is home to a lot of small tropical fish such as grouper, tuna, and mackerel.
The east of Roi island
Located near the pearl breeding center, this diving site is a fairly quiet water area that allows coral reefs as well as living creatures to grow. At a depth of 10m, you may encounter squid and some shrimp.
The south of Roi island
This diving site has large rocks and lots of corals, including corals that grow from the sand.
Phu Quoc has numerous beautiful diving sites for you to see coral reefs. Let's choose a diving site for your wonderful time in Phu Quoc. Thank you!