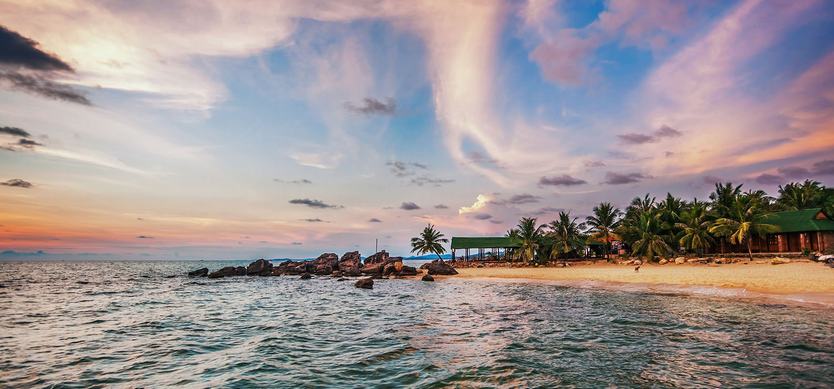 Where is Phu Quoc Island on the map?
If you still don't have any idea of Phu Quoc island where is it, this guide would be very useful for you which also takes you to the destination in the most convenient ways.
Where is Phu Quoc island?
Where is Phu Quoc island on the map? Phu Quoc of the Southwest is an island separated from the mainland and also the largest island in Vietnam with an area of up to 574 square kilometers. The island also belongs to the Gulf of Thailand.
Phu Quoc Island is located quite close to Cambodia which is just 14 nautical miles from the coast of Kampot province. From Vietnam, the island is 65 nautical miles (about 120 kilometers) from Rach Gia town and 25 nautical miles (about 45 kilometers) from Ha Tien town.
Phu Quoc island where is it? Phu Quoc is known as an emerald island with a population of 22 small islands around, forming Phu Quoc island district of Kien Giang province. There are two large towns of An Thoi and Duong Dong and eight communes in the island. According to the statistics of Kien Giang province in 2015, the population living on the island reached 102,000 people.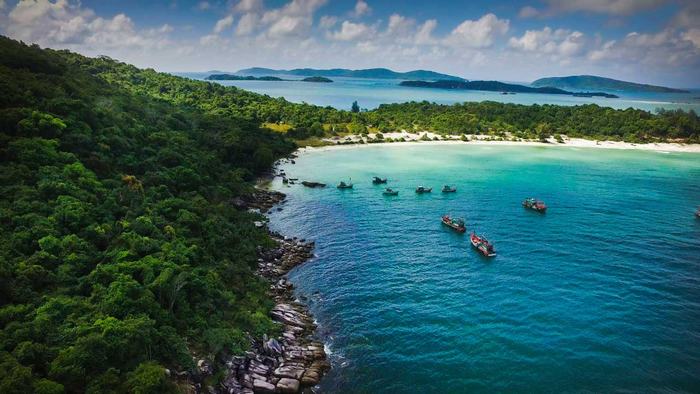 Bai Khem Phu Quoc
The weather of Phu Quoc island
Phu Quoc's weather can be described as either "dry or sunny" or "wet" which depend on the season. This precise classification of weather in Phu Quoc is basically influenced by the Southern monsoon (very heavy rainfall) with the strong south-east wind.
Due to the surrounding sea location, the climate here is relatively cool and pleasant. The climate is divided into two distinct seasons including dry and rainy seasons. The dry season lasts from November to May next year. This time is convenient for tourism activities. The rainy season starts from June to November. Whatever season you go to Phu Quoc, there are also features of this land.
Of course, you can visit Phu Quoc Island all year round. Phu Quoc Island is a beautiful island, but if you want to avoid rain and rough seas, it is best to go to "dry season". The best weather in Phu Quoc is from November to March.
The average temperature is 30 0 C (84 F) with clear blue sky and very smooth water surface with clear vision. Humidity is also much lower. During this time all travel companies work at full capacity to serve tourists.
Geography of Phu Quoc Island
Phu Quoc island district consists of 36 islands from a large and small island, of which Phu Quoc island is the largest. Phu Quoc is an island with both forests and mountains located in the Gulf of Thailand. The geographical location of Phu Quoc is 45 km west of Ha Tien, about 15 km south of Cambodia. Phu Quoc stretches from latitude: 9 ° 53 ′ to 10 ° 28′ north latitude and longitude: 103 ° 49 ′ to 104 ° 05 ° east longitude.
With a total population of over 60,000 people, the average population density is 95 people / km2, the district has 8 communes and 1 town with 1 town. These names of these towns as Cua Duong, An Thoi, Ham Ninh, Duong To, Cua Can, Bai Thom Ganh Dau, Tho Chu and Duong Dong town. The natural terrain gently runs from south to north with 99 hills and mountains. The small island cluster of An Thoi port has a section of straits with a depth of more than 60 m due to being separated from the southern tip of Phu Quoc island.
The coast of Phu Quoc Island is bordered by the coast of Kampot Province and the Poulo Wai group of the island of Cambodia. Therefore, Phu Quoc's geographical position is important for national security and the economy of both countries. At the same time the distance of Phu Quoc Island is also relatively close to all the major cities of Asia such as Phenom Penh, Siem Reap, Bangkok, Singapore, Kuala Lumpur, Ho Chi Minh City, Hanoi, Hai Nam, and even Hong Kong. Therefore, it is very convenient for economic development and trade.
The economy of Phu Quoc island
Phu Quoc's GDP grew at an average annual rate of more than 22% per capita income in 2013 reached over VND 70 million / year, 8.1 times higher than in 2004; The proportion of poor people from 14% in 2004 decreased to less than 2% compared to 2013.
According to the master plan of socio-economic development of Kien Giang province by 2020. Phu Quoc will be built into an administrative-economic zone in 2020 as a center of eco-tourism and recreation, national and international advanced; regional financial center. Furthermore, Phu Quoc island is an important focal point for regional and international aviation transport.
The highlight of Phu Quoc island
1. Casino
The Casino project in Phu Quoc is named Corona Resort & Casino in Phu Quoc (Kien Giang) invested by Vingroup which is nearly ready to be put into operation. According to new information received from Vingroup, the investor of Casino in Phu Quoc, this project has been in operation since January 19, 2019, and will welcome both foreign guests and Vietnamese guests.
2. Phu Quoc international airport
Phu Quoc Airport since its operation in December 2012 has become a launchpad for Phu Quoc tourism. This beautiful island has received spectacular numbers of tourism growth with the number of tourists constantly increasing. The operation of Phu Quoc Airport is a step forward for the development of Phu Quoc in the future. This is the government's determination to bring Phu Quoc into a Special Economic Zone. Phu Quoc Airport is just the Phu Quoc International Airport, as an international-scale airport that welcomes dozens of domestic and foreign flights flying here and there daily. The future of Phu Quoc airport must receive hundreds of flights a day with the number of registered companies increasing.
3. Hon Thom cable car
Hon Thom cable car connects An Thoi town to Hon Thom - an island of the green and old forest with untouched features like never had human hands touched. Journey to the top with the Hon Thom cable car gives visitors an exciting experience when 360 degrees of sea and sky is collected and the picture in South Phu Quoc. The place is portrayed with natural colors in the best, and the most lively.
Best ways to travel
Where is Phu Quoc island on the map? From Hanoi, travelers can go to Phu Quoc by plane. This is the most convenient, safest, and fastest way that flies straight from Hanoi to Phu Quoc island. Vietnam Airlines operates an Airbus flight each day from Noi Bai Airport (Hanoi) to Phu Quoc Airport which departs at 8:40 a.m and arrives at 10:45 a.m. The reverse flight departs from Phu Quoc at 11:35 a.m and arrives at 1:40 p.m.
From Saigon, tourists can visit the island by a plane which departs from Tan Son Nhat Airport. There is a second way that they can move to Rach Gia ferry port (Rach Gia city, Kien Giang province) or Thanh Thoi ferry port (Ha Tien city, Rach Gia province) first by passenger car, then continue to reach Phu Quoc by ferry or high-speed boat.
Where to travel
1. Hon Thom island
Hon Thom island is located in the North of Phu Quoc island. In here, travelers can dive to admire the coral and discover the fishermen life. There is a pearl farm which is near Hon Thom so they can also visit a famous squid fishing village in Phu Quoc.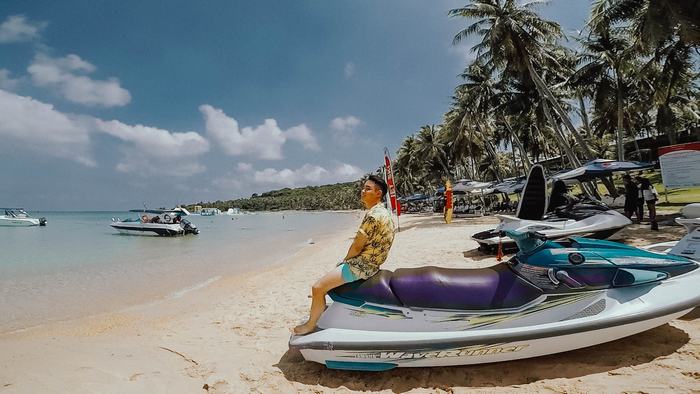 Hon Thom island
2. Bai Dai beach
Coming to Bai Dai, visitors will immerse themselves in the clear blue sea water and smooth white sand which used to be voted by the famous BBC to be one of the most ideal beaches in the world. Bai Dai beach of Phu Quoc has a coastline of 1.500 meters long and along the beach with the sand are the high straight green row of poplar.
3. Bai Sao beach
The most beautiful beaches in Phu Quoc owns fine white sand which is more than 7 kilometers long and curved like the moon. In the high season, Bai Sao is very crowded so if you like bathing in Bai Sao beach, you should come here early to rent a hammock to be able to relax.
4. Ham Ninh fishing village
The life of Ham Ninh fishing village is still intact with the rustic bamboo house. The main occupation of people here is diving to catch pearls, sea cucumbers, and crabs. Also, travelers can visit Ham Ninh in the morning to enjoy the sunrise, then savor the seafood, or come here at night to admire the poetic moon.
5. An Thoi archipelago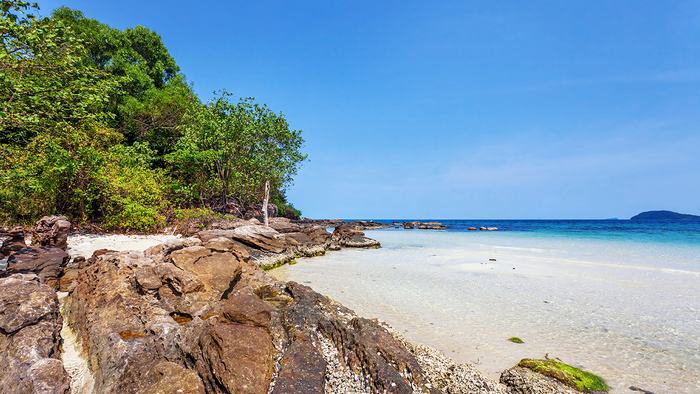 An Thoi Archipelago
An Thoi archipelago has 15 islands along the southwest of the area. Beaches here are very clear and deep. Visitors can find it suitable for activities like exploring nature, sightseeing, fishing, squid fishing, swimming, and diving, etc. Some of the beautiful islands in An Thoi archipelago are Hon Dan, Hon Dua, Hon Roi, Hon Thom, Vang, Mong Tay, Gam Ghi, May Rut, and Chan Qui, etc.
6. Dinh Cau night market
Dinh Cau night market is a busy market of Duong Dong town center on Vo Thi Sau street which is near the beach. The market is held from 5:00 p.m to 10:00 p.m. The market has over 100 booths selling souvenirs, handicrafts, cosmetics, and Phu Quoc jewelry and pearls. The most famous is the food court serving dishes made from fresh seafood such as seafood porridge, rice, and noodles with grilled chopped fish, etc.
7. Tranh stream
Tranh stream is made up of many small streams flowing through the canyon and forest from June to September every year. The stream brings a beautiful natural landscape with the flowers, mountains, sea, and water. It is an ideal and interesting place for camping and picnic.
Phu Quoc island of Kien Giang is an appealing tourist destination, attracting a large number of travelers to explore and enjoy because this place brings the new feeling to visit on the charming islands, stimulating the curiosity of discovery of people. If you like the place, don't hesitate to like and share with others. Thank you and hope you will have a wonderful experience with the Phu Quoc tour.