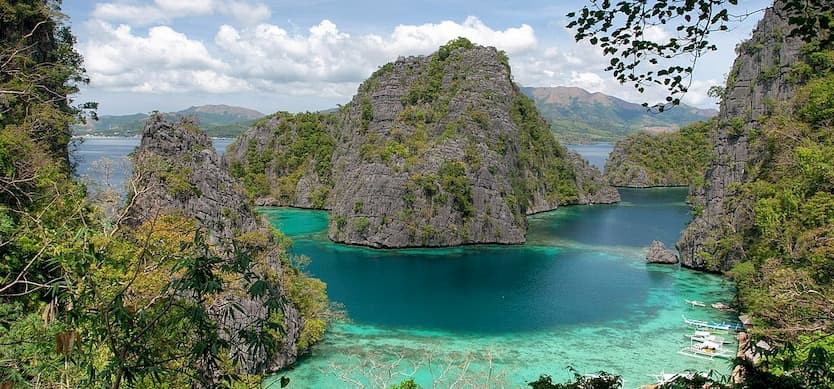 You are wondering how does the Phu Quoc island compare to Palawan? Which one is worth to spend money and time to get to? They both have caves, lagoons, transparent water, spotless white sand beach for you indulging yourself. This article will break down multiple criteria and make compares so that it would be easier for you to make a decision which one to choose.
Phu Quoc is the largest island in Vietnam, the island is like a miniature Vietnam full of terrains from mountains, plains, and beaches.
Phu Quoc island is totally located in the Gulf of Thailand which is Located 45 kilometers west of Ha Tien in the far south of Vietnam. It is 15 km away from the south of Cambodia, therefore, you can easily reach pristine Koh Rong from Phu Quoc. The Phu Quoc Island district consists of 28 islands, most of which are uninhabited while some are developed and modernized rapidly thank private capital.
Where is Palawan island on the map?
Palawan is an archipelagic province of the Philippines that is located in the region of Mimaropa.
Palawan Island is the most biodiverse islands in the Philippines, due to amazing landscapes and high biodiversity. The northern part of this island is characterized by incredibly clear waters, white beaches, and many species of flora and fauna. The most visited places in this area are El Nido and Taytay which are well-known for by limestone cliffs and underwater world with many species of tropical fish, coral, five species of endangered sea turtles. In sum, this is a really amazing tropical destination not only to relax and enjoy yourself but also witness majestic nature.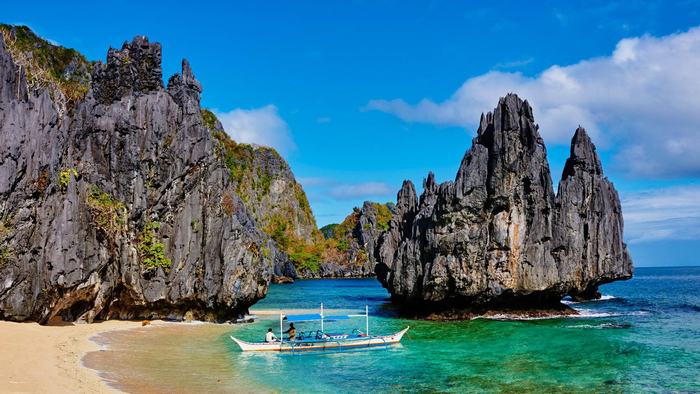 Palawan Island
When is the best time to visit Phu Quoc?
Phu Quoc tropical climate is divided into three seasons, unlike the other destinations in Vietnam, which are commonly suffering from the dry and the rainy seasons.
From November to March, the weather is extremely pleasant for a tropical vacation thank to the average temperature of 30 degrees Celsius throughout the day, shining sun and crystal-clear sky. This season is so perfect that most people choose to indulge themselves, take a Phu Quoc adventure boat tour, or stretch out on the sand, read a book and enjoy sunbathing.
From April to June, the weather change unexpectedly, between a perfect sunny day and sudden downpour. The humidity is around 80 to 85 percent, which causes you to feel muggy and airless.
From July to September, it's raining cats and dogs. Luckily, the rainy season doesn't mean it rains all the time every day. It suddenly rains then it stops and the rest of the day is lovely because everything is cleaned up and cooled down.
When is the best time to visit Palawan?
Climate divides the island into two separate part. The north and south and all west coast go through 2 seasons a year: six months dry and six months wet. In the east coast, a short-time dry season comes and go in about one-three months and no pronounced rainy period takes place the rest of the year. The southern part is not suffered from tropical depressions but the northern has rained during July and August. From March to early June is summer time and is considered peak season for Palawan because the seas are calm, while the average temperature is around 31 degrees C with little variation.
How to travel to Phu Quoc?
You can get from Ho Chi Minh to Phu Quoc by direct plane or by bus with a change to a ferry, or taxi (private transfer). The flight takes you about 1 hour, the ticket cost is from $17-$28.
You can reach the island by Ho Chi Minh to Phu Quoc bus with a change to a ferry. The trip by bus together with a ferry will take about 10 hours, the trip cost is $24 ($14 – bus, and $10 – ferry). The transfer on this route will take you to Ha Tien Pier for $4 and in 2,5 hours, and after that you'll be able to get from the pier to the island. The distance between the Ho Chi Minh City and Phu Quoc island is about 378 km.
How to travel to Palawan?
You can reach Palawan Island from Manila and other areas of the Philippines by air from the international as well as domestic airports at Cebu, Manila, and Caticlan (Boracay). There are also ferries from Manila to ports Coron and port Puerto Princesa.
Every Thursday, the super ferries departure from Manila to Puerto Princesa and back taking between 18 and 22 hours from Manila including a stopover at Coron.
Where to stay in Phu Quoc?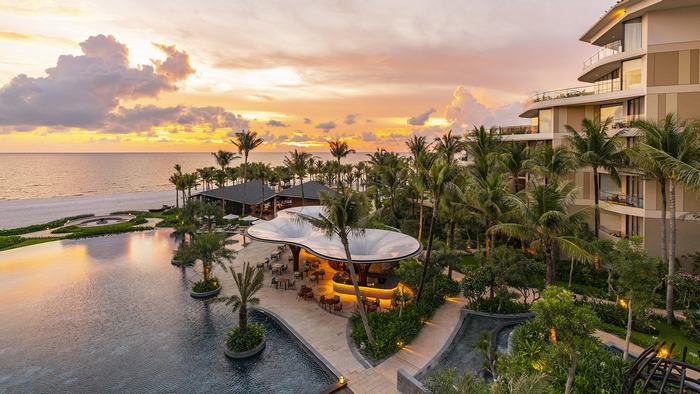 Resort in Phu Quoc
From hotels, resorts, hostels or guesthouses, Phu Quoc has it all. There are options for any budget. However, Duong Dong town is highly recommended. It is the main town of Phu Quoc Island, where you can find all kind of hotels, hostel and international restaurants, bars, banks, pharmacies, and travel agencies. Remember to do research on price, security, and location beforehand as well as to book in advance if you plan to travel in high season.
Where to stay in Palawan?
There are a variety of different styles of accommodation available in and around Palawan ranging from homestays to island resorts.
The majority of tourists will fly straight to Puerto Princesa city - a great base for a few days before moving toward El Nido and Coron.
Coron is relatively small with fewer hotels than Puerto Princesa and El Nido and only have a handful of island resort hotels near to Coron Town.
El Nido is a municipality that is voted as the most diverse ecosystem in the Philippines. Hotels from budget to luxury are available, as well as all the facilities necessary for a comfortable holiday in the tropics.
Where to visit in Phu Quoc?
Phu Quoc is well-known for beautiful beaches and unique sea culture. The system of sea, mountains, and forests in Phu Quoc creates harmony between ocean and land. If you are looking for places that have fewer tourists, try May Rut islet, Mui Ong Doi beach, and Ganh Dau beach.
Apart from the famous beautiful beaches and the best seafood in the country. If you are a food-fan, don't miss the night market where serves you with fresh and flavourful dishes.
Phu Quoc also offers a rich culture and a long history. If you want to acquire a deep understanding of the culture you might be interested in Phu Quoc prison, Dinh Cau, Ham Ninh village.
In case, you are tired of hustle and bustle city, then take a full day tour of north Phu Quoc.The northern part of the island is covered by a UNESCO-listed national park where you can find the ever-green forest, endangered species, or immerse yourself in Tranh stream.
Where to visit in Palawan
Getting around the island is easy. If you passionate about the crystal clear water, you'll be excited to find that Palawan boasts of the best scuba diving and snorkeling. Also, you can choose the boats instead of traveling. When you are in El Nido, the best way to explore is by jeep because the roads are narrow. Otherwise, you also can hire motorbikes and bicycles for local exploring.
If you are particularly interested in wreck and nature divers, the best choice is Coron Bay, where you can have the unique experience of witnessing the wrecks of sunken World War 2 ships.
Experience the underground river of Puerto Princesa will give you a brand new challenge. The river features impressive limestone karst landscape and the world's longest underground river.
Various tours and day trips are available in El Nido, from drop-offs, overnight camping, boat parties, and private tours, which means you can design your own adventure while you're there.
In sum, Phu Quoc Island and Palawan Island have its' own charm.
Either way, if you only choose one destination, they both make great choices. The decision depends on your desire and budget. Remember to do research before departure.
If you are looking for a quiet place, far away from the hustle and bustle of big cities, then definitely go for Palawan. However, if you are looking for an island with all the amenities of big cities, then Phu Quoc is the right choice for you. If you have any questions about Phu Quoc, don't hesitate to contact us. Thank you!