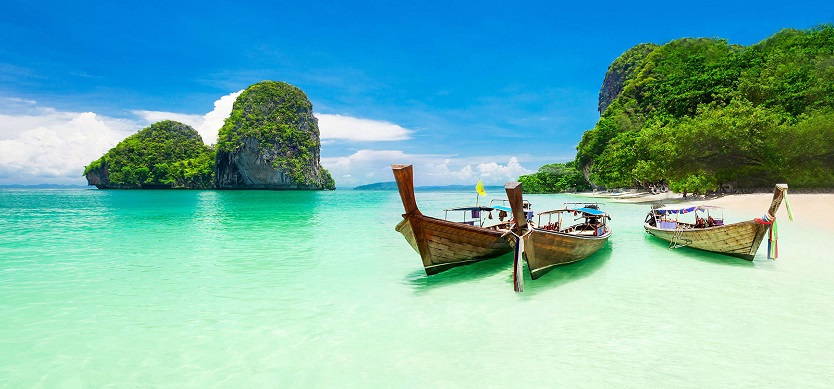 You want to let your soul be wild with blue sea and white clouds but don't want to spend too much money? You are wondering whether Phu Quoc or Krabi is better for travel budget? Don't worry, we will give you the most detailed experience of Phu Quoc and Krabi, so you can choose one to enjoy the best holidays.
Where are Phu Quoc and Krabi?
Phu Quoc
Phu Quoc island is located off the southwestern coast of Vietnam in the Gulf of Thailand. With a total area of 574 square kilometers, Phu Quoc is the largest island in Vietnam and the largest one among 22 islands in Phu Quoc island district.
Phu Quoc island is near to Cambodia, just about 26 km from the coast of Kampot province. The island is 20 km from Rach Gia city and 45 km from Ha Tien town, Kien Giang province, Vietnam.
If looking at Phu Quoc island map, you can see the shape of Phu Quoc is like a teardrop, it is large in the north and smaller in the south. The northern area of ​​the island is home to the primeval forests with diverse and rich ecosystems. In the south of the island, there are quite a lot of beaches with wild and attractive beauty.
Duong Dong town has an extremely favorable position when it is located in the center of Phu Quoc island. From here, visitors can travel in different directions to tourist destinations.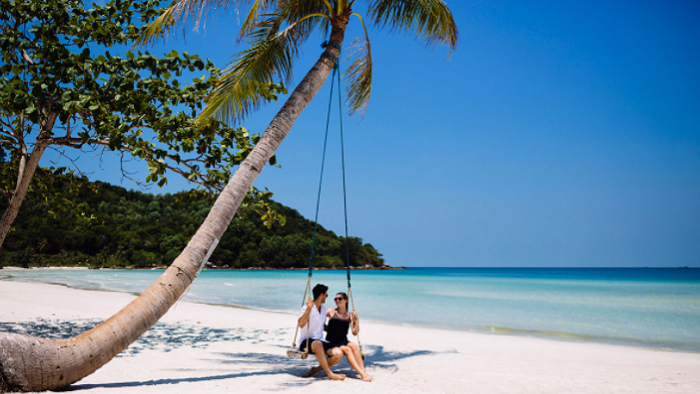 Phu Quoc island
Krabi
Krabi Town is the beautiful capital of Krabi province, located along the banks of the river to the Andaman Sea. Therefore, it is an important port city in Thailand. Visitors to nearby attractions include Koh Phi Phi, Koh Lanta, and Railey Beach, this is one of the top rock climbing spots in the world.
Krabi is a tourist retreat in Thailand known for its fascinating scenery, many beautiful islands, and beaches. Krabi is also home to many national marine parks and more than 80 smaller islands. A trip to these beautiful islands or participating in coral diving here will be extremely impressive experiences.
What to explore in Phu Quoc
Phu Quoc has numerous tourist destinations that you should not ignore. Here is the list of suggested places you can consider visiting in your Phu Quoc trip.
Dinh Cau temple and Thuy Long Thanh Mau temple
The first time to Phu Quoc, you are wondering "where to go" to start a wonderful trip. So, let Dinh Cau and Thuy Long Thanh Mau be your first destination. These are two religious symbols of Phu Quoc citizens. Before every fishing trip in the sea, local people will come two temples to pray for a safe trip and harvest much fish. Located on the huge stone near the beach, the landscape here is so wonderful that is worth a try.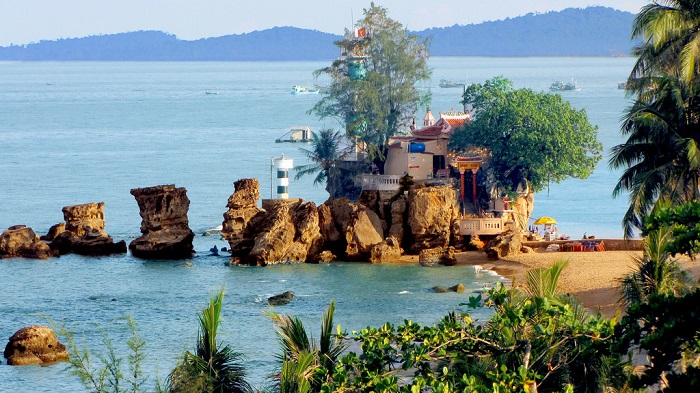 Dinh Cau temple
Vinpearl Land Amusement
A long day on the sunny beaches, let's spare your evening a funny time in Vinpearl Land. There is an aquarium near the gate of Vinpearl Land that is home to 300 marine creatures and especially has seven kinds of sharks.
When entering the amusement park, you can wander to play with the animals in the zoo. Then, you can experience the thrilling games such as roller coaster, swing wheel, super speed wheel, swing wheel, etc. Moreover, here you can have chances to go shopping and enjoy the street food in the shopping and food streets as well as buy the pretty souvenirs to mark your trip.
Sao beach
When the sun is going down the horizon, it is time to come to Sao beach- one of the most beautiful beaches in Phu Quoc. This beach is located in An Thoi town in the southeast of the island. Swimming in the crystal sea in the afternoon is truly a wonderful experience, besides enjoying the coolness of the seawater, visitors also enjoy the most romantic moments on the sea when seeing the sunset.
Phu Quoc prison
Phu Quoc prison is an important historical site of the country where it was called "the hell on earth". Visiting here, you will hear the travel guide telling about the cruelty of colonialism and unbroken spirit of Vietnamese consistent soldiers. The prison nowadays is just a small part of the old prison, but it still evokes the dismay of the war and what previous Vietnamese generation endured.
All remind us that the war is always terrible and let's try to keep this peace everlasting. What we need to do is to live more responsibly and positively. Light up an incense burner to commemorate those who have made meritorious contributions to the country and limit taking pictures because this place is sacred.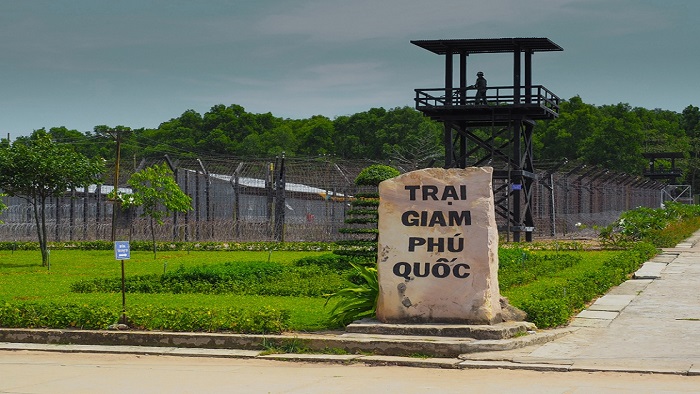 Phu Quoc prison
So, what it has in Krabi
Are you ready to explore Krabi? Set aside the relaxing time in the luxury resort, let's take your backpack and explore Krabi now!
Emerald jade lake
Just away one hour driving from Krabi town and hiding in the pristine evergreen forest, Emerald Lake is often called as Sra Morakot or Crystal Pool. Like its name, the lake water is extremely clean with a jade color flowing from the top of the limestone mountain.
Located in the heart of the national park and animal reserve - Khao Pra-Bang Khram, visitors have to take a 1,4 km trek to get to Emerald Lake. Because this place is also favorite to local people, it is better for you to visit this lake in the morning before it becomes crowded.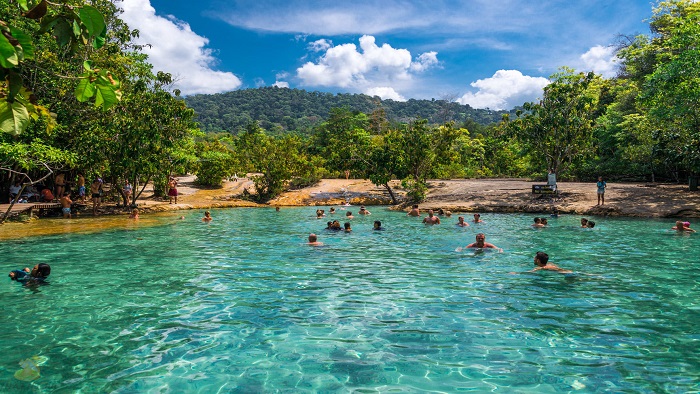 Emerald lake
Natural hot spring
Near to Emerald lake is a natural hot spring which is the ideal choice for relaxing your body. The average temperature of water is 35 - 40 Celsius degree, it is really good for your health.
There are many steps in the hot spring where visitors can sit and enjoy under the shade of the forest. Because this place is relatively small and quite crowded, the best time to come here is from 7am - 8am or from 4pm to 5pm.
Tiger Cave temple
Also known as Wat Tham Suea, this is a famous temple in Krabi that attracts a lot of locals and tourists. It is said that Buddha footprints can be found in the temple. The main highlight that attracts visitors to the tiger cave temple is 1,237 steps up to the small mountain. Although conquering these steps can be difficult in Thailand's wet weather, once you get there, the scenery will overwhelm you. The best time to start climbing the mountain is 4 pm to avoid the sun at noon, as well as it is a great time to catch the sunset!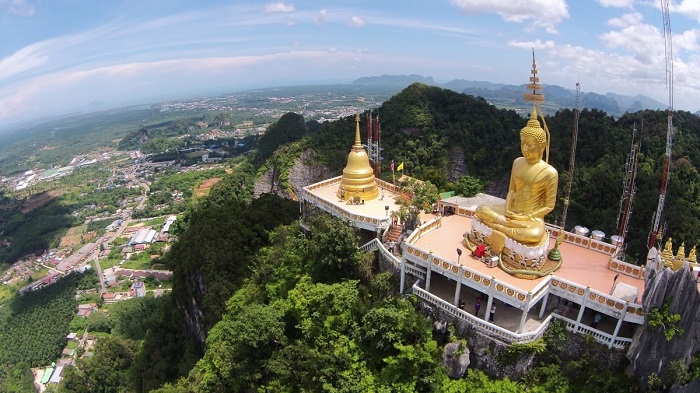 Tiger Cave temple
Krabi Tree Top Adventure park
Nestled in deep forests and protected by limestone cliffs, the Krabi Tree Top Adventure Park seems to be a quiet paradise for a peaceful day. With lots of fun from swinging zipline to Tarzan swing, Tree Top Adventure Park has everything that is for passionate enthusiasts. Here, you will get a flying skateboard, challenge your skills with a rope walk, replay scenes from Indiana Jones on rope bridges and many other interesting things.
Conclusion
There are more exciting activities and spots in both Phu Quoc and Krabi that you can visit and explore during your trip because Phu Quoc and Krabi are the famous tourist destinations in Vietnam and Thailand. So, if possible, let's take a Southeast Asia tour to visit two places.
Both Phu Quoc and Krabi are worth to travel, so no matter where you go, let's be wise to arrange yourself an ideal itinerary. If you have any question about Phu Quoc island tour or Thailand tour, feel free to contact us. Thank you!