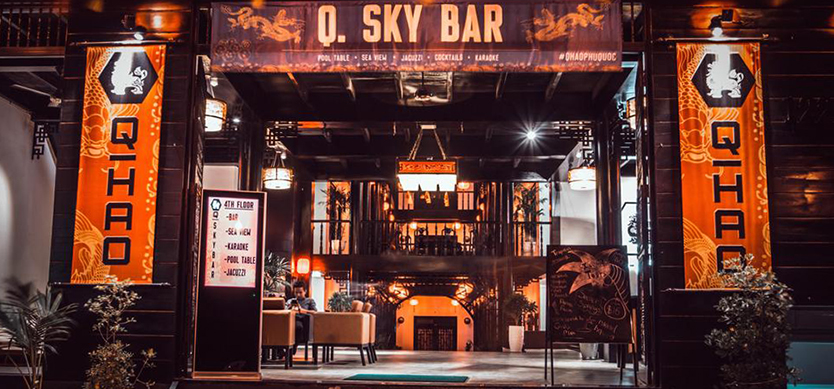 Phu Quoc is one of the top destinations in South Vietnam with many things to see and do. Not only soaking in cool water but, going to Phu Quoc, you also have the opportunity to participate in many activities such as trekking, visiting fishing villages, or watching coral reefs, etc.
And it will be much more wonderful if you can enjoy a cup of beer or cocktail after a day of discovery on uninhabited islands.
For a vibrant night on Phu Quoc or a romantic sunset view on the beach, here's a couple of the lively bars around town that may be worth trying out for a drink.
The most attractive bars in Phu Quoc island
Skye Bar
Chuon Chuon Bistro & Sky Bar
Rory's Beach Bar
Golden Sand Bar
Q Sky Bar
Skye Bar
This bar has just been put into operation since 2017. It is located on the top floor of the Phu Quoc Ocean Pearl Hotel, so it has a beautiful and cool panoramic view of the city. Also, watching the full moon at night from here is extremely romantic. About the decoration, this is an open space surrounded by walls and ceiling. All the interiors are wooden with an oil lamp in each table, creating a romantic atmosphere. Especially, the music at the bar is ear-catching. Skye Bar is usually more lively and funnier after 10.00 PM so you can go there after visiting many other places on the island. The drink prices range from VND 80,000-175,000 depending on the type of drink.
Address: 99 Nguyen Trung Truc, Phu Quoc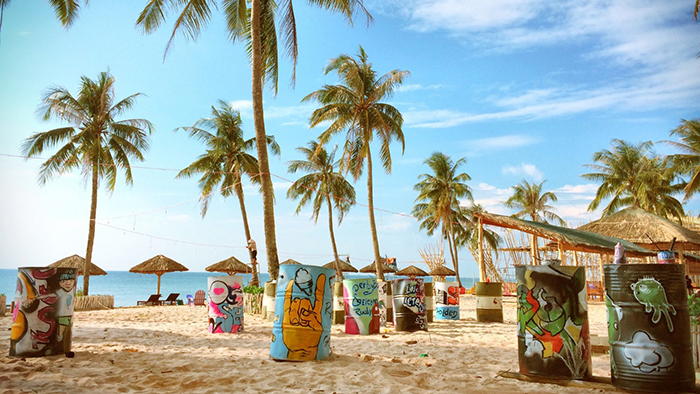 The attractive Golden Sand Bar in Phu Quoc
Chuon Chuon Bistro & Sky Bar
Chuon Chuon Bistro & Sky Bar is covered with the whole green of trees, completely immersed in nature. The bar is spacious, with an extremely open view, so just sitting here, you can see the whole of the pearl Phu Quoc island. It is decorated in the Western style, ideal for those who love to take photos and explore. Drinks here are delicious and very suitable in the hot and humid sea climate. The prices are relatively stable, ranging from VND 50,000 to VND 95,000.
Address: Sao Mai Hill, 69 Tran Hung Dao
Rory's Beach Bar
Just arriving here, tourists will be impressed by the nice sea view of the bar. Rory's Beach is a beautiful small bar located close to the beach with colorful decorative items which are extremely prominent. In addition, food and drinks here are also rated quite good.
The best time at Rory's is probably the sunset. Phu Quoc sunset looked from Rory's is incredibly fanciful. Rory's becomes more peaceful in the sun, wind, sea, and surrounding trees. You can both enjoy a cocktail and watch the sun sinking into the sea. When it's dark, with a glass of beer, among friends and a small fire, you will experience another emotion which is equally unforgettable.
Address: 118/10 Tran Hung Dao, Phu Quoc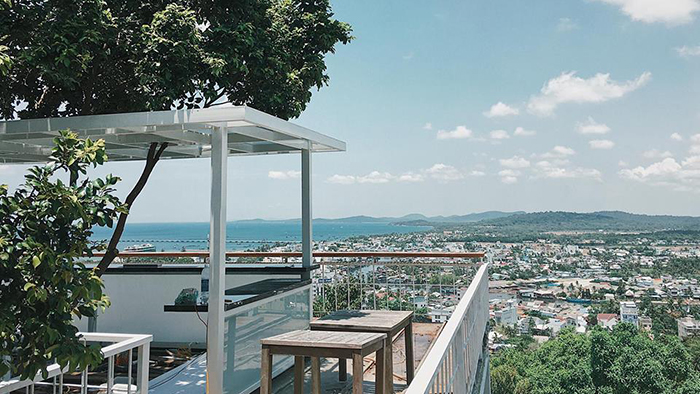 Admiring Phu Quoc island from Chuon Chuon Bistro & Sky Bar
Golden Sand Bar
Dubbed the paradise Hawaii of Vietnam, Golden Sand Bar possesses colorful and creative spaces from the barrels, making the beach more interesting and outstanding. It is an ideal place for young people to take photos and also a place to welcome many famous figures from Vietnam.
Address: Nhiet Doi Beach, Tran Hung Dao, Duong To, Phu Quoc
Q Sky Bar
This sky bar belongs to Q Hao Hotel designed in modern and comfortable Chinese style, with a decoration of the nostalgic red lanterns. Because it is a sky bar, space here is quite cool and the sea view is very beautiful, ensuring visitors will love to come here.
Address: 118/3 Tran Hung Dao, Duong To, Phu Quoc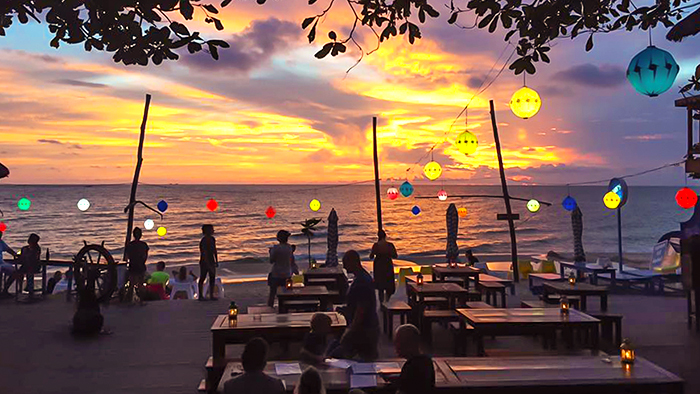 The beautiful sunset at Rory's Beach Bar
As soon as you arrive at these Phu Quoc beach bars, you will surely be attracted by the beautiful, pleasant space which is harmonious with nature and the eye-catching decoration items. This will be a memorable experience for you on the island. For further information, feel free to contact us or visit our website. Thank you.