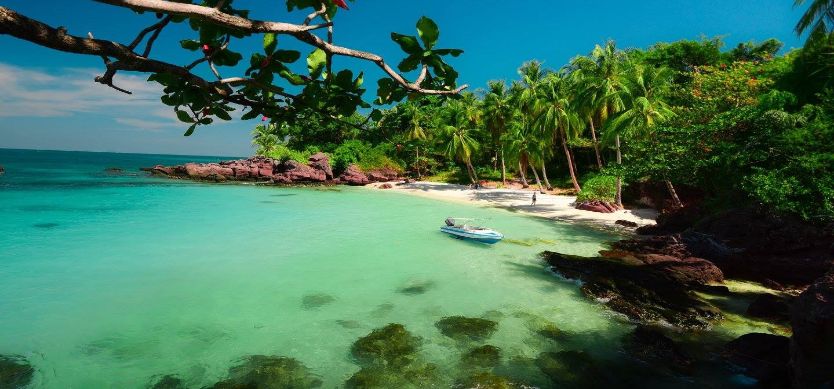 Phu Quoc has been recognized the pearl island of South Vietnam, attracting many travelers to visit.
With the development of tourism, roads are also more and more convenient. Guests can choose to travel by ship or plane.
However, there are very few articles guiding tourists on how to get around Phu Quoc island for the best experience. Therefore, we will help your trip more convenient with lots of useful information.
Best ways to explore around Phu Quoc
Boat
Motorbike taxi
Rental motorbike
Local Bus
Taxi
Bicycle
Walking
Boat
The boat is a good means of transportation to travel around Phu Quoc for sightseeing and especially, going fishing. For a group from 1-4 people, hire a boat to go fishing on the sea is not much expensive.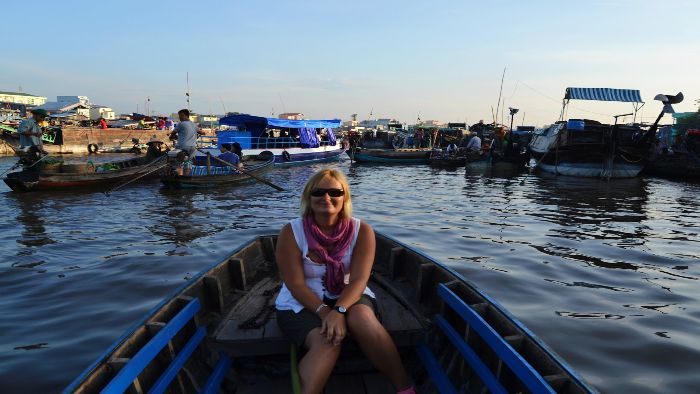 Boating on the Phu Quoc sea
Motorbike Taxi
This is an efficient and cheap way of traveling around and to get to most places in the Duong Dong/Long Beach area should not cost you more than 30,000VND. Drivers will take you to most places on the island but negotiate a price before you go. Hotels and resorts are likely to be able to recommend a driver.
Motorbike Hire
Bikes are easy to find on Tran Hung Dao St near the Long Beach resorts, and many hotels have their own for hire. Expect to pay around $10 a day (bargain) and make sure you check out the condition of the bike and the petrol level before you take off. The hire agreement is purely verbal and does not include insurance or retrieval in case of an accident or engine failure, so it is "hirer beware".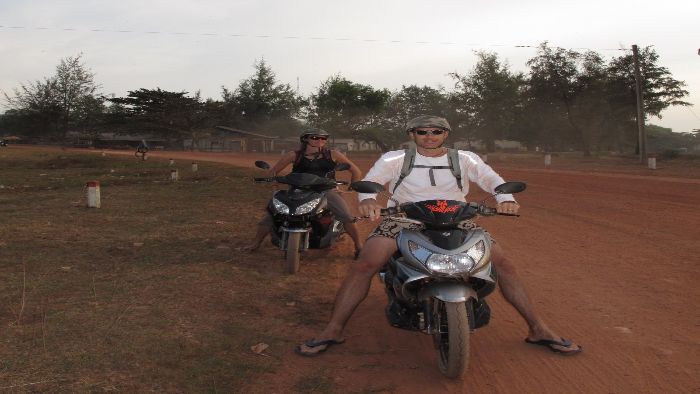 Travel by motorbike in Phu Quoc
Local Bus
There is one from Duong Dong to An Thoi but it is infrequent and only worth taking if you want the local bus experience. Buddy's Ice Cream Café has departure information. A bus also runs between the ferries and Duong Dong, though many hotels will pick you up free from the ferry or airport – ask for this when you make a reservation.
Taxi
There are now several metered taxi companies on Phu Quoc, and both Mai Linh and SASCO are reputable, servicing most of the main hotels and resorts. If you would like to go to another part of the island in the comfort of a taxi rather than by motorbike, negotiate a fixed price instead of relying on the meter as it could otherwise get a bit pricer.
Bicycle
These are easy to hire from hotels or even from some restaurants, for around $2 a day, and in the dry season can take you into the fringes of the national park. However there are few trails as such, so for safety reasons, it is better to go with a guide – and remember the water and sunhat.
Walking
It might be a good idea to carry out a walk around the beaches and Duong Dong market and enjoy the daily life of local people here. Just stop by a food court or a shop that you find interesting things, it is so much easier than traveling by car or motorbike.
Traveling around Phu Quoc now is very easy because there are many transportation options for your choice. Let's consider one of the transports in this list to have great days in Phu Quoc. If you have any questions about Phu Quoc tour, contact us via our website. Thank you!