Undoubtedly, Phu Quoc is one of the most famous tourist sites in Vietnam. Phu Quoc tours attract visitors by not only the picturesque beaches, the breathtaking natural landscapes, the amazing tourist destinations but also the impressive local cuisine. One of should-not-miss dishes is Bien Mai scallop specialty that can wake up the taste of any diners.
What is Bien Mai?
Bien Mai is a type of triangle scallop sticking to the seabed. It is about 20 centimeters in length and 8 centimeters at the widest. Bien Mai is distinctive from other scallops since its meat can't be eaten up but only around small sinew which is white and small as a coin is used to cook. Bien Mai's meat is useless but its sinew is extremely delicious.
Some people claim that Bien Mai's meat is harmful but actually the meat is not taken because it is not as tasty as the sinew and Phu Quoc dwellers who are experts in seafood don't want to use it. They will break the shell and take the sinew out to cook.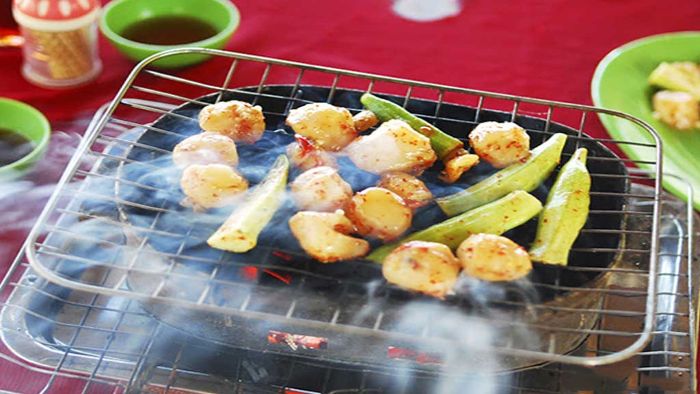 Grilled Bien Mai scallop
Bien Mai includes two flesh layers links to its two pieces of shell. Compared with the familiar blood cockle living on the mainland with the two small sinews, Bien Mai scallop is much larger. In spite of its size, Bien Mai's flesh is not as good-tasting as its sinew.
All of Bien Mai's quintessence is at the sinew that is only about 1 penny in diameter, and 6mm in thickness. The Bien Mai sinew can be cooked for lots of dishes such as grilled sinew with pepper and fish sauce, grilled sinew with the salted soybean paste, braised sinew with pineapple, stir-fried sinew with shiitake mushrooms or straw mushrooms and mustard greens, sinew porridge, etc. Sinew has a great flavor that is sweet and not as soft as scallop flash.
However, the best way to enjoy Bien Mai sinew is to grill then dip it into a mixture of salt, chili and lime juice which can give the eaters the pristine flavor of the ocean. It's also a good idea to try Bien Mai sinew porridge, in which the slight natural sweetness of the sinew combines very well with the warm aroma of onion, shallot, and pepper. This delicious porridge not only can relieve the drunkenness but also make you feel more relaxed after a long day of exploring. If you have a chance to try, you will never forget its exquisite flavor.
Where to eat?
Trung Duong restaurant
Address: 30/4 street, Duong Dong town
Trung Duong restaurant is a famous traditional restaurant in Phu Quoc Island, offering various mountain and island specialties. Located in the heart of Duong Dong Town, the restaurant is airy and includes the separate rooms for each group, along with the professional service and the delicious food.
In Trung Duong, customers can find a wide variety of seafood and Vietnamese traditional dishes on the menu. If you are a gourmet who wishes to experience traditional local food, Trung Duong is an ideal place to visit. It's also a great dining spot for a family or group of friends.
Green River restaurant
Address: 30/4 street, Duong Dong town
In Green River restaurant, guests can enjoy the freshest seafood dishes and the Asian cuisine requested by customers, the rustic dishes of the coastal fishermen and Phu Quoc's typical dishes. There is a wide selection of fresh seafood for diners to select from tanks. All are prepared by the experienced chefs who always succeed in pleasing the diners even the most demanding ones.
It's amazing to try the unique dishes of the restaurant, such as the herring salad, crab fried rice or mushroom hotpot Green River, etc. Moreover, the restaurant offers customers good seats with a stunning view of the river as well as the shipyards. Besides the great food and the excellent service, the restaurant also organizes entertainment activities such as karaoke, singing together, etc as the request of guests.
Dinh Cau Night Market
Address: Vo Thi Sau street, Duong Dong town
Dinh Cau Night Market is truly a cuisine center of Phu Quoc. There are over 100 stalls, mainly selling various kinds of seafood with tasty dishes such as crab noodles, boiled snails and squids, thick noodle soup, etc with the adorable price. The airy and clean stalls, fresh delicious dishes and enthusiastic services are undoubtedly remarkable features that have made strong impressions on many travelers. If you don't like to eat at the stall, you can ask for takeaway service.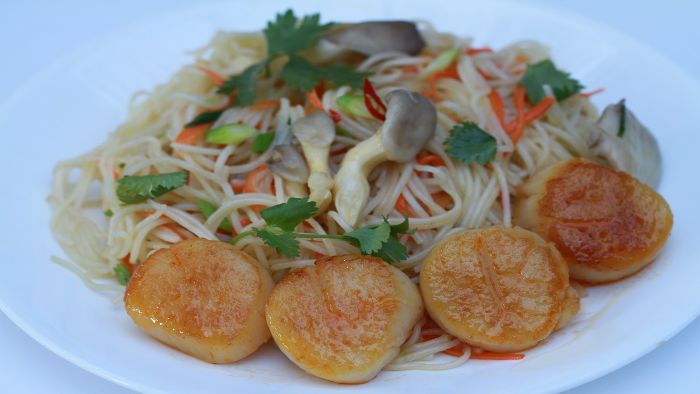 Stir-fried Bien Mai scallop with vermicelli
With the pristine charming beauty, Phu Quoc island is always on the bucket list of many travelers when coming to Vietnam. You are a gourmet? You are a seafood lover? You are passionate about experiencing the local cuisine? You have no choice but trying Bien Mai scallop specialty. Its exquisite flavor will surely linger long in your mouth.