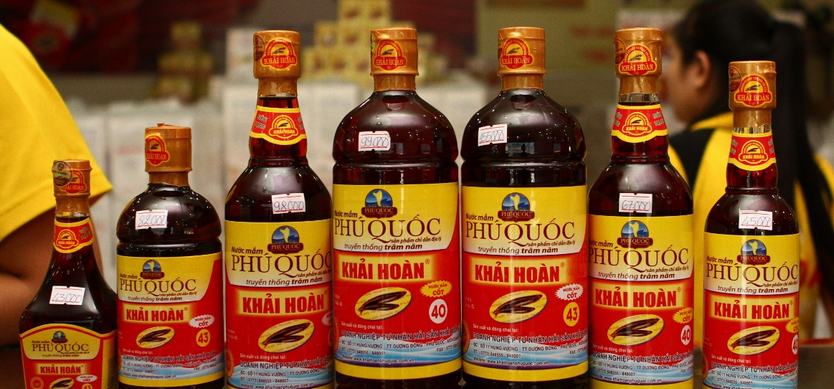 Phu Quoc fish sauce is a sauce made in Phu Quoc, a large island in the southwest of Vietnam, Kien Giang province.
It is one of the famous sauce not only in Vietnam but also known in many countries around the world. Phu Quoc fish sauce is produced from raw materials of Phu Quoc's anchovies, with a tradition of 200 years in the profession sauce.
The history of fish sauce in Phu Quoc
Phu Quoc fish sauce has been recognized appellations of origin "Phu Quoc fish sauce" in Europe.
Before 1945 the Box is concentrated in two places and Cua Duong Dong. East Ocean in 1945 at 75, 19 and Cua Can there be two houses Bin An Thoi. Since 1946 a number of war-ravaged Boxes, the Box is now concentrated in two places is Duong Dong and An Thoi.
Any kind of fish can also be used to make the sauce, fish sauce producers but Phu Quoc is only the fish using only rice as raw materials. Anchovy has several categories: Stripes Pepper, Lead Powder, Red Rice, Rice Lev, Chalk Stripe, Rice Coal. Type of anchovy for the most delicious sauce and rice Than Target Stripe. It mixed with two or three parts fish to one part salt to a year then, so long as the higher protein content but little sauce was the fragrant and darker color. It also buried the sauce a couple of years, then to black colored sauce called nuoc mam floods, used to treat. If you use the time to spoilage faster but not aromatic sauce and beautiful colors.
The first phase to form lines of Phu Quoc fish sauce is calculated from 1900 to 1945. Waters of Phu Quoc has a lot of fish meal, fish small body, delicious and are rich in protein. Fishermen on the lot number cannot at once be eaten raw. They think of ways to bring salt to marinate for long-term use. Because the fish to be cooked longer, creating water in the red, with a strong salty taste, people love to eat raw or cooked. From that job, the sauce was born.
Means of production techniques invented by the fishermen are catching anchovies mesh is made of silk, bringing cassava bark colored brown form. Float the grid is made of lightweight wood, which can float on water. Two mesh zipper is braided from coconut shells have been involved. Fishermen fishing from by checking how the sea shaped C. Two head straight to the shore seines to catch fish. Fresh anchovies are transferred chop (marinated) salt at home, while the only small boat fishermen, sail by hand, fishing close to the bank should not transport salt by now.
Anchovy is chop (chilled) in wooden barrels with a capacity of about 3 to 4 tons, the production cycle from 6 to 7 months. This period, the upper limit of fish sauce only from 250 to 280 protein again.
After taking the juice, determined to bring people in large saucepan brown sauce, fish sauce and then draw off the second time, then known as long or across the country, reaching from 80 to 180 proteins.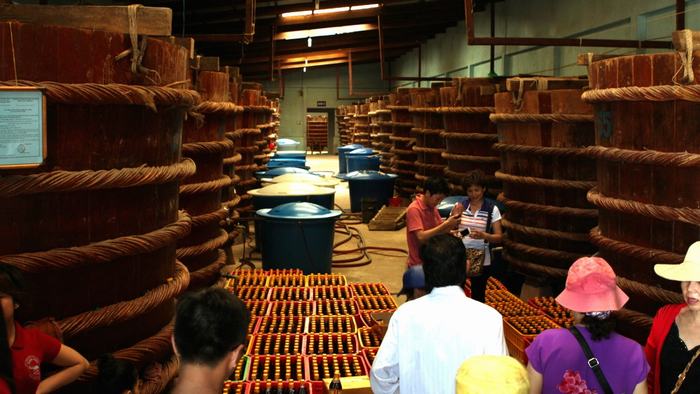 Making fish sauce in Phu Quoc
Fish sauce produced mainly for domestic consumption and transportation to Cambodia, Thailand by sailing. When transported, it is the province earthenware sauce with a capacity of 3 to 3.5 liters, the province is covered with the lid thin pieces of wood, undercover with a crust and surrounding provinces Melaleuca braces with rope cloud thin slices.
In 1950, the market fish sauce consumed, production techniques have also been enhanced. Fishermen do not use cooking methods for fish sauce production that transferred to the new process.
Development process
After years of learning and accumulating experience, the sauce maker found not fastened process was caught and processed synchronously to keep the technical progress.
The years 1955 – 1965, people were changing the means of fishing craft hydraulic machine can go offshore to expand the fishing area. But the means of fishing is still quite small, only about 10 tons of payload. Although small catch, but containers of fish have been improved chop doubled from 3 to 4 tons to 7-8 tons. Besides, fish is the incubation period lasts from 10 -12 months for the product quality is 350 miles back. People still use 20-liter barrels welded square tin lid, to contain the transported fish sauce consumption.
However, the peak period of development of fishing and processing of Phu Quoc fish sauce is on the years 1965 to 1975. This phase, sailboat packed with a large-scale power plant, may go far to catch the island. Fishermen also discover how to bring salt by boat to the sea a long stick. Fish are caught and salted on board alive. A sailor caught up to where the underground trains chop when sufficient quantities of fish are transported directly into the switch box. Grid period is long and nets caught in deep water. Instead of "rolling over wires lead sentence," the fishermen use machines to save time and effort. The main technical means fishing improved dramatically, the number of fish each year is stable, people are concerned only focus on production and consumption. Since the amount of sauce that keeps growing, reaching 400 barrels chuop protein and fish up to 10 tons capacity. The final product can be stored in 20-liter plastic for transport to another place.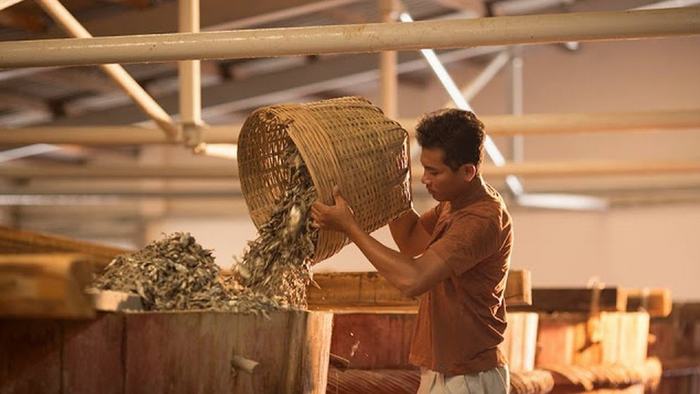 Making fish sauce in Phu Quoc
Trademarks of generations
About the year 1975 – 1986 Job Phu Quoc fish sauce production difficulties and lost their market. Some manufacturers work perfunctorily or suspension or transfer to agriculture.
After the deadlock caused by the subsidy, the Phu Quoc fish sauce business was gradually restored and developed stronger. Although the market remains difficult, the sauce business focused on producing comprehensive and quality. Besides, their own efforts to find partners and consumers, ultimately Phu Quoc fish sauce also stand on the domestic market and abroad.
Through the efforts of the civil business of fish sauce, Phu Quoc fish sauce is now made to stand on the world market. Each year, Phu Quoc consume about 6 million liters of fish sauce in the domestic market and exported 400,000 litres.
However, the current domestic market more fish sauce originating from many different localities, but of poor quality fish sauce named Phu Quoc, making it difficult and affect the Phu Quoc fish sauce brand. The fish sauce here is not using chemicals, all from color to taste anchovies are made from natural areas of Phu Quoc island, so do not be afraid to use long-term damage or fell color, loss of taste, price always associated with product quality. In contrast, the imitation fish sauce, Phu Quoc fake brand cheaper but the quality is low. Because the sauce is considered one of the main business of Phu Quoc should fight to keep the brand is always a problem of the whole community.
Occupation fish sauce production process exists and has developed hundreds of years. From tens of thousands to several hundred thousand liters, now reaching Phu Quoc fish sauce from 8 million liters/year. In terms of quality from 20 protein has up to 40 protein. Processing improved from primitive to modern. With such development, Phu Quoc fish sauce has been in the country and around the world. Phu Quoc, island, holiday, wild island, fish sauce, craft, recognized appellations of origin, raw material.
For more information about Phu Quoc tours, you can visit our website. If you have any questions, feel free to contact us. Share this article if you find it useful. Have a nice trip!