As one of the most luxurious resorts in the pearl Phu Quoc Island, La Veranda Resort will be your best choice due to the excellent services and professional staff. If you get the chance to visit Phu Quoc, do not miss this resort to experience the most comfortable stay here.
Address: Ward 1, Duong Dong Beach, Tran Hung Dao St, Phu Quoc Island, Vietnam
Tel: 84-77 3982988
Fax: 84-77 3982998
Email: [email protected]
Website: http://www.laverandaresort.com
Description
Located on Phu Quoc Island, La Veranda Resort, member of the M Gallery collection, boasts a style reminiscent of a French seaside mansion. Set in tropical gardens on a beautiful stretch of beach, the resort boasts evocative design comprising a rich blend of dark woods, fine linens, and mosaic tiles, complemented by large terraces with sweeping views.
In addition to 43 rooms with private balconies, the exotic La Veranda Resort features two restaurants, a lounge bar, swimming pool, water sports center, and day spa.
Room
+ Deluxe 1 double bed: this boutique Phu Quoc resort boasts a beautiful selection of indulgent, superbly appointed rooms including spacious garden rooms enveloped by lush greenery and exotic flowers and beachfront suites with private balconies and stunning sea views.
Surrounded by lush tropical gardens complete with exotic flowers, the lovely Deluxe Room features a private terrace or balcony, satellite TV, upscale amenities, a ceiling fan, complimentary WiFi access, and in-room movies. Up to 2 adults and 1 child.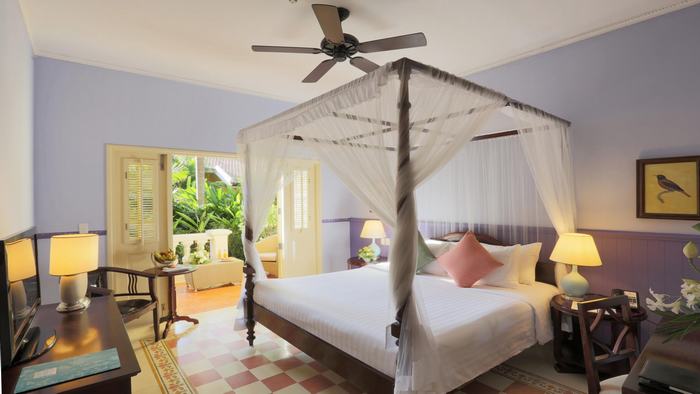 Deluxe Room
+ Deluxe 1 Bedroom Villa 1 Double Bed
This gorgeous villa boasts a truly indulgent atmosphere with a plush four-poster bed. Extremely spacious, it features exotic traditional design, satellite TV and a spacious bathroom with separate bathtub and shower. Up to 2 adults and 1 child.
+ La Veranda Suite 1 Double Bed
Experience the ultimate in comfort. This enormous suite measures 69 square metres and features a private terrace with spectacular views of the island sunsets, plus a satellite TV, ceiling fan, and upscale amenities. Up to 2 adults and 1 child.
+ 110/120 VAC, 220/240 VAC
+ Air-conditioning/ Turn down service
+ Safe deposit box in room/ Free in-room mineral water
+ Bathroom doors 32 inches wide/ Web TV/ Mini-bar
+ Crib in room/ Full kitchen/ Opening windows
+ Remote control TV/ Wi-Fi in your room
+ Direct dial telephone/ Work desk in all rooms
+ Satellite/cable color TV/ Manual temperature control
+ Coffee/tea making facilities/ Telephone/ TV room service ordering…
Facilities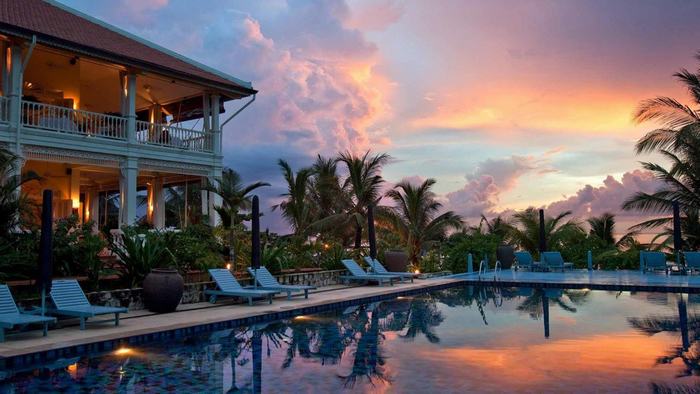 Swimming pool
+ Facilities for disabled: Bathroom doors 32 inches wide/ Accessible bathroom/ Phone light for hearing impaired
+ Parking: Valet parking/ Bus/coach parking area/ Public outdoor parking/ Private enclosed outdoor parking/ Private outdoor parking
+ Sports facilities
Swimming pool
Beach and water sports
Bicycle
Other sports activities: Badminton, Volleyball facilities
+ Fitness: Massage/ Jacuzzi
+ Leisure & tourism
+ Services for children
Kids club: Babysitting on request
Child facilities: Connecting rooms available, Video game area
+ Info and business services
Multimedia access: Wi-Fi at the hotel, Wi-Fi in your room, WIFI Wireless Internet access
Business Services in hotel
+ Shopping and services
Facilities: Concierge, Computer hire facilities. Currency exchange
Catering: Coffee/tea making facilities
Laundry: Dry cleaning / Ironing
Shopping: Gift shop/newspaper shop/ Beauty salon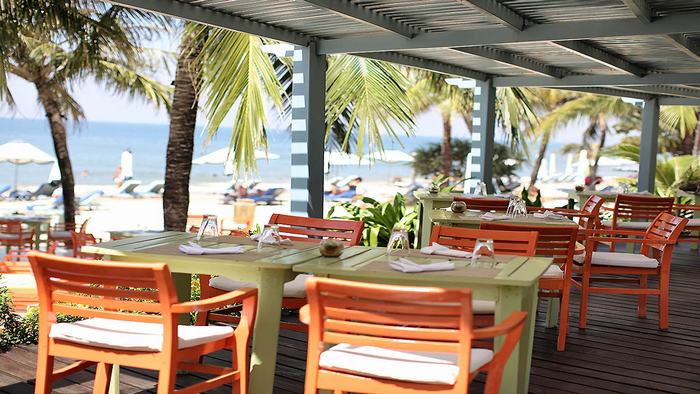 The restaurant
+ Safety equipment/installations
+ Restaurants and bars
Serving innovative Pacific Rim cuisine with the freshest local seafood, a meal at La Veranda Resort is an utterly sumptuous experience – from oceanside lunches to torchlit beach BBQs, and sunset cocktails to intimate dinners on your private terrace.
The Pepper Tree Restaurant: In an island style house overlooking the beach and the garden, the restaurant is the heart of the resort with a wide range of food and drinks on the menu. Chef Lan offers the best fine dining experience on the island with his creative and diverse menu.
The Beach Grill: The Beach Grill is open for dinner with special barbecued meals on offer ranging from Phu Quoc seafood specialties to imported lamb. The Beach Grill is the nightspot that is not to be missed.
Lounge Bar: The Lounge Bar is open every day serving a menu of light refreshments, ice cream, and cocktails. Being able to look over the ocean, watching the sunset, makes this the ideal place for a relaxing afternoon before night falls.
+ Business and events
The cool sea breezes and laid back environment at La Veranda Resort provide the perfect inspiration for creative thinking. Ideal for small meetings and executive think tanks, the resort's meeting rooms boats superior facilities and natural lighting.
For more information about Phu Quoc tours, you can visit our website. If you have any questions, feel free to contact us. Share and like this article if you find it useful. Thank you!