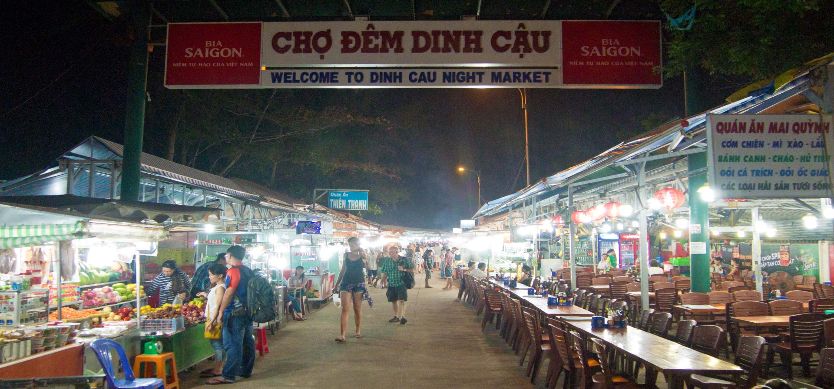 Explore Dinh Cau night market in Phu Quoc island
Phu Quoc island always attracts tourists by the wild and poetic scenery of blue sea and silky sandy beaches stretching to the horizon. However, there is also a very ordinary Phu Quoc with excellent night markets and hospitable local people. Being one of the unique night markets in Vietnam, Dinh Cau night market is a must-visit in Phu Quoc island.
About Dinh Cau
Dinh Cau night market is located on Vo Thi Sau street, Duong Dong town, Phu Quoc island district, Kien Giang province. The Dinh Cau market stretches from the beginning of Bach Dang road to Tran Hung Dao crossroads. With the terrain located near the coast, only about 100 meters from Dinh Cau temple, this is considered an ideal stop after a pleasant day of fun at the beautiful beaches in Phu Quoc.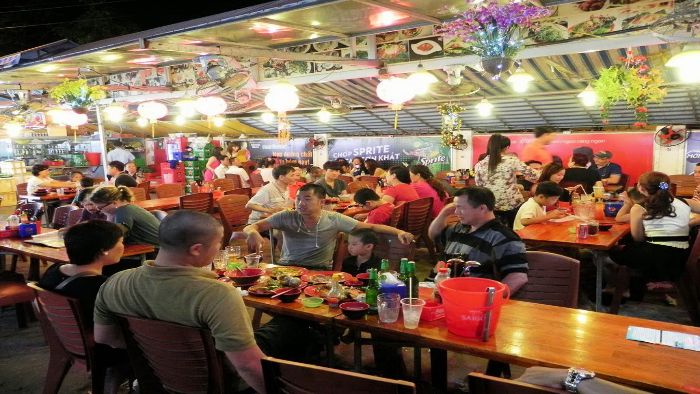 Dinh Cau night market
What to see in Dinh Cau night market?
In the market, there are more than 100 stalls, most of them selling ready-to-eat seafood. Grilled fish/shrimp, vermicelli served with sour crab soup, boiled sea snails, boiled cuttlefish served with Phu Quoc-brand fish sauce, rice spaghetti served with fried fish – these are just some of the kinds of seafood that are available in the Dinh Cau night market, and the seafood in Phu Quoc has something that distinguishes it from that found elsewhere. In addition to food, there are sellers in the Dinh Cau night market offering fine handicrafts, jewelry and souvenirs made of sea turtle shell along with pearl necklaces/bracelets, dried starfish, and lampshades made from seashells.
The Dinh Cau night market is very clean and neat and visitors to the market can relax and enjoy the delicious food while contemplating the beautiful view of the sea. If well negotiating, when choosing, tourists can get nice-looking souvenir with a real bargain.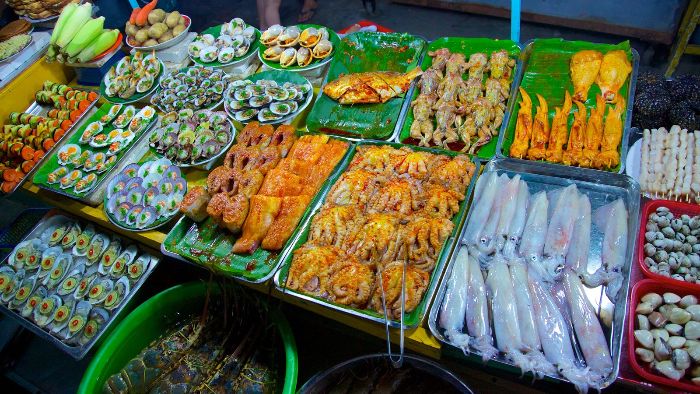 Seafood stall in Dinh Cau night market
Some tips when visiting Dinh Cau night market
The Dinh Cau night market only operates in the evening, the most crowded from 19:00 to 23:00.
The market does not cheat. Sellers are very hospitable and the atmosphere is very happy.
Dinh Cau market is located on the center of Duong Dong town. One end of the market connects to Vo Thi Sau - Tran Hung Dao crossroads, the other end leads to the sea, Dinh Cau cape (above which Dinh Cau temple turned to the sea)
If you do not know how to get Dinh Cau market, you can ask people or taxi drivers in Duong Dong who know this night market clearly. When you ask, you remember to say "Dinh Cau night market", because there is a Bach Dang night market near there which is very deserted.
You should rent a hotel in Tran Hung Dao, Ba Muoi Thang Tu, and Bach Dang streets ... to easily walk to the Dinh Cau night market. In particular, Thao An guest house, located about 50 meters from the night market, priced at 400,000 VND/night. The guest house offers wooden furniture, pure white towels for newly opened. However, the room is small like a guest house, which is suitable for anyone with little money.
It seems that when visiting Dinh Cau night market in Phu Quoc island, visitors are not only satisfied with food and drinks but also immerse in the fresh and cool atmosphere as well as enjoy the gifts from the sea. In addition, the sincere feelings of nature and people in the jade island paradise have mainly created an irresistible attraction for domestic and foreign tourists.