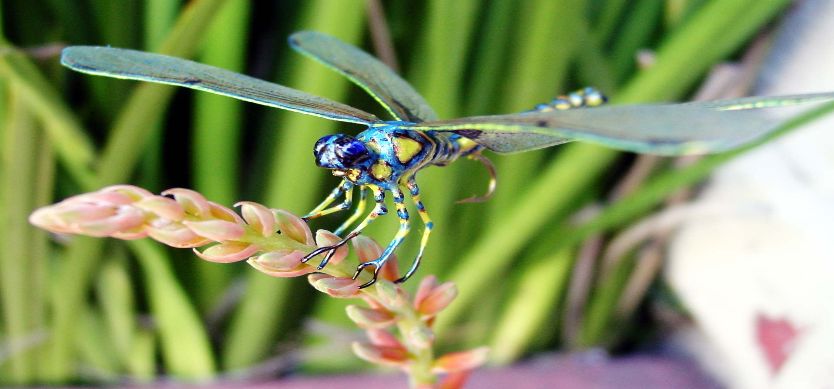 Phu Quoc National Park is home to a bunch of fauna and flora, whereas Phu Quoc dragonflies is a beautiful creature contributing to the richness of this park.
About Phu Quoc Dragonflies
Phu Quoc in Kien Giang Province is dubbed the "pearl island" due to its richness in nature and great tourism potential. Phu Quoc National Park on Phu Quoc Island has an abundance of flora. Over 80% of the island is covered in forest and this is favourable living conditions for many insects, including dragonflies. According to a survey conducted by Wildlife At Risk (WAR), a non-government organization on natural resource preservation in South Vietnam, there are 54 species on the Island. This accounts for 23% of the 235 species of dragonflies in Vietnam.
The family of dragonflies is rather diverse and it includes some species that were discovered by scientists from 100 – 200 years ago. These include the Newrobasis chinsis (Linnaeus, 1758) and the Orthetrum chrysis (Selys, 1891). In December 2008, WAR recorded five new species of dragonflies found along the streams running through forests and areas of different terrains.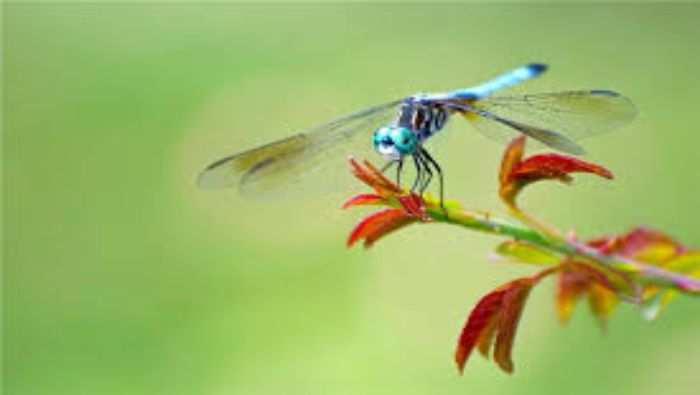 Phu Quoc Dragonflies
On these pages, Vietnam Pictorial reporters introduce to its readers images of some of the species of dragonflies on Phu Quoc Island.
The importance of Phu Quoc dragonflies in Phu Quoc ecosystem
On July 11, 2011, the Ministry of Information and Communications released the "Dragonfly" stamp set of four models to introduce dragonflies discovered in Phu Quoc National Park: Lyriothemis mortoni, Trithemis aurora, Rhyothemis obsolescens and Ictinogomphus decoratus. Remarkably, two species of dragonfly, Lyriothemis mortoni and Rhyothemis obsolescens were discovered and recorded by WAR for the first time after the insect survey in 2007.
WAR has provided technical support and image materials for Vietnam Post to organize the design and release of this stamp set. Therefore, on the stamps, next to the logo of Philanippon '11 World Stamp Exhibition (held in Japan from July 28 to August 2, 2011), there is also a symbol of WAR.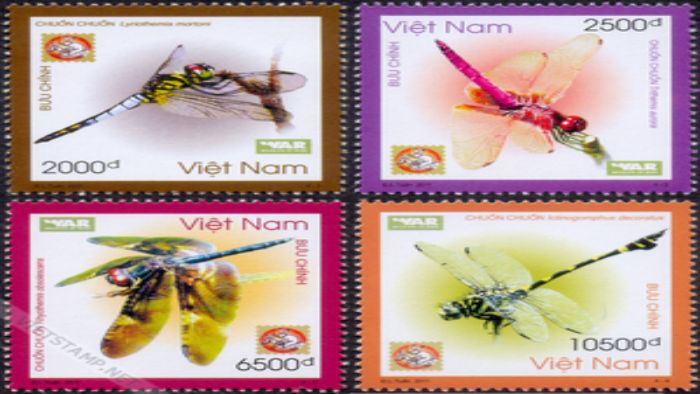 Phu Quoc dragonfly stamp set
This stamp set was issued to contribute to propaganda and introduction of dragonflies, a useful insect in the rich and diverse fauna system in Vietnam. At the same time, it helps to raise public awareness in the protection and conservation of wildlife species of Vietnam.
If you want to explore the strange and specific creatures, let's come to Phu Quoc National Park in Phu Quoc tour to find and see. If this information is useful for you, don't hesitate to like and share this post with others. Thank you!