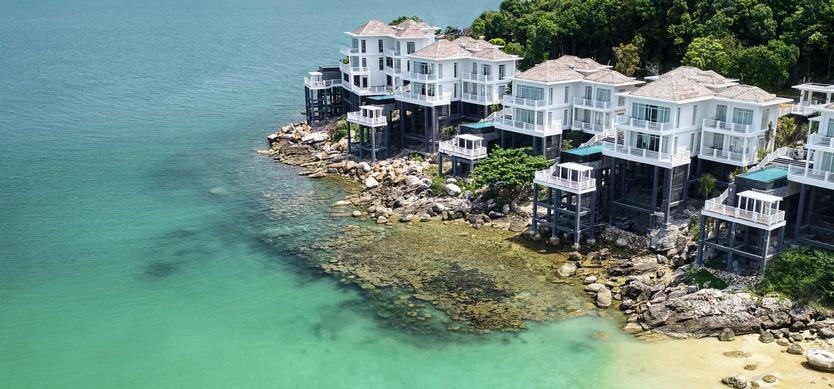 Phu Quoc in Kien Giang Province is dubbed the "pearl island" due to its richness in nature and great tourism potential. Because of this, Phu Quoc is increasingly invested in tourism services, including accommodation.
However, if not carefully selecting, you will be disappointed with the hotels or resorts here because of poor services or quality. You'd better examine carefully before booking a room here.
With many years of experience in Phu Quoc tourism, we will provide you with several useful information in this article. Let's explore.
Best hotels and resorts in Phu Quoc
Hung Vuong Resort
Salinda Resort & Spa Phu Quoc
Famiana Resort & Spa
Thai Tan Tien Resort
Tropicana Phu Quoc Resort
Hung Vuong Resort – newly opened on May 2017
Address: No. 1/39 Lane 182 Tran Phu Street, Duong Dong Town, Phu Quoc
Go to the west of Phu Quoc island, far away 2km from Duong Dong town and take about 15 minutes by driving from the airport, you will see your paradise – Hung Vuong resort.
With over 20 bungalows and rooms, Hung Vuong resort is an ideal choice for family, couple, group as well as those who are finding accommodation in the pearl island. Bungalows with modern designed, furniture from natural wood, an outdoor swimming pool, will bring you luxury but still keep the Vietnamese tradition. From Hung Vuong resort, you can walk around the beach, enjoy Phu Quoc specialties, listen to the sea breath.
With professional and friendly staffs, 3-star standard services, bungalows, and rooms in Hung Vuong resort will the best choice for your Phu Quoc vacation.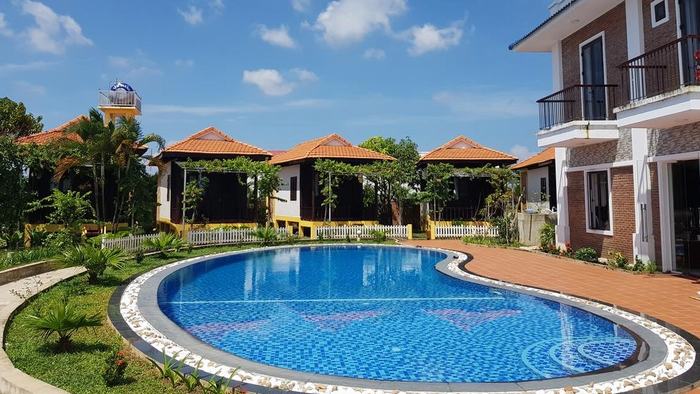 Hung Vuong Resort
Salinda Resort & Spa Phu Quoc
Address: Cua Lap Hamlet, Duong To Commune, Phu Quoc Island, Vietnam
Hotel Area: Long Beach/Duong Dong
Hotel Rooms: 121
Salinda Phu Quoc Resort and Spa is a collection of 121 deluxe rooms, villas, and the spacious presidential suite, offering a signature beachfront restaurant, lounge and bar, an evolutionary spa, fitness center and the island's finest event venue, supported by high levels of service and comfort. The ultra-contemporary architectural concept for the property enhances the natural beauty of the Salinda Resort & Spa site by having the layout, scale, and textures of the rooms and villas fit within the existing environment.
All Villas in Salinda are an oasis of cool calm Asian charm, featuring high ceilings, wall to ceiling windows, a spacious private terrace with garden and sea views, an expansive bathroom with a large bath, double bed and generous separate dressing room. Experience dazzling Phu Quoc sunsets from a private oversized balcony, with sparkling ocean views.
These suites promise in-room invigoration and unique to this luxurious resort. Each separate bedroom has a plush Salinda's bed that guarantees a rejuvenating night's sleep.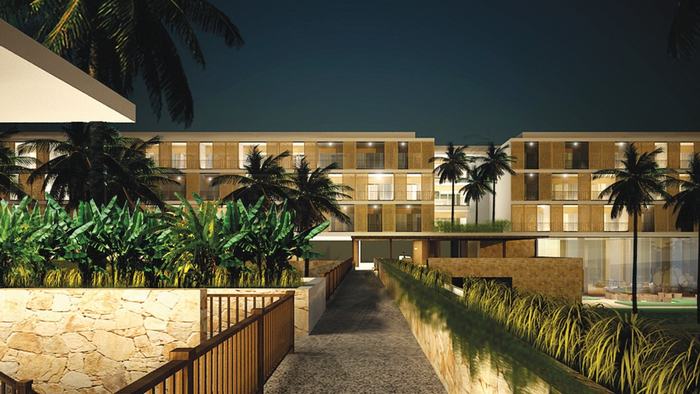 Salinda Resort & Spa Phu Quoc
Famiana Resort & Spa
Address: Cua Lap Hamlet, Duong To, Kien Giang, Phu Quoc Island, Vietnam
Hotel Area: Long Beach / Duong Dong
Situated on the Phu Quoc picturesque central coast, Famiana Resort & Spa has sweeping views of the Gulf of Thailand with private golden sandy beach. The overall design architecture of the resort is inspired by Asian culture combined with a modern yet charming design accented with the modern conveniences of today travelers. The new luxury resort is only 10 minutes from Phu Quoc International Airport and just 10 minutes away to explore the Duong Dong town.
Famiana Resort Phu Quoc is located on the campus with an area of 2 hectares stretching along the Duong Dong beach, one of the famous beaches of Phu Quoc, the Famiana features 60 rooms with Suites, Villas by the beach, Deluxe Oceanview and Deluxe Garden view rooms that are surrounded by tropical and exotic gardens. Famina Phu Quoc Resort is cleverly built in romantic nature with a great ocean view for almost all kinds of room.
Besides ocean view suites and villas resting upon a stunning beach, Famiana Phu Quoc has garden and mountain view bungalows, together with multi-purpose fitness room and modern nursery.
Coming to Famiana Resort & Spa Phu Quoc with discount rates on hotels-in-Vietnam, you will feel not only the most comfortable and safest in individual relaxed space but also the meticulous attentive services from all members of Famiana. Booking online and get special deals: breakfast included with best price guarantee & hotel reviews.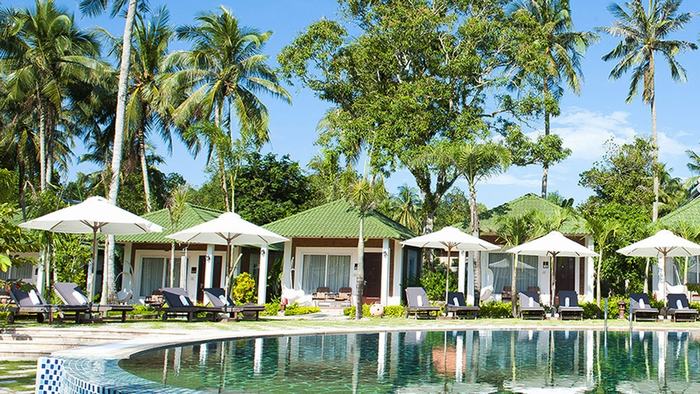 Famiana Resort Phu Quoc
Thai Tan Tien Resort
Address: Long Beach towards the end of the main stretch just beach Beach Club
Description: With well-sized, clean and functional bungalows, Thai Tan Tien Resort is simply a hide-away relaxation in a true natural spot on Phu Quoc island. Most of the bungalows are with sea view.
At Thai Tan Tien comprises 10 bungalows set in a tropical garden overlooking to gulf Thailand.
All the bungalows are with fan, double/twin bed, large bathroom, mini-bar, water heater (in some beach front bungalows) and hammocks at the terrace. There are no telephone and air conditioner equipped in the room to ensure a true fusion of being with nature.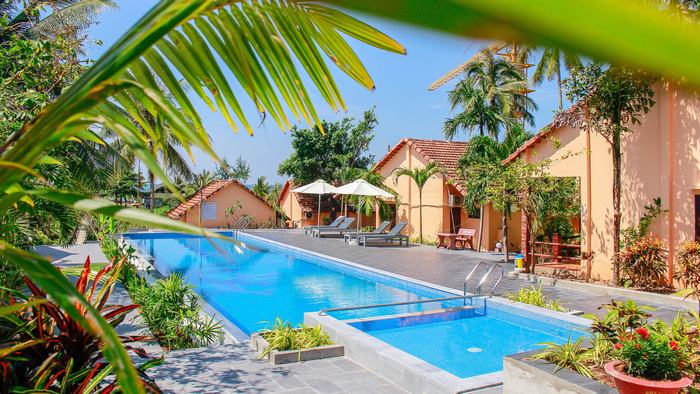 Thai Tan Tien Resort
Tropicana Phu Quoc Resort
Star Rates: 3
Address: 100C/4 Tran Hung Dạo, Duong Dong, Phu Quoc, Vietnam
If you are looking for that perfect place that provides you with a peaceful stay, then Tropicana Resort is the place for you. Located along Long Beach, the Tropicana is a secluded hotel outside the city center. It has a wide array of recreational facilities including a swimming pool and sauna. The rooms are bungalow types, each fully furnished and equipped with air-conditioning, a bathroom, television, and telephone.
The two-hectare of lush gardens are meticulously maintained. All bungalows are comfortable, staffs are friendly, bar and restaurant are high-quality. We have much good feedback from our clients who have stayed here. Personally, I have been there last year and loved this property very much, its cozy and relaxing ambiance.
Resort facilities Private beach Hammocks and rattan beach chairs Bungalows with verandas, rocking chairs and hammocks Air conditioning in rooms Traditional Vietnamese accommodation. Romantic oceanside setting Internet access available Book and magazine library in a variety of languages Surfboards, rafts and kayaks motorbikes, bicycles, and cars available to rent Fishing boats River touring boats Scuba diving Family owned business Laundry service available
Restaurant Vietnamese and European Cuisine in an elegant restaurant Refreshing cocktails, beer, wine, soft drinks and juices Fresh crab, squid, fish, tuna, prawns and other meats in a variety of styles Fresh vegetables and fruits right from the tree Delicious desserts, such as cooked bananas, ice creams, crepes and more . Wake up to a scrumptious breakfast cooked especially for you.
Hope that with our suggestions, you will find the most suitable one for your trip and get a memorable stay there. For more information about tours in Phu Quoc, you can visit our website. If you have any questions, feel free to contact us. Have a nice trip!