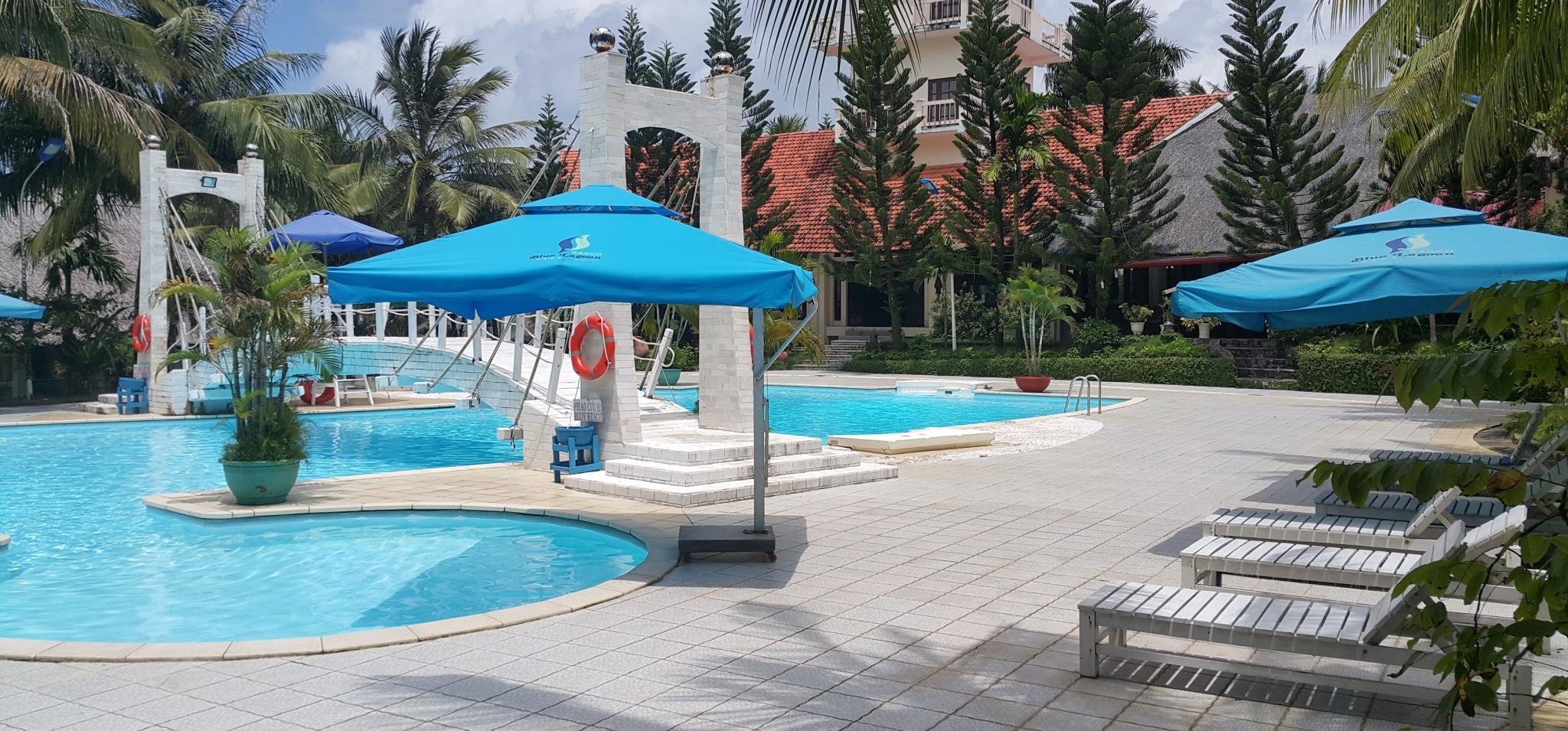 As a four-star standard resort in Phu Quoc Island, Sasco Blue Lagoon Resort will be an ideal retreat for your holiday. Come here and explore yourself to enjoy stunning experiences.
Location
Situated directly on the beach of the Tran Hung Dao Street, Duong Dong Town, and the heart of Phu Quoc Island. The resort rests comfortably on 2 hectares with a 100-meter stretch of private beach.
Sasco Blue Lagoon Resort
Address: 64 Tran Hung Dao St, Duong Dong Town, Phu Quoc Island, Kien Giang, Vietnam
Tel: 84-77 3994499
Fax: 84-77 3994099
Email: [email protected]
Website: http://www.sasco-bluelagoon-resort.com
Description
Welcome to SASCO Blue Lagoon Resort!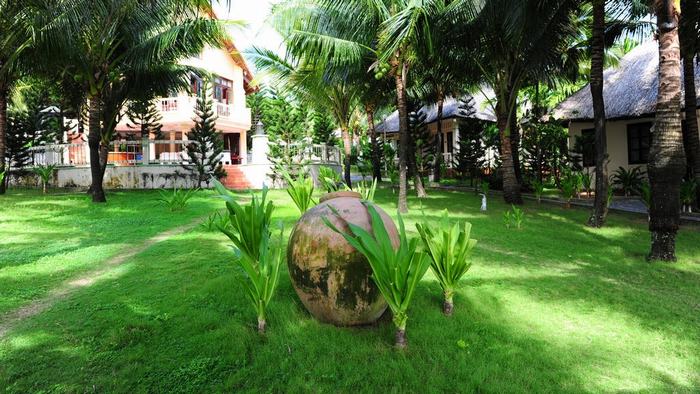 Sasco Blue Lagoon Resort
SASCO Blue Lagoon Resort Phu Quoc is an island within an island. The name reminds us of a very romantic movie named "Blue Lagoon" directed by Randal Kleiser in 1980s. Based on this film's concept, our resort is a truly unique experience where peace meets tranquility in a world of warm tropical sunshine, powder-white sands, and fresh air.
We offer 4-star service excellence, unique F&B outlets and ample recreational facilities to create a sensation of "It's relaxing times". To some, it is a place to witness raw beauty and to others, a place for pure relaxation to escape from life's problems.
Getting there
A 7-minute bus ride from Phu Quoc Airport, or a 40-minute bus ride from An Thoi ferry. Daily flights connect to Ho Chi Minh City and Rach Gia. Phu Quoc is 120 km by sea to Rach Gia. Daily express boat connects to Rach Gia and Ha Tien, Kien Giang.
Guests are met at the airport and taken by a shuttle bus to the resort.
By Air: Vietnam Airlines ATR72 aircraft fly from/to Ho Chi Minh City daily (3 – 5 flights a day) and from/to Rach Gia (1 flight a day).
By Sea: High-speed ship ply between Rach Gia and An Thoi in the South (2 hours 30 minutes, 4 boats/day), Ha Tien and An Thoi in the South (1 hour 15 minutes, 1 boat/day).
Room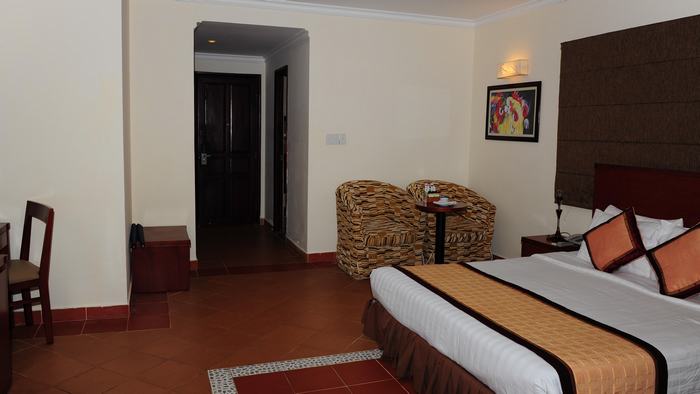 Superior Chalet Garden View
One block of high rise building with 9 Standard Rooms (Panoramic Sea View), 9 Two Storey Chalets which house 36 Rooms (24Superior, 12 Sea-view). 10 Villas (connecting door) of 30 Rooms with 2 Executive Suites.
All guest accommodations feature:
King or Queen Size or Twin beds
Full-size Shower Stands
Remote control air conditioning.
IDD telephone
In-room safe
Satellite television
24-hour room service
Mini-bar
Coffee/tea making facilities
Hairdryer
Stationery box
Daily newspapers upon request
Facilities
+ Guest Services at SASCO Blue Lagoon Resort include:
Business services provided: facsimile machine, photocopying services, along with computer/internet access for guests
A large choice of books on Vietnam, magazines, daily newspapers.
Laundry and dry-cleaning services
Travel and tour information, booking and confirmation services for travel and accommodation, along with visa extension services
+ Food & Beverage
At SASCO Blue Lagoon Resort, you will discover a diverse choice of "all day dining" alternatives. Our Chef and his team have produced a selection of dishes that allow east to meet west while providing endless culinary experiences.
To complement the dining options, we offer a wine list that covers many recognized wine producing regions and more. This selection offers the opportunity to compliment your dining experiences.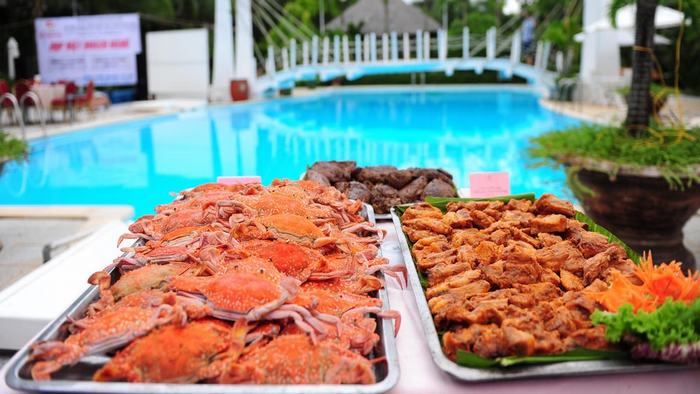 The seafood at resort
The Laguna Seafood Restaurant
Is open daily from 06.00 to 22.00, and offers a wide choice of Vietnamese and International seafood specialties. Commence your day with a bountiful buffet breakfast. Extensive a la carte menus are presented for lunch and dinner together with daily specialties.
The Neptune Seafood Restaurant and the La Terrace BBQ
Both supplement a wider choice of cuisine, especially with the La Terrace which has a wide selection of BBQ Meats and Live or Fresh Seafood.
Located beside the Laguna Restaurant, is an ideal setting for a relaxing beverage with specially selected house-pouring wines by the glass, an array of international beer selection or an old-fashioned cocktail. The Lobby Bar remains open until 24.00
Whether catching some sun at the beach or lounging around at the poolside, The Pool Bar offers a wide variety of exotic drinks to quench your thirst, complimented by delicious finger food plus a "sunken" bar in the midst of the large pool area. Here, you can wither away your time and experience our theme "it's relaxing times!"
Our unforgettable 'Villa Dining' experience during your stay. Dine in the privacy on your own balcony overlooking the gardens or Duong Dong beach. Perhaps a champagne breakfast to surprise your loved ones or for an alternative lunch or let us arrange a picnic in your garden. We can take you to an alternative location, to enjoy evening cocktails on your terrace before indulging in a specially prepared dinner. The options are endless.
+Recreation activities
2 Carefully-selected private Karaoke rooms await you, for your private entertainment. Opening hours are from 12h00 to 24h00 daily.
"A place to see and be seen" Created for our VIPs and Club Members, this private room will have a Bar/Lounge, Games Machines, and a wide-45 Inches TV Screen, featuring your favorite full-length movies. Sip away and enjoy watching your favorite movie with your family, friends or business associates
For deep restoration of your body and soul visit us at Spa center and choose from a wide selection of sensational treatments to revitalize you.
Such a worthy place to stay, right? Take your backpack and travel to Phu Quoc now! A lot of interesting things are waiting for you. Visit our website to get further information about Phu Quoc tours. Share this article with others if you find it useful. Thank a lot!